Privacy and security are of utmost importance for any organization or even a user in general. If you are part of an organization, giving unauthorized users access to the computer can be a hindrance to the organization's data. That is why, in this post, we are going to see how to list all users in a Windows computer with various methods.
How to list all Users in Windows 11/10
It is simple to get a list of all users. We have mentioned three methods to do the same and you can follow any of them to accomplish the task.
View all users via Windows Settings
View all users via Computer Management
View all users via PowerShell
Let us talk about them in detail.
1] View all users via Windows Settings
Let us start with the most obvious place one goes to fiddle with their computer, Windows Settings. We can also view all users connected to your computer from Settings. To do the same, follow the steps mentioned below.
Launch Windows Settings by Win + I.
Go to the Accounts tab.
Click on Other Users.
Here you can see all the users connected to the system.
You might also want to check the accounts of your family members, for that, go back and then click on Family.
This will do the job for you. However, the problem with this method is that it refrains the viewer from seeing the administrator account as well as the disabled account. It checks current accounts and is something that works for home users.
Read: How to find all Signed in Users in Windows
2] View all users via Computer Management
Computer Management is a tool on Windows Pro edition that works as its name suggests. We can manage or view users using this very tool. However, Windows Home users need to skip this method as Computer Management is absent on their system. Follow the steps below to check all users using Computer Management.
First of all, open "Computer Management" by searching it out of the Start Menu.
Now, go to System Tools > Local Users and Groups > Users.
You can now see all the users connected to the system.
If you want to change the layout, just click on View > Large icons.
Read: User Accounts Settings in Windows 11
3] View all users via PowerShell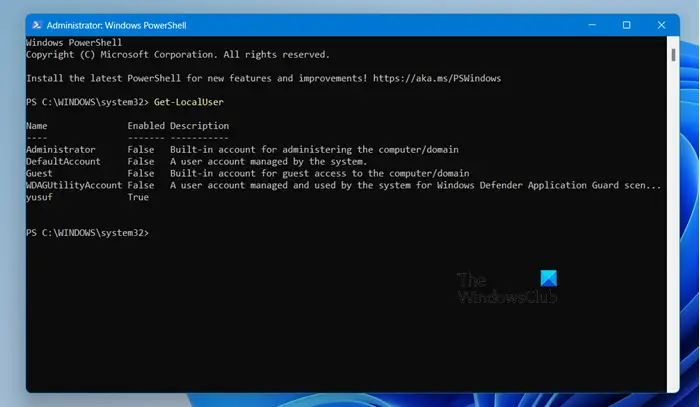 If you like using the command line, all you have to do is open PowerShell with administrative privileges and run the following command.
Get-LocalUser
This enables you to see all the accounts installed on your computer along with their descriptions.
Read: How to get User Account details on Windows
We hope that you are able to check all the accounts connected to your computer using any of the mentioned methods.