Typing arrows in Microsoft Word does not have to be a chore. The application has provided multiple ways for users to accomplish this task, and we're going to talk about how to insert an Arrow symbol in a Word document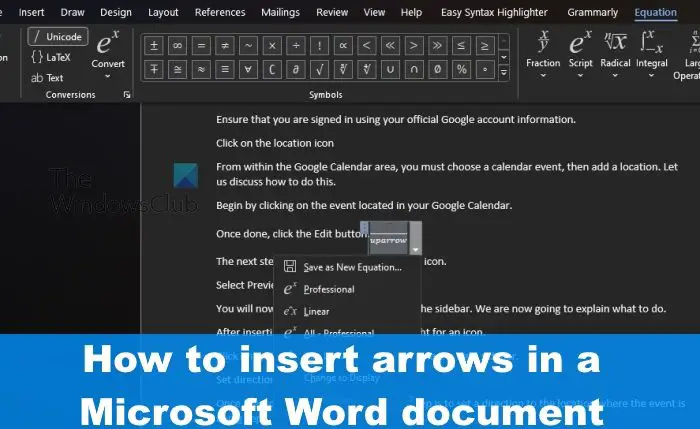 Arrows are useful symbols for getting across information more efficiently than normal. This can save folks from typing long explanations when a simple arrow could suffice. Now, not everyone who uses Microsoft Word knows how to get this done, but believe us when we say that it doesn't take much.
How to insert an Arrow symbol in Word document
We're going to show you how to insert an Arrow symbol in a Word via AutoCorrect, Shortcuts, and Symbols, so the following solutions should help:
1] Use the AutoCorrect feature to insert an Arrow symbol in a Word
OK, so the first thing to do here is to try and use the AutoCorrect feature in Microsoft Word to type arrows. From our point of view, this is probably the fastest way to get the job done, well, when it works because there are rare times when it doesn't.
So, let us look at how to do this right now:
Open the Microsoft Word application, then launch into a new document or an old one.
Move the mouse cursor to the location in the document where you want the arrow to appear.
Now, type the relevant combination of characters to create arrows.
2] Create arrows in Word using Shortcuts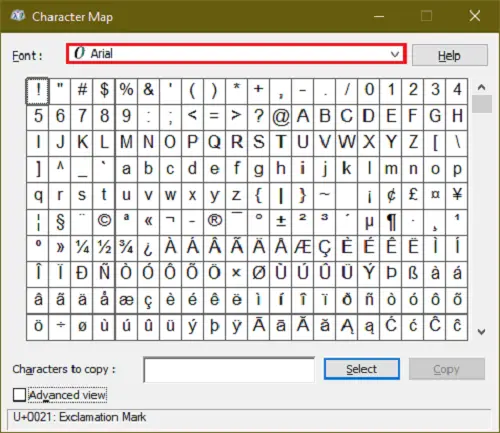 Let's assume that AutoCorrect in its default form does not produce the type of arrows you need. You can always create a keyboard shortcut for Emoji in Office apps
This will help you add your own arrows that are not found by default in Microsoft Word.
3] Type arrows using special characters in Word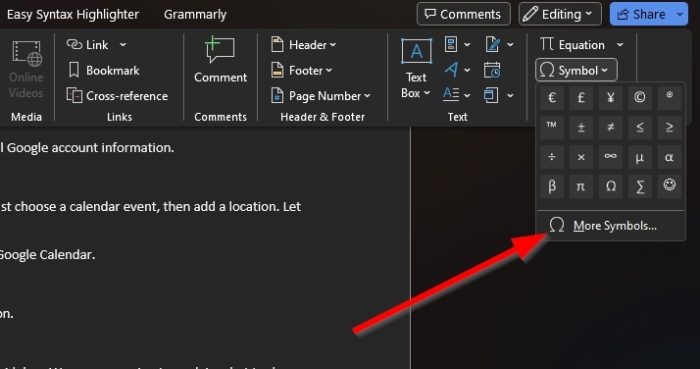 For those who are wondering, the option is there to type arrows by the means of special characters. We do not view this as the ideal way, but there are some arrows from the section of the special character that cannot be brought to the forefront via AutoCorrect.
To learn how to get this done, please read our post on how to use Special Characters and Letters.
4] How to type Arrows using equation mode in Word
Microsoft Word has an equation mode that makes it possible for users to use mathematical symbols. With this feature, users can insert arrows into their documents, so let us look at how to get this done.
Place the mouse cursor where you want the arrow to appear.
Next, you must press the Alt+= buttons to fire up the equation mode section.
You must now type a Backslash along with the relevant Math AutoCorrect shortcut.
Press the Space button and the shortcut text will transform into a specified arrow.
The following are examples of shortcuts you can use, along with what the arrows look like:
uparrow ↑
Uparrow ⇑
downarrow ↓
Downarrow ⇓
leftarrow ←
Leftarrow ⇐
rightarrow →
Rightarrow ⇒
nearrow ↗
nwarrow ↖
searrow ↘
swarrrow ↙
leftrightarrow ↔
Leftrightarrow ⇔
updownarrow ↕
Updownarrow ⇕
Longleftarrow ⟸
Longrightarrow ⟹
READ: 10 Default Microsoft Word settings you need to change
Why can't I use Arrow keys?
If you are having problems with using the arrow keys on your keyboard, then chances are it has something to do with the turning on of the scroll lock feature. Look for the scroll lock button on your computer keyboard to see if it is enabled. If this is the case, the button usually lights up, so disable it promptly.
How many Arrow keys are there?
There are a maximum of eight arrow keys on a full-sized keyboard. On other types of keyboards, the number sits at four, and that's fine since most computer users have no need for using eight arrows. But if that is not the case, then purchasing a new keyboard is always an option.