A cumulative update for Windows contains all components that are required for a given version of Windows 10. But over time, as new components are serviced, the overall size of the latest cumulative update (LCU) grows, and update time is prolonged. This occurs because new components added via quality updates use Component-Based Servicing (CBS) to install updates. In this method, components and features are packaged as small modules that encompass the full functionality. Here are a few best practices you can employ to improve the Windows Update installation time and experience.
Best practices to improve Windows Update installation times
As you may know, the Windows quality update installation process has three major phases. During the online stage, the update is uncompressed, and the changes are staged. Next, there's a Shutdown phase during which the updated plan is created and validated. Then, the system is shut down. Finally, there's the Reboot phase when the system is rebooted, components are installed, and the changes are committed.
It is the Shutdown and Reboot phases that have a major impact on work since users cannot access their systems while the process takes place. You can manage this via the following methods.
Upgrade Windows 10 to latest build.
Make hardware optimizations.
Improve CPU clock speed.
Run a single antivirus or file system, filter driver.
Schedule updates for low-traffic periods.
Let's cover the above methods in a bit of detail.
1] Upgrade to Windows 10 to latest build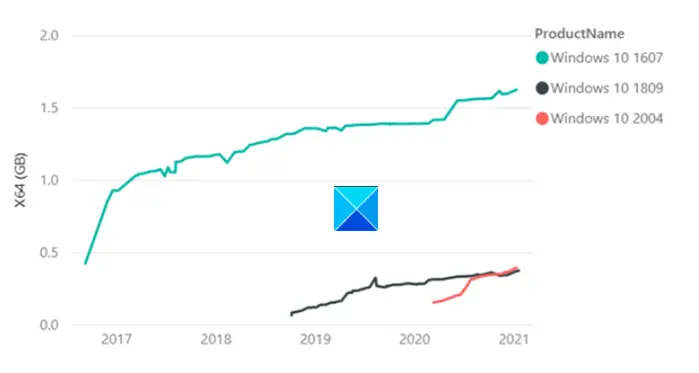 Later versions of Windows, starting from Windows v1809 offer technology improvements that reduce the size of the updates and more efficient to install. Statistical data reveals,
LCU of Windows 10, version 1607 was 1.2GB in size, on year after RTM in comparison to LCU Windows v1809 which was just 310MB (0.3GB) one year after RTM.
2] Make hardware optimizations
Researchers at Microsoft during internal testing noticed that there was up to a 6x install time reduction when they had run Windows and the update process on a fast SSD drive rather than HDD. So, we recommend users run Windows and the update process on fast SSD drives instead of HDD by placing the Windows drive in the SSD.
Read: Different types of Windows Updates.
3] Improve CPU clock speed
CPU clock speed is the bottleneck and CPU upgrades can make a difference. If your PC is equipped with an Intel CPU with an SKU (name) ending in 'K' or X (i7–7700k, i5–6600K, etc), and supports a motherboard with a chipset starting with Z or X series (Z170, X99, etc), enter the computers BIOS.
Then, change core clock speed and core voltage to defined numbers and enter Windows to test the stability of your new clock speeds (overclock). Perform this procedure until you reach a desired speed/max temperature.
4] Run a single antivirus or file system filter driver
Make sure you are running a single antivirus or file system filter driver. Simultaneously running a 3rd party antivirus and Microsoft Defender can slow down the update process. Windows Defender is enabled by default. When you install another antivirus program, Defender is automatically disabled.
5] Schedule updates for low-traffic periods
Installing updates during peak hours take a long time. So instead of choosing that time, schedule updates for after-hours when activity is low. For this, go to Settings and specify when you would like to schedule updates.
Microsoft has suggestions to offer, as well, to improve the performance of Windows Update offline scan.
Using Windows Update Agent (WUA) to scan for updates offline is a great way to confirm whether your devices are secure without connecting to Windows Update or to a Windows Server Update Services (WSUS) server. If you encounter out of memory issues while running WUA scans we recommend the following mitigations:
Identify whether online or WSUS update scans are options in your environment.
If you are using a third-party offline scan tool that internally calls WUA, consider reconfiguring it to either scan WSUS or WU.
Run Windows Update offline scan during a maintenance Window where no other applications are using memory.
Increase system memory to 8GB or higher, this will ensure that the metadata can be parsed without memory issues.
Hope you find the post informative.