On your Windows 11 or Windows 10 computer, if you open the Disk Management tool and you see that an SSD or HDD drive showing as RAW partition, that is because the volume is damaged and has lost its file system type. This post offers suggestions that will help you fix RAW hard drive to NTFS without losing data on your computer.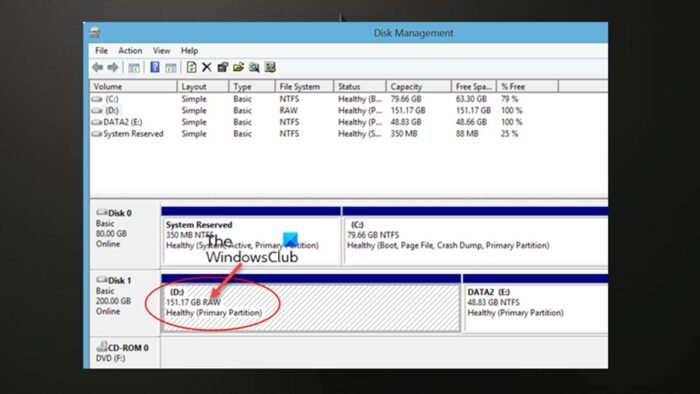 When an SSD or HDD partition is shown as RAW in Disk Management, it could be either of the following:
The hard drive partition is not formatted with the FAT12, FAT16, FAT32, and NTFS/NTFS5 file systems and does not recognize the file structure on the partition.
If you take a drive formatted for Mac systems and plug it into a Windows machine, the partition will show up as RAW.
If a partition is corrupted it may also report as RAW.
In any case, you will be unable to access the data on any RAW partition/volume. The following are the many symptoms you will likely encounter when your hard drive partition becomes RAW:
Fix RAW hard drive to NTFS on Windows computer
If you see any SSD or HDD drive or disk or partition listed as a RAW partition in the Disk Management tool on your Windows 11/10 PC, then our suggestions as provided below in no particular order are intended to help you recover and restore the partition.
Shrink Partition/Volume
Recover your files/data and convert RAW to NTFS
Run CHKDSK
Clean the disk and create a new primary partition
You can fix RAW hard drive to NTFS without losing data! Let's look at the description of the process as it relates to each of the suggested fixes. These solutions apply to removable drives as well.
1] Shrink Partition/Volume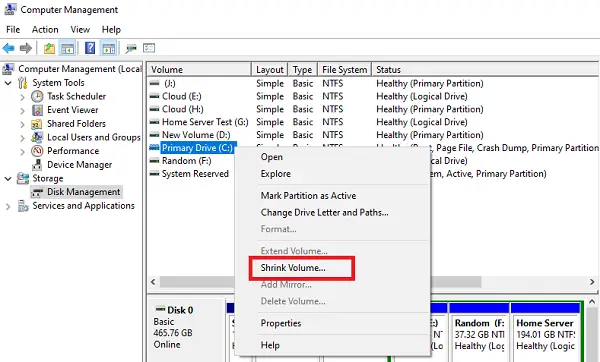 A viable solution to fix the RAW partition on your Windows 11/10 computer is to shrink the partition. When you shrink a partition, the file system information is rewritten and corrects errors. Shrinking the HDD/SSD does not remove files, it just allocates the free space and creates a new unallocated partition that can be used for a new OS. In most cases, you may need to shrink a partition If you discover that you need an additional partition but do not have additional disks. There is no need to reformat the disk to shrink the partition because when you shrink a partition, any ordinary files are automatically relocated on the disk to create the new unallocated space.
Read: Fix Unallocated Hard Drive without Losing Data in Windows
2] Recover your files/data and convert RAW to NTFS
Assuming you have important data on the volume that out of the blue became RAW, this solution requires you to attempt a recovery of your files/data using any free Data Recovery Software and afterward, you can convert the RAW volume to NTFS volume via File Explorer, right-click on the RAW disk, select Format > choose the NTFS file system, click OK and wait for the conversion to complete.
You can download and install the MiniTool Power Data Recovery on your PC to recover your files/data by following these steps:
Launch the application after the installation.
From the Main interface, you'll have access to several options like This PC, Removable Disk Drive, etc.
Now, select the partition that you want to scan for the lost files.
As the scan progresses, you'll be shown more and more files.
You can either look through these files and pick a few selective ones or click on the Save button at the bottom-right corner to create a separate location for these files.
Once the data recovery process is complete, you will get a prompt that the recovery has been successful.
You can now exit MiniTool.
On the other hand, as already pointed out, if you have moved a drive from macOS to Windows and you see the RAW partition, you should be able to easily recover the data by moving the drive back to a Mac system that supports its partition layout.
Using reputable data recovery software should get your files back as often when a partition becomes corrupted as RAW, it is usually the partition table that becomes corrupted, not the actual data on the drive and most data recovery programs are designed to rebuild this table.
Read: How to Recover Lost or Deleted Data from Windows PC
3] Run CHKDSK
This solution requires you to run CHKDSK to repair errors or bad sectors that might be the cause of the RAW partition issue on the drive. To perform this task, follow these steps:
Press the Windows key + R to invoke the Run dialog.
In the Run dialog box, type cmd and then press CTRL + SHIFT + ENTER to open Command Prompt in admin/elevated mode.
In the command prompt window, type the command below and hit Enter.
chkdsk /x /f /r
You will receive the following message:
CHKDSK cannot run because the volume is in use by another process. Would you like to schedule this volume to be checked the next time the system restarts? (Y/N).
Press the Y key on the keyboard and then reboot your computer to run the utility to fix the errors on the computer's hard drive.
After CHKDSK completes, check to see if the issue is resolved. Although, you are most likely to see the following error message CHKDSK is not available for the RAW drives error message, in which case, you can proceed with the next solution. Keep in mind that you may need to replace your hard drive if the hard drive has failed, or disk failure is imminent which you can detect by running a S.M.A.R.T check.
Read: Fix Disk Management errors on Windows
4] Clean the disk and create a new primary partition
As opposed to Solution 1] above, assuming you don't need the data on that RAW partition, you can use DiskPart to clean the disk and create a new primary partition to replace it. To perform this task, follow these steps:
Open Command Prompt in elevated mode, type diskpart, and hit Enter.
Next, enter the following command and hit Enter:
 list disk
You should see the list of all hard drives connected to your computer.
Find the number that represents the RAW hard drive and enters the command below be sure to replace 0 with a number that matches your hard drive.
 select disk 0
Next, run the following commands and press Enter after each line:
attributes disk clear readonly

clean

create partition primary 

Select partition 0

active 

format fs=ntfs quick

assign
After running the commands, type exit and hit Enter to close Command Prompt. Now, see if the issue at hand is resolved. If not, try the next solution.
Read: We couldn't format the selected partition – Error 0x80070057
Any of these fixes should work for you!
Can CHKDSK fix the RAW partition?
It is more than 90% unlikely that the CHKDSK and Error Checking tool would fix the RAW partition issue. However, it is possible you can convert the RAW file system to the NTFS file system by using a command line.
Related: Repair damaged RAW Drive without formatting or losing Data
What does it mean if my SD card is RAW?
If your SD card is RAW, it simply means the file system is damaged. There could be other reasons for this issue as well. A RAW SD card, unfortunately, becomes unreadable by any operating system. RAW, here, means "raw material" which to use the SD card, you should format it NTFS/FAT/exFAT file systems.