Netflix has changed the way we accessed the content. The world's most popular video streaming service is all set to replace the cable and inspire a lot of people to cut chords. The best part about Netflix is that a single subscription will let you watch movies or TV shows across multiple devices. Today we will tell you how to fix Netflix Error Code U7353.
Whoops, something went wrong. We're having trouble playing this title right now. Please try again later or select a different title. Error code: U7353.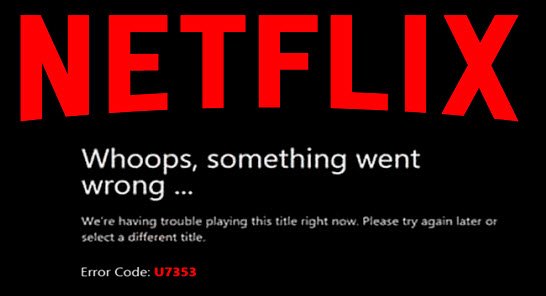 The potential causes for this could be:
Corrupted Netflix Windows Application
Incorrect DNS Addresses.
Netflix Error Code U7353
Netflix is no stranger to error codes, and the U7353 is rather a notorious one. I personally faced issues when this error code cropped up while binge-watching on Netflix. After a quick search on forums, I zeroed in on a couple of troubleshooting steps that could potentially fix the Netflix Error Code U7353. Let us walk through some of the troubleshooting steps:
Reset Netflix App
Flush DNS cache
Change DNS Settings
Clear Netflix cache
Disable VPN software.
1] Reset the Netflix App
As with all the other apps, Netflix stores user data, and sometimes, these files might get corrupted. To remove the Netflix Error Code U7353 error, we can start with resetting the Netflix app. Please follow the steps below to reset the app,
Open Windows 10 Settings
Select Apps & Features
Select Netflix
Select Advanced Options
Select Reset and confirm the same
Restart Netflix and try accessing the content.
2] Flush DNS cache
Flush the DNS cache and see if it helps you. It has been reported to have helped some.
3] Change DNS Settings
Open Run dialog box and type 'ncpa.cpl' in the search bar
Right-click on the network adapter and select Properties.
Double click on the Internet Protocol Version 4
Open the properties option of the Internet Protocol Version 4 and enter the following DNS address
Primary DNS server: 8.8.8.8
Alternate DNS server: 8.8.4.4
After applying the changes, restart the PC and check if the Netflix Error Code U7353 is fixed.
4] Clear browser of all Netflix cookies
Visit netflix.com/clearcookies and clear all Netflix cookies. Log in afresh with your credentials and check.
5] Disable VPN
A VPN service could interfere with Netflix resulting in the error on your PC. Disable your VPN and then try to play a movie and see if it helps.
We hope the troubleshooting steps mentioned above have come in handy. I was able to fix the Netflix Error Code U7353 issue by resetting the app. However, this was not the case for others.
If nothing works, I would also suggest installing a fresh copy of the Netflix app and trying again.