When buying a Laptop or PC, we always leave scope to upgrade the RAM at a later stage. While it is easy to figure it out on a desktop (as you can open the cabinet and check), it is rather hard to find out on a laptop. This post will look at various methods to find free memory slots on Windows 11/10 computers.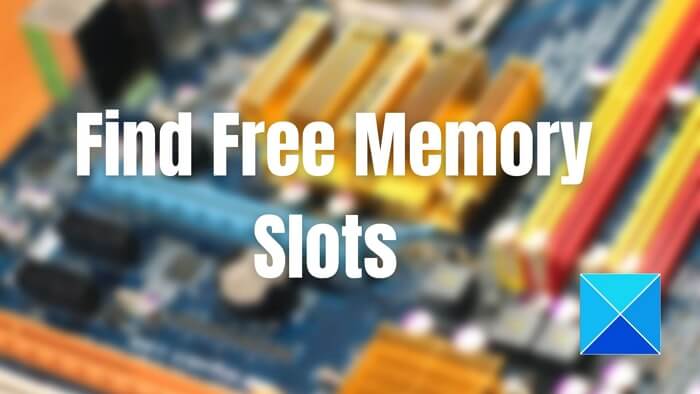 How to find free Memory Slots in Windows 11/10
It's important to know if you have a free slot because you can insert another and find out if you need to replace it. So if you have a single slot, you must choose a bigger RAM module. If you have an additional, you can buy and add another.
Task Manager
PowerShell
Applications
You will need admin permission to try these suggestions.
1] Task Manager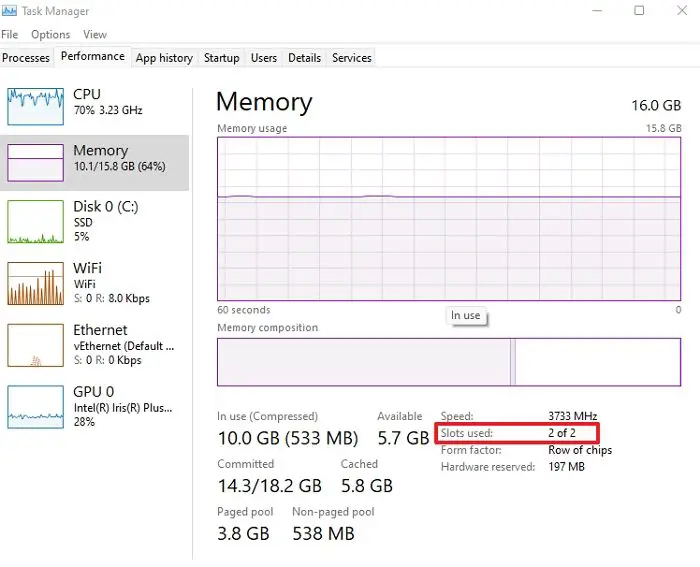 The Task Manager details a lot about computer resources, and the memory slot is one of them. It's a feature known to less, and you should know it.
Use Ctrl + Shift + Esc to launch the task manager
Switch to the memory tab
Look for Slots used to figure out memory slots and if all are occupied.
If you see 1 of 1 or 2 of 2, it means you have all the slots used. If you see it as 1 of 2, you have one empty.
2] PowerShell or Windows Terminal Command
Execute the following command on an elevated Windows Terminal or PowerShell to find memory slots and how much RAM is available on the PC.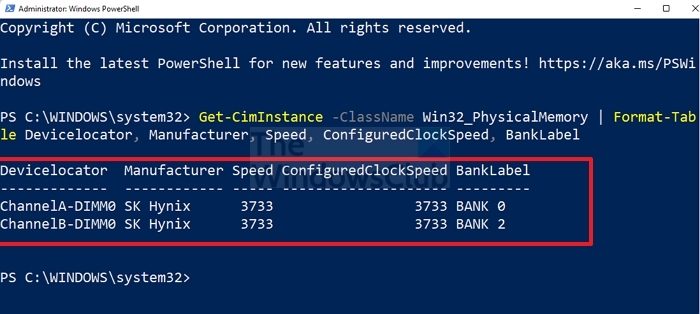 Get-CimInstance -ClassName Win32_PhysicalMemory | Format-Table Devicelocator, Manufacturer, Speed, ConfiguredClockSpeed, BankLabel
Once done, you should see information such as Speed, Bank Label, etc. If it's occupied, then you should see RAM configuration. If there is no info, but you see Bank information, there is an empty slot.
3] Applications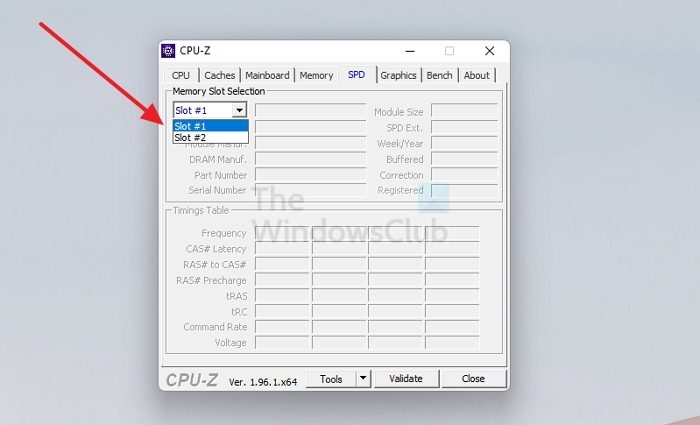 There is a lot of software such as CPU-Z that can reveal the number of slots, amount of memory, other PC details, and so on.
Download, and launch the tool. Then switch to the SPD tab, and check how many slots it has. If you see two slots, and all details are filled up when you switch, then all slots are occupied.
While the best way to figure out the memory slot is to check out the Motherboard manual, it will show the number of slots and the maximum limit. However, the post has discussed the number of ways to find out the number of free memory on Windows PC.
Read: How to clear Memory Cache in Windows
What are the types of memory slots?
RAM sticks have evolved with time, and if we look at them, you have SDRAM, DDR1, DDR2, DDR3, and so on. They differ in the number of pins and capacity of the RAM. When buying a new memory stick, find out what type of memory and RAM speed the motherboard supports.
Read: Best RAM hardware modules for gaming on PC
Is it ok to mix RAM size and brands?
Yes, you can always mix RAM of different sizes, brands, and frequencies, but it may not give you the best performance. Every RAM has its way of working and includes components that work better with the same hardware. So when buying RAM or upgrading, either replace the whole set or buy the exact model you already have on the PC.