One of the ways Google Search in Chrome has managed to keep delivering relevant results when compared to other search engines today is by the use of special features, and one of them is Trends. Google Trends is capable of analyzing data from all searches worldwide, and from there, Google determines the frequency of the search term use based on regions.
How to disable Google Trends on desktop and mobile
With the information collected, Google Trends then attempts to predict what is it you want to search for. It also takes into consideration your age group and location, and we can say for certain that it works quite well.
Now, not everyone wants to use Google Trends. Some might not find it useful, while others are just not interested at all. So, with that said, how can we disable Trends in Google Chrome from a computer, whether that be Windows, Mac, or Linux? Well, the task is easier than you might think.
Turn off Google Trends in Chrome
If you have Google Chrome installed on your computer, you can follow this method, since the feature is available nowhere else outside of Chrome, the official Trends website, Android, iOS, and Google.com.
Launch Google Chrome directly from your computer.
Click on the three-dotted button via the top-right of the browser window.
From the dropdown menu, please select Settings.
From the left pane of the Settings window, click on You and Google.
You must now click on Sync and Google services.
Once you have done that, please navigate to the category, Other Google services.
After that, you must toggle off Autocomplete searches and URLs.
The next time you use Google Search on your Chrome web browser, the Trend feature should no longer be used.
Turn off Google Trend search via Google.com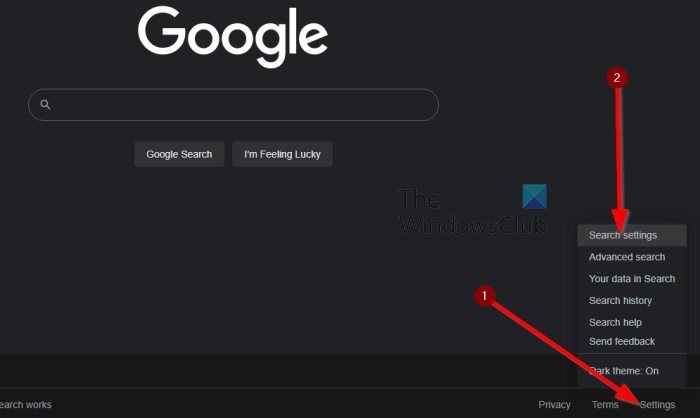 If you want to get rid of trend searches showing up in your Google Search results, then you must visit the official website and make the necessary changes.
Open your favorite web browser.
From there, navigate to Google.com.
Scroll to the bottom of the page.
Click on Settings.
From the context menu, please select Search settings.
Look for Auto-complete with trending searches.
Below it, select Do not show popular searches.
Click the Save button below to complete the task.
Whenever you initiate a search, trending results will no longer make an appearance.
Disable Google Trends search via iOS and Android
Folks who prefer to use their smartphones do have the option to disable Google Trends with ease. Follow the steps below to get the job done.
Launch the preferred web browser from your smartphone.
Navigate to Google.com
Look to the top-left corner of the page and select the three-dotted button.
From the dropdown menu that appears, click on Settings.
Move over to Autocomplete with trending searches.
Once there, you must enable Do not show popular searches.
That's it, you've managed to turn off Google Trends, so now your search results are free from trending information.
Why can't I get rid of trending searches?
If you're unable to get trending searches on Google, then chances are the feature has been disabled and you must re-enable it as soon as you can. Navigate to the Settings section on the Google.com website to get it done.
Read: Best alternatives to Google Products, Apps and Services
How do I find Google Trending Searches?
In order to find trending searches, you must visit the official page at https://trends.google.com/trends/ and have a look at the biggest searched trends of the day.
Is Google Trends free to use?
Yes, the Google Trends service is free to use and has been so ever since. We do not expect this change in the distant future, so keep on using the service with the peace of mind that it will nothing will change for a long time to come.
What is Google Trends used for?
Folks use Google Trends to see what people are searching for and how those searches change over time. If you have a company, then we suggest using Google Trends to get insights into what your customer wants in order to better serve them.