OneDrive offers Auto Backup files feature, and it doesn't easily go off unless you set it up. If you keep skipping it, it will reappear every time you turn on the computer. As a matter of fact, you will have to close all notifications to access OneDrive.  In this post, we will share how you can disable the Auto backup your files to OneDrive notification.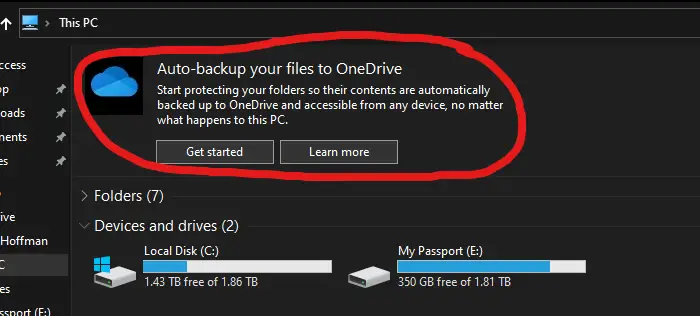 Disable 'Auto backup your files to OneDrive' notification
There is one thing straight forward about this notification. You need to interact with it to either enable the backup or choose to disable. Once you do that, the warning will never reappear.
Click on Get Start button or right-click on OneDrive icon on the system tray, and select Settings
Switch to Backup tab, and click on Manage backup button
You will have three folder options for backup— Desktop, Documents, and Pictures
Select the one you want to sync. If you do not wish to use this feature, choose the one with the smallest size. Let it sync.
Later if you do not want to use this feature, go back to the Manage backup section, and this time choose to stop the backup.
If you selected only one or two folders, then you can find the Stop backup button on those folders only. Click on it, and then close the window.
Once you have made your choice, you will not be prompted about the auto-backup feature of OneDrive. It is an excellent feature of OneDrive, which everyone should be using. You can backup your files and whatever you have on Desktop and then sync it across multiple computers. Since everything is saved on OneDrive, even if you format your computer, the files will not be deleted.
Related read: How to use Known Folder Move feature on OneDrive
I hope the post was easy to follow, and you were able to disable Auto backup your files to OneDrive notification.