If you have the inclination to, you can now easily create Sound Schemes for Windows 7 or Vista easily using freeware iFX Seven Sound Creator.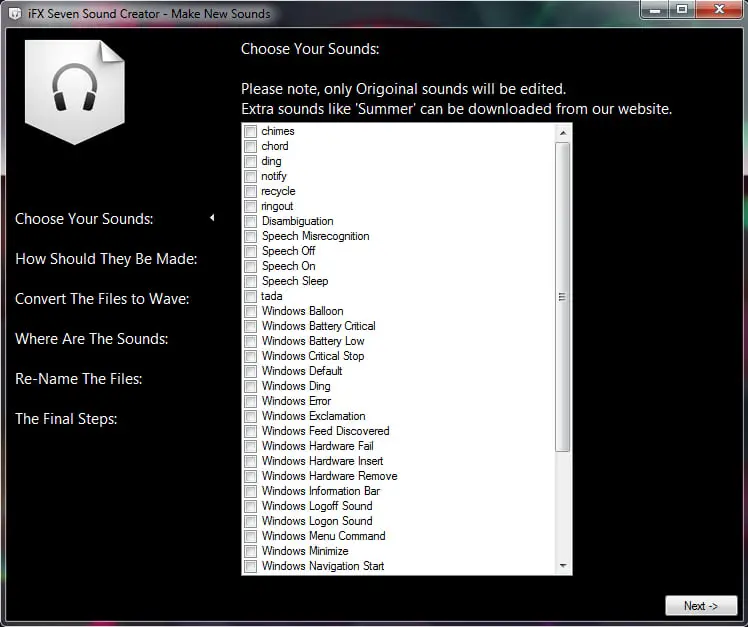 How to create new Sound Themes in Windows 7
iFX Seven Sound Creator is the next generation sound creation software.  Made for Windows 7 and using the new V4 software base you can experience the latest and greatest Sound creation software.
What's the V4 Base? The V4 base is the most automated base ever.  V1,2,3 were partly automated but the end-user still had to do everything,  Now you don't have to,  Moving the sounds are done automatically so you don't have to worry about messing up system files. Also, you don't have to worry about this software damaging files either because iFX is a Microsoft Software Partner meaning that Microsoft has checked the program for any problems.
Here is a list of some new features in iFX Seven Sound Creator:
– Uses new V4 base for more automatic sound creation
– Uses new Notification Ares in the Taskbar for Alert, Messages, and Updates
– Added a Check for Update option
– Uses Windows Media Player 12 for sound testing
– Better performance
– Easy to Install With Installshield
– You can use it on windows XP and/or Vista if you dont have Windows 7
You need to follow the following six steps to create new sound schemes:
1. Choose your sounds.
2. Choose how they should be created: The options include, using iFX sound recorder, using audacity, downloading sound from "freesound" site, using other programs/sites, or using available sounds.
3. Convert the files to .wav wave format, using FreeRip or Google Audio Converter.
4. Browse to the location of the files.
5. Re-name the files.
6. Open Control Panel and open Sounds properties. Browse for your sounds then click Save As and type in your sound scheme name.
Download: Softpedia.