An Apple ID is a crucial account that allows you to access various Apple services such as the App Store, iCloud, and iTunes. Unlike in older days, many people use their Apple id on non-Apple devices or want to use iCloud or iTunes on their PC. This post will share how to create a new Apple ID for free.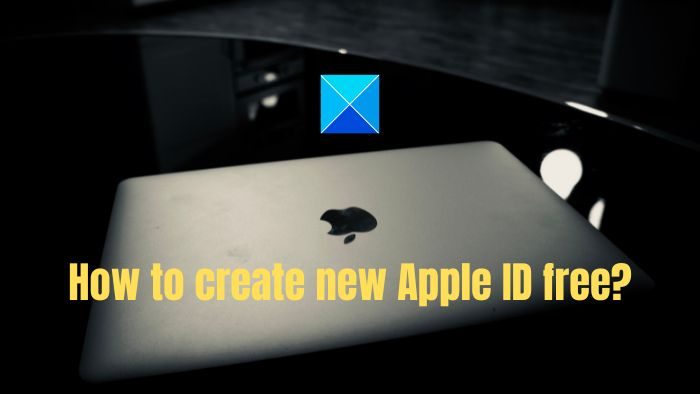 How to create a new Apple ID for free?
There are two ways to create an Apple ID. You can use a browser or app that connects to an Apple service like iTunes.  You can also create an additional Apple Id using an iPhone or Mac.
Using a Web browser
Using an iPhone
If you are not using any Apple products, use the browser to create one, as it's the easiest way.
1] Using a Web Browser (on PC or Android Smartphone)
Open your web browser and go to the Apple ID account page: 
It will reveal an account creation form asking you to fill in details about yourself.
Fill out the required fields, including your first name, last name, email address, password, country, and phone number with country code.
You will need to use a working Phone number which will be used to verify via text message or voice call.
Agree to the terms and conditions and click the Continue button.
Verify your account using Text or Phone calls.
Your Apple ID is now created, and you can start using it.
Note: Creating a new Apple ID on an Android smartphone is not possible directly from the device. You must use a web browser on your Android phone to visit the Apple ID account page and follow the abovementioned steps.
Related: How to set up and use iCloud Passwords on Windows
You can use any email id to create an Apple ID it. It also ensures that you can use that account to recover it.
2] Using an iPhone
If you have already set up an iPhone, i.e., you are using it and need to create a new account; you must ensure you are signed out of iCloud to create a new Apple ID.
Open the App Store and tap the sign-in button and tap Create New Apple ID
Follow the onscreen steps to provide an email address, create a strong password, and set your device region. The email address that you provide will be your new Apple ID.*
Enter your credit card and billing information, then tap Next. You can also choose None. Learn what to do if None isn't showing or you can't select it. You won't be charged until you make a purchase.
Confirm your phone number (via text or call). This can help to verify your identity and recover your account if needed. Tap Next.
Check your email for a verification email from Apple and verify your email address.
After you verify your email address, you can use your Apple ID to sign in to the iTunes Store, App Store, and other Apple services such as iCloud.
Conclusion
Creating an Apple ID is easy; to keep it active, ensure it's connected with a valid email id and a phone number. On PC and Android smartphones, you need to use the browser, while on iPhone, you can create it from within the phone.
Can I create Apple ID with Gmail?
Yes, you can create with Gmail or any other email id. It's only a user account for Apple, and it doesn't matter which email service it belongs to as long as the email is accessible. That said, the Apple ID and the iCloud account are the same for most Apple users. It is possible to have a different e-mail for your iCloud and Apple ID.
Do I have to create an Apple ID?
If you are connected to the Apple ecosystem, i.e., use an iPhone, Mac, iPad, or Apple TV, you should create an Apple ID. It will help you to download apps, music, movies, or other content from the App Store or iTunes Store. One added advantage is that you can back up your device and sync across multiple devices.