If you want to set up and use iCloud Passwords on Windows 11 and Windows 10 PC, here is how you can do that. It is a free password manager by Apple that you can use as a browser extension and desktop app on your computer. This guide helps you set things up correctly to avoid issues while accessing your passwords when needed.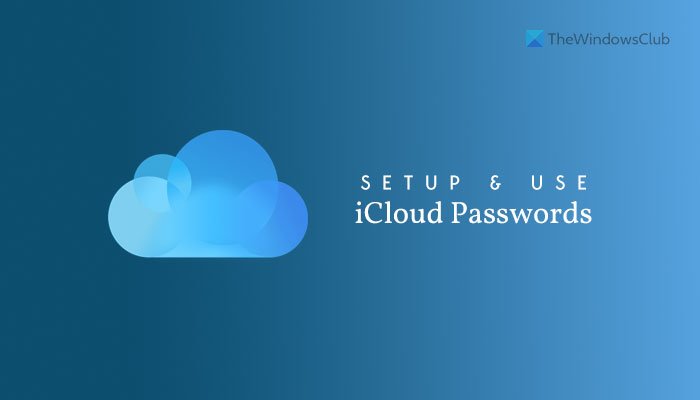 If you have an iPhone and Windows computer, you might get some problems when sharing data, such as passwords. Although there are some cross-platform password manager apps, having a native one is plus point. In this case, you can set up iCloud Passwords on your computer to save and manage all the passwords from one place.
iCloud Passwords features
It comes with some essential features that help you manage your complex passwords with ease. Although it doesn't offer as many features as other third-party password managers do, it does the job pretty well. Talking about the options and features, here is a comprehensive list:
Create new entry manually.
No limit on the number of saved passwords.
Delete and edit any password whenever needed.
Copy username or password.
Search for a website or username.
Browser extensions are compatible with Chrome and Edge.
There are some other options you can find while using it regularly.
How to set up and use iCloud Passwords on Windows 11/10
To set up and use iCloud Passwords on Windows 11/10, follow these steps:
Open Microsoft Store on your computer.
Search for iCloud and install it.
Open iCloud on your PC and sign in to your account.
Tick the Passwords checkbox and click the Apply button.
Search for iCloud Passwords and open it.
Click the Sign in button.
Enter your computer PIN.
Start using the iCloud Passwords.
To learn more about these steps, continue reading.
First, you need to install the iCloud app on your computer. As iCloud Passwords is iCloud-dependent, you must have the app installed. For that, you can open the Microsoft Store and search for iCloud. Once you get it on your screen, install the app and open it.
Then, you can see various features that you can enable or disable. For example, in this case, you need to enable iCloud Passwords. To do that, tick the Passwords checkbox and click the Apply button.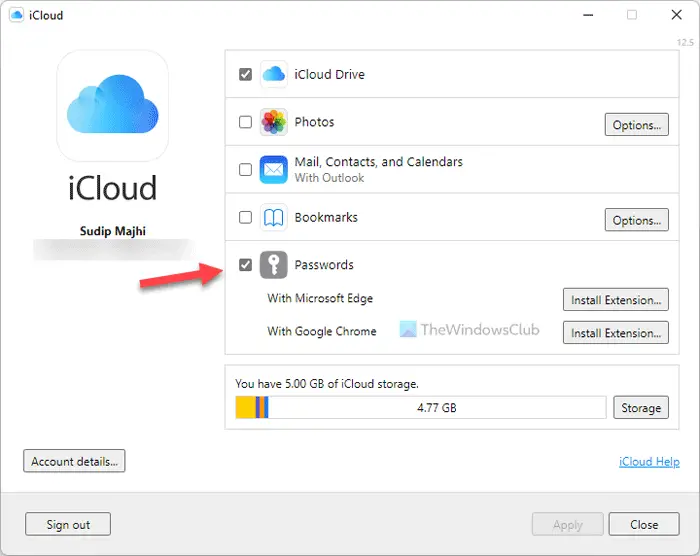 It enables iCloud Passwords on your PC. Otherwise, you will keep getting an error while opening iCloud Passwords.
Next, search for iCloud Passwords in the Taskbar search box and open the app. It asks you to sign in to it. For that, click the Sign in button and enter your computer PIN to get started.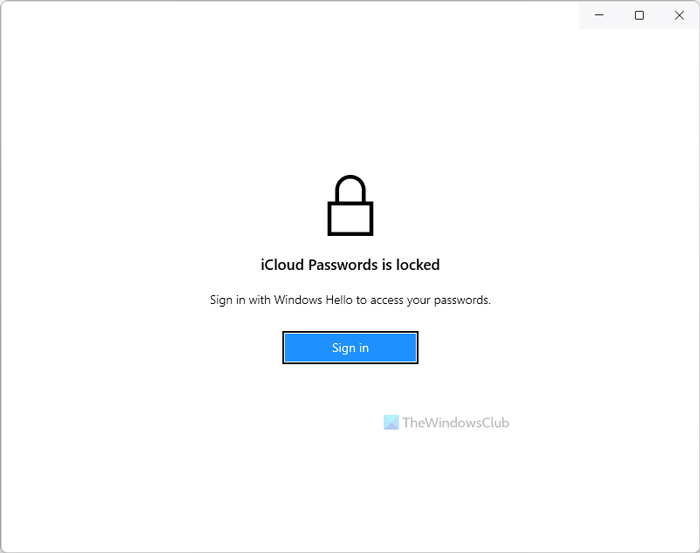 Once done, you can find a window like this: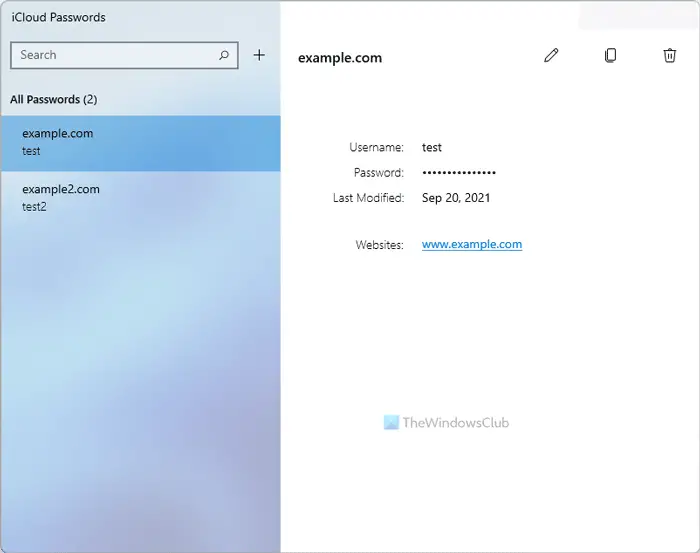 After that, you can create a new entry by clicking the plus(+) icon visible next to the search box. Then, you can enter the website name, username, and password before clicking the Add Password button.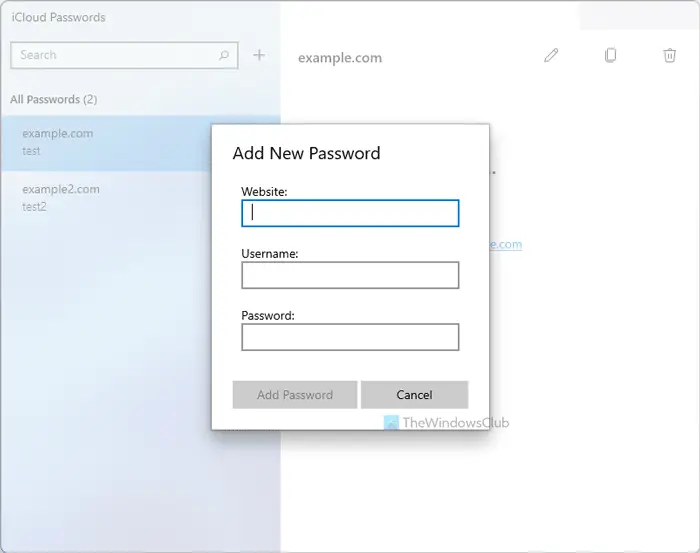 As mentioned earlier, you can install the browser extensions and use your passwords to sign in to your accounts conveniently. To do that, you need to open the iCloud app and click the Install Extension button.
Next, it redirects you to the respective repository, from where you can install the extension on your browser.
Advantages and disadvantages of iCloud Passwords
There are several advantages and disadvantages of using iCloud Passwords as your primary password manager on Windows 11/10 PC.
Advantages:
It is from Apple – you can trust it with your passwords.
The app is available on multiple platforms – no money needs to be spent on a paid password manager to use it on multiple devices.
The user interface is smooth, and it doesn't have any unnecessary animations.
Options are pretty clear – they do what they are supposed to do.
You need to enter your Windows PIN to access your passwords – it prevents others from accessing your credentials.
Enable or disable the iCloud Passwords quickly from the iCloud app in case of emergency.
Disadvantages:
It is not a standalone app that you can use on your Windows computer. You must have the iCloud app installed.
Lack of features. For example, many password managers (even free ones) allow users to write a note while saving a password. However, iCloud Passwords has no such option.
No password generator. Most of the third-party password manager apps let you create a complex or strong password within moments. However, it doesn't have such an option.
No add-on for Mozilla Firefox. The browser extension is compatible with Google Chrome and Microsoft Edge.
Can I use iCloud Passwords on Chrome?
Yes, you can use iCloud Passwords on Chrome and Edge browser on Windows 11/10 PC. You must have the iCloud app installed, and iCloud Passwords enabled on your computer to access the browser extension. For your information, you can save new passwords from any website and provide the saved credentials without any problem.
How do I access my iCloud Keychain passwords on Windows?
To access your iCloud Keychain passwords on Windows 11/10, you need to have the iCloud and iCloud Passwords apps enabled. Then, you can log in to your Apple account and find all the previously saved passwords. It is possible to use them and save new passwords using the app mentioned above.
If you like, you can download iCloud from microsoft.com.