Creating your own Themes in Microsoft PowerPoint is something you can do if you're not interested in using the ones that come with the application. Getting this done is easier than you might think, though your completed work will not be 100 percent original.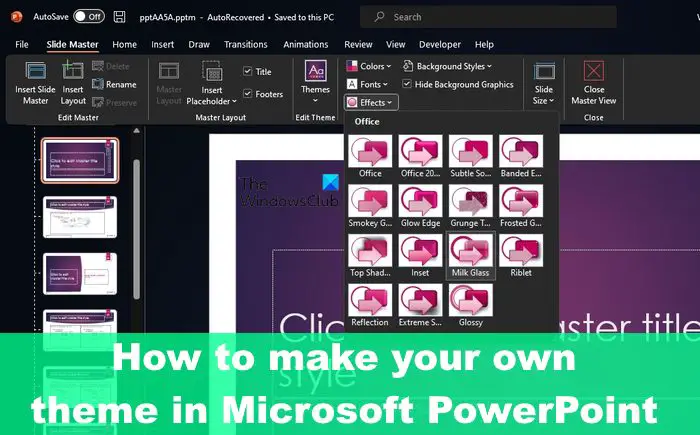 When you're creating a theme in PowerPoint, the platform will require that you use built-in themes as the base of operations. So, in essence, creating a theme in PowerPoint is truly modifying an already created theme into something different.
How to create a Theme in PowerPoint
To make a custom theme in Microsoft PowerPoint, you will have to modify an existing theme by changing the color, font, and effect settings. Let us see the steps involved.
Change the color of a theme
Change theme fonts
Choose a set of theme effects
Save the theme
1] Change the color of a theme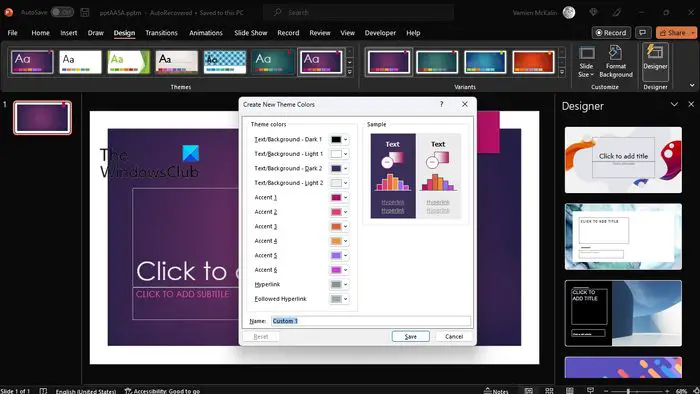 One of the first things you should do when creating your own PowerPoint theme is to change the color to something else. Let us look at how to get this done in the easiest way we know.
Begin by opening the PowerPoint application.
Next, open a blank presentation.
Navigate directly to the Design tab, then look for the Variants group.
Click on the downward arrow to view the gallery.
Select the Colors option, then right away you must click on Customize Colors.
The Create New Theme dialog box will open promptly.
From the Create New Theme Colors section, look under Theme Colors.
Here you'll be able to change the colors to your liking.
Once you're done with customizing the colors to your needs, go ahead and add a custom name.
Click on the Save button to complete the task.
To locate your custom theme, look at the Colors dropdown menu.
2] Change theme fonts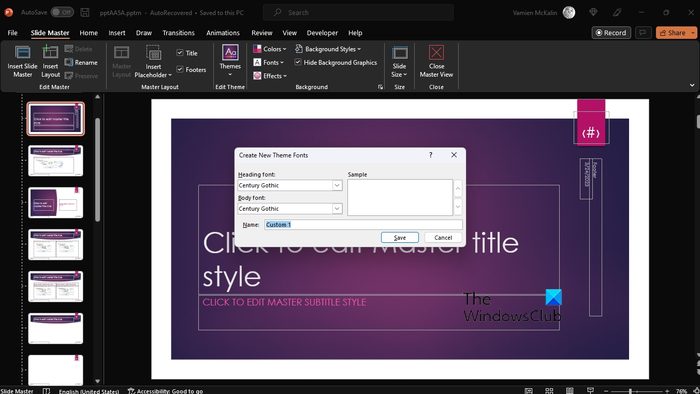 Another way to customize your theme is to change the font. Each theme comes with a font, though not all are unique from each other.
To make the changes, begin by clicking on the View tab.
Choose Slide Master, then select Fonts > Customize Fonts.
You should now come across the Create New Theme fonts dialog box.
This is usually found under the Heading Font and Body Font section.
From here, select the preferred fonts you want to use.
Add a custom name, then click on Save to preserve your work.
3] Choose a set of theme effects
We now need to choose effects for the custom theme. You can add reflections, fills, shadows, lines, and more. You cannot create your own theme effects, of course, but you can select a set of effects that works well for your particular presentation.
Go to the View tab, then select Slide Master.
From there, click on Effects via the Slide Master tab.
You will see a list of effects, so choose the one that makes sense for your presentation.
4] Save the theme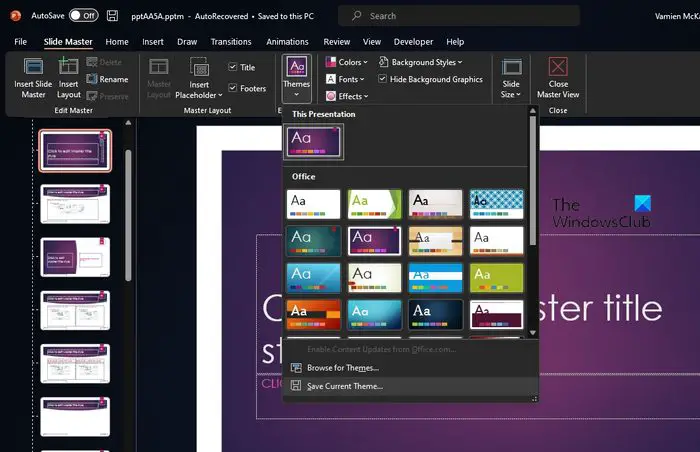 Finally, you will want to save the changes you've made to completely have your custom theme ready for use in a presentation.
Do this by selecting the View tab, then navigate to Slide Master.
From the Slide Master tab, select the Themes option.
Click on Save Current Theme.
Add a file name to the box, then hit the Save button, and that's it.
Bear in mind that the revised theme is saved as a .thmx file, and it can be found in the Document Themes folder via your local drive. Additionally, it is automatically added to the Design tab in the Themes group, so you cannot miss it.
READ: How to search for Online Templates and Themes in PowerPoint
How do I get more themes for PowerPoint?
From within a presentation, click on the Design tab, then from the Ribbon, please click on any theme/design. You should now see a list of designs via the right panel. Scroll down and click on See More Design Ideas.
Where can I download PowerPoint themes?
You can download PowerPoint themes via several websites on the web, and for free at that. Here are some of the best websites to find great themes:
Powerpointify.
Slidesgo.
Slides Carnival.
AllPPT.com.
Showeet.
Slide Hunter.
24Slides.
Presentation Magazine.
Now read: How to print PowerPoint slides with Speaker notes.