Microsoft PowerPoint in Windows 10 comes with a variety of different online templates and themes which can make your presentation look absolutely good and presentable to your audience. A PowerPoint Template or Theme consists of slides or a group of slides with unique layouts, fonts, colors, design, effects, background options, and so on. Choosing the right theme or template for your PowerPoint presentation, especially in case of business or work meetings, can send out a strong and persuasive message about the brand and brand values to the target audience.
In this post, we will learn how to search for online templates and themes in PowerPoint.
Search for Online Templates and Themes in PowerPoint
To open the PowerPoint app in Windows 10, click on Start > Microsoft Office > PowerPoint. The PowerPoint app will open.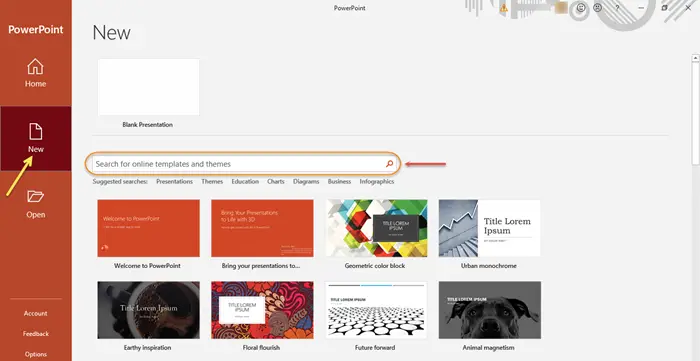 Once you open PowerPoint, click on the 'New' option in the left pane. You will see a Search box labeled 'Search for online templates and themes'. Type in the keyword or phrase that you are looking for in the search box and then, press Enter.
TIP: SlideUpLift offers some cool free PowerPoint templates too.
Below the search box, you will see the suggested searches, for example, presentations, business, education, charts, diagrams, etc. This is just for reference.
Let us say you are looking for a suitable business-related theme or template. Browse the available options by typing 'business' in the search box. Let's say, you want to go with 'Bright business presentation'.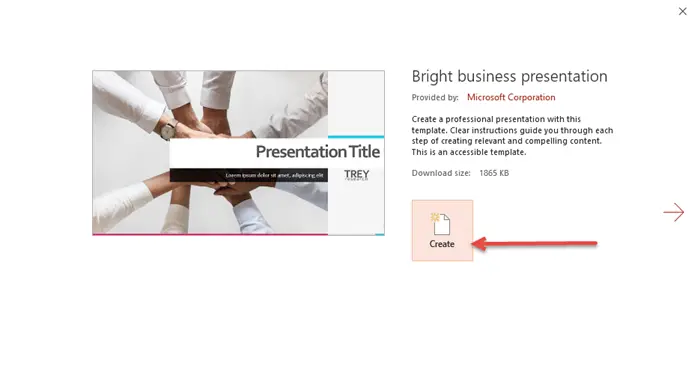 Once you have chosen the template or theme that you have liked, select it and click 'Create'. The selected theme or template will be downloaded and will be ready for use.
You can now begin working on your presentation!
Read: How to search for Online Templates in Microsoft Word.
Another way to choose or switch to an online theme or template is through the 'File' menu.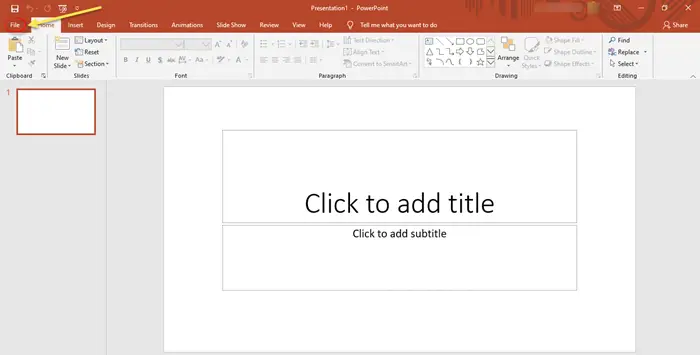 As you can see in the image, there is a blank presentation that is open. Click on the 'File' option and then further, click 'New' in the left pane.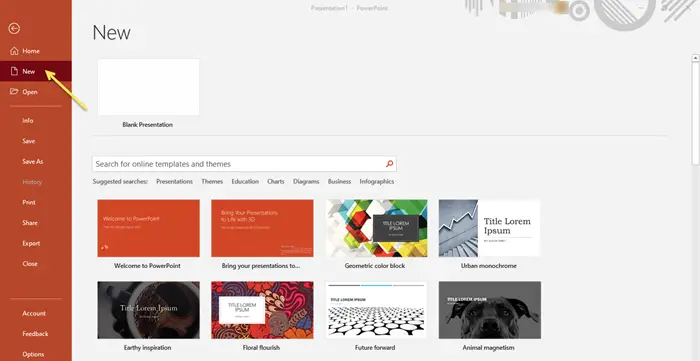 Follow the same steps as mentioned earlier, and select and download the desirable template or theme of your choice.
It is advisable to go for an already existing theme or template for your PowerPoint presentation when you want a ready format or layout of carefully chosen elements that would bring out the best in the presentation.
In just a few simple steps you can create an appealing PowerPoint presentation in Windows 10.
Related post: Download free Word, Excel, PowerPoint, Access, Visio templates.