Here is a tutorial to connect your game libraries from Steam, Xbox Live, Origin, and other gaming platforms to GOG Galaxy.
GOG Galaxy is a universal game launcher used to download,  purchase, and play thousands of paid and free games. It features several handy functions that you can use to optimize your gaming experience. One of its many features includes Connect. Using it, you can integrate other gaming clients and platforms with GOG Galaxy. It allows you to combine other game libraries into GOG Galaxy and connect your friends across all other gaming platforms. Now, let us check out how you can connect Steam, Epic Games, Xbox Live, Origin, and other game libraries to GOG Galaxy on your Windows PC.
How to connect Steam, Xbox Live, and other game libraries to GOG Galaxy?
Here are the main steps to connect your game libraries from Steam, Xbox Live, Origin, Epic Games, and more to GOG Galaxy:
Download and install GOG Galaxy.
Open GOG Galaxy.
Go to Settings.
Navigate to the Integrations tab.
Press the Connect button.
Sign in on the selected gaming platform.
Firstly, make sure you have downloaded and installed GOG Galaxy on your Windows PC. And then, launch the GOG Galaxy app.
Now, press the cogwheel icon from the top-left corner and then click on the Settings option.
After that, in the Settings window, move to the Integrations tab from the left-side pane. Here, you will see options to connect your GOG Galaxy to different gaming platforms including Steam, Epic Games Store, Origin, Xbox Live, etc.
Read: GOG Galaxy is not tracking my Game Play Time.
You can now press the Connect button present next to the gaming platform that you want to connect.
Once you tap on the Connect button, you will get a confirmation prompt whether you want to provide GOG Galaxy access to your other gaming platform account. So, press the Connect button to proceed.
Now, you will be asked to enter the login credentials for the selected gaming platform. Enter your email address and password, and then click on the Sign In button.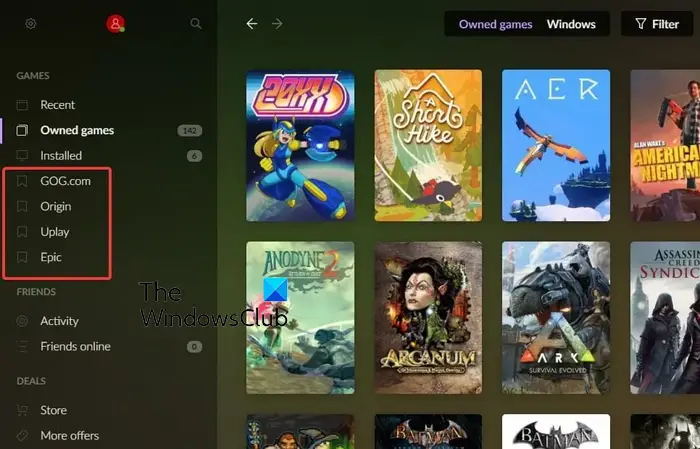 When the sign-in process is complete, it will import your game library from chosen platform to GOG Galaxy. You can now access other connected gaming platforms right from the main interface of GOG Galaxy.
Do note that third-party games in GOG Galaxy will still be downloaded and installed via its native gaming platform. Suppose you are trying to install Battlefield 2042, it will be installed via Origin.
Read: Fix GOG Galaxy game Corrupted data issue.
Can you use GOG on Xbox?
No, you can't use GOG Galaxy on your Xbox consoles. It is a gaming client for PC only. You can download and install it on Windows and MAC computers.
Why is GOG not connecting to Steam?
If you are unable to connect your Steam account to GOG Galaxy, make sure the login credentials are correct. If case you are entering the wrong credentials, you won't be able to connect Steam to GOG Galaxy. Besides that, you can try launching the game on Steam and then check if the problem is resolved. Also, check whether your profile privacy is set to public, restart GOG Galaxy, or reboot your computer to fix temporary glitches.
Now read: GOG Galaxy Black or White screen issue.