Did you know it's possible to view and delete your Instagram log-in activity via your computer's web browser? No need to fire up your smartphone to get this mundane task done. It took Meta a long time to make this a possibility, but it's here now and all should take advantage of it.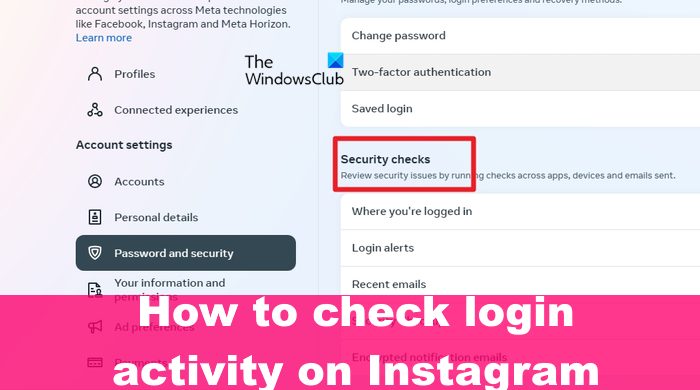 Instagram tends to keep a history of your log-in activity. Whenever you sign in and log out of your account from the devices you own, this will show up on your log-in activity. It doesn't matter if you're using a mobile app or a web browser on Windows, the information will appear.
How to check Instagram Login Activity
To check your Instagram log-in activity, follow these steps:
Launch your browser on your PC
Go to Instagram Accounts Center
Navigate to Security Checks
Go to Account Login Activity
Here you will see the login activity.
To check on your log-in activity, you must first launch your favorite web browser, then navigate directly to Accounts Center.
For those who might be wondering, the Instagram Accounts Center was designed to help users manage their connected experiences along with account settings across all Meta technologies such as Instagram, Facebook, Meta Horizon, and others.
The next step is to go directly to Security checks.
You can do this by selecting Password and Security.
From there, you must go ahead and seek out Security Checks.
This section is located under Login & Recovery, so very difficult to miss.
Alright then, it is now time to do the very thing you came here to learn about, and that's viewing your log-in activity.
Do this by clicking on Where you're logged in.
Select your Instagram account from the list.
You should now be greeted with the Account Login Activity window.
It will showcase the devices currently logged in, along with over devices that have logged into Instagram in the past.
Related: How to see your Activity on Instagram
How to Log Out of Instagram Account on Devices
Folks who want to log out of one or more devices that are currently connected to Instagram can do so with ease.
Simply click on the name of a device, then select Log-Out.
If that doesn't work, then scroll to the very bottom of the Account Login activity window.
Look for Select Devices to Log Out.
Choose the devices you want to log out from
Once chosen, please click on Log Out.
Confirm if asked to do so, and that's it.
How to view Instagram Login Activity from mobile phone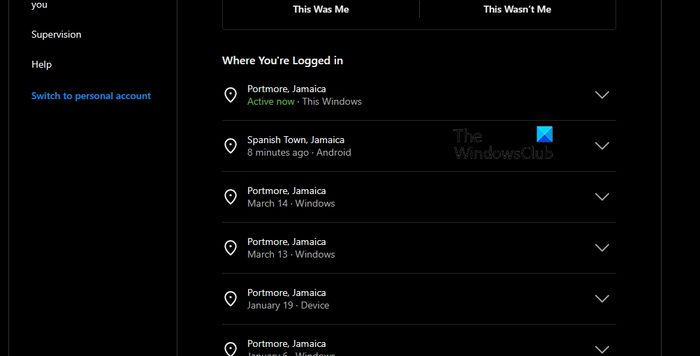 From your smartphone web browser, sign into Instagram, then navigate to the Login Center. There you will be able to view your Instagram log-in activity no matter the device or location.
Bear in mind that the above URL will work just the same on a desktop computer.
READ: Can't log in to the Instagram app or account
Will someone know if I logged into their Instagram?
Several users have stated Instagram sent them alerts detailing unusual log-in attempts to their accounts. So the answer to your question is a yes, but in most cases, Instagram will either block the log-in attempt or give a warning after the fact.
Can you be logged into Instagram on 2 devices at the same time?
Yes, users can log in to Instagram with two or more devices at the same time. To make things even better, Instagram has allowed its users to add a second account atop the first.