This post will show you how to see your Activity on Instagram. You can also view and delete Instagram activity using your Phone or PC. The ability to see your Instagram activity on the platform via a desktop computer or phone is quite important as it gives many users the incentive to not always boot into Instagram from their smartphones or tablets. Now, viewing is not the only option as it is possible to delete content from the activity area.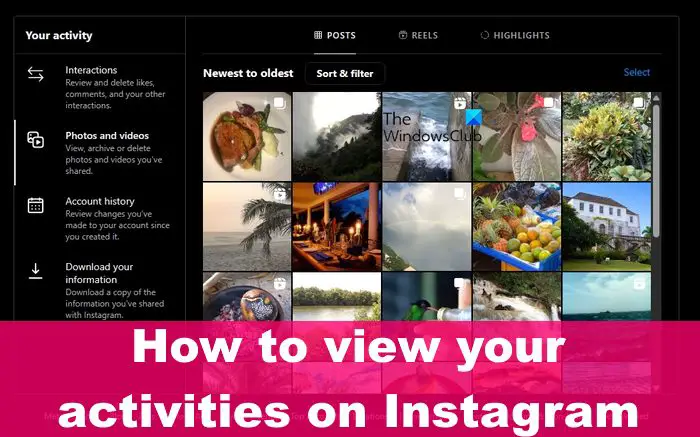 Instagram has a neat feature where users can check their past activities. In the eyes of many, this can only be done via the Instagram app, and for a time that was the case. However, times have changed as the developers at Meta decided to bring this feature to the desktop version of Instagram.
How to See and Delete your Activity on Instagram
To view and delete Instagram activity on the web you will have to visit the website and click on the Your Activity section, as discussed below.
Open your favorite web browser
Visit the Instagram website
Log in with your official Instagram account or Facebook account.
Click on the Menu button at the bottom.
Select Your Activity.
You should now see a list of your activities on Instagram. These activities include Interactions, Photos, videos, Account history, and Download your information.
.Choose which category you want to delete from.
Once a category is selected, click on the Select button.
Choose the content you want to delete from Instagram.
Finally, click on the Delete button, and that's it.
All activities you've deleted on Instagram are all gone and for good. There is no way to get them back.
How to View and Delete Instagram Activity on mobile
If you're on a mobile device, then it is possible to delete Instagram Activity with ease, so let us explain what needs to be done.
Open the Instagram app on your Android or iOS device.
Sign in with your Instagram account information if you haven't already.
Tap on your profile photo at the bottom-right corner of the screen.
From there, tap on the menu button at the top-right corner.
You should now see the Your Activity button.
Please tap on Your Activity to reveal additional options.
Select either to view relevant information.
To delete the data, tap on Select, then choose the activities you want to have removed.
Finally, tap on the Delete button to send them away forever, or Archive if you want do not want to delete them permanently.
If everything goes according to plan, then your Instagram activities should be a thing of the past.
READ: Instagram doesn't let me post; What do I do?
Why is Instagram not showing login activity?
The activity section on Instagram might not be working due to problems with your internet connection. In other situations, the issue could be one that is linked to the platform; therefore, you may have to wait a while before the service is back online.
Can activities be deleted?
Yes, it is possible to delete content from the activities section of Instagram on the web. You can either delete one after the other, or in bulk if you feel the need.