One of the most popular social media platforms for viewing and sharing pictures and videos is Instagram. But like any other application, Instagram occasionally has issues that can be caused by a number of things, including bugs, outages, and a host of other things. The most frequent problem with Instagram, though, is with its sign-in function, which frequently causes users to encounter some error pop-ups when they attempt to log in.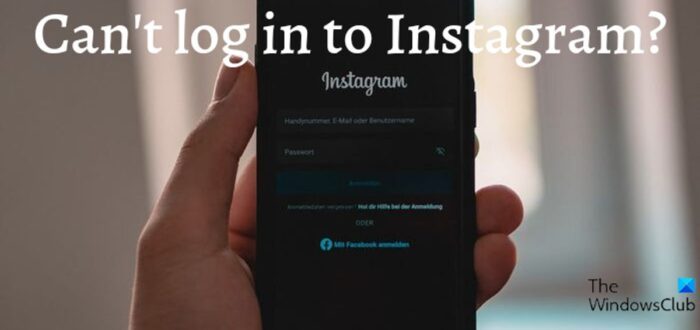 Additionally, a lot of its users have reported this problem, so you are not the only one if you are having problems with logging in on Instagram. In this article, we will discuss these errors' specifics and the best way to fix them.
Common reasons why you can't log in to Instagram
Different error messages may be associated with the Instagram login problem, and the cause of the problem depends on the error message you are encountering. However, some of the common causes of the challenge include bugs, incorrectly entering login details, network problems, and downtime for Instagram.
You are more likely to see problems like this when using an old version of Instagram on your device, which bugs in that version of Instagram may cause. Additionally, we occasionally enter incorrect information when utilizing auto-fill to enter password details.
All of these factors, along with the others listed previously, may be the root of the problem, but this article will discuss several solutions to tackle it.
Can't log in to Instagram app or account
If you cannot log in to Instagram app or account and maybe see Unknown network error, here are some suggestions to help you sign in. Not being able to log in to Instagram can't be due to different reasons, as mentioned earlier, but we will cover all their fixes here. However, you should try to restart your device first and see if it helps in fixing the problem.
Check if Instagram is down
Make sure your internet connection is stable
Don't use auto-fill to enter log-in credentials
Reset your password
Uninstall and reinstall the Instagram app
Log in via browser
Clear Instagram or browser cache
Disable VPN
Contact support
1] Check if Instagram is down
Instagram sometimes experiences downtime just like any other application, and while this happens, some of its features will be on hold till the issue is resolved. However, they always work quickly to fix issues like these, so it literally doesn't take long. Thus, this can be why you can't log into Instagram; the only thing you can do is give it some time. Moreover, you can see if Instagram is down or not.
If this is not the case, try the next solution.
2] Make sure your Internet connection is stable
Applications like Instagram need a fairly solid internet connection to function, so you might not be able to open Instagram on your smartphone if your internet connection is unstable. Although it may seem like a basic solution, most users ignore it. If you're using a router, be sure to position it near you for a better connection and to have a good data plan.
This will help secure a connection with Instagram if that's the case.
3] Don't use auto-fill to enter credentials
Almost all programs employ the auto-fill feature to relieve users of the burden of entering their login information each time they need to log in to the app. Instagram also has this feature, and if you've ever used a log-in detail before, it will automatically fill it in with a single click. However, it's possible that you've changed your login details but hasn't yet used it on the device you can't log in with. This means if you try to use the detail auto-fill, it will enter your outdated information, which is useless. Instead, you can try manually entering your information to see if it works.
4] Reset your password
Resetting your password is one of the best ways to deal with the Instagram login problem. This is due to the fact that most people provide inaccurate information while believing it to be accurate. Simply click on Get help logging in to the option just below the "Log in" menu to change your password.
5] Uninstall and reinstall the Instagram app
A simple uninstalling and reinstalling a newer version of your Instagram app can be helpful in this situation too. One of the things this solution could help with is to remove bug issues in the outdated version of Instagram you were using. Besides, this will give your Instagram application a fresh start and will resolve any problem with the app settings itself.
To uninstall Instagram on Windows:
Go to the Control Panel and make sure the View by option is set to Small icons.
Click on Programs and Features.
Right-click the Instagram app option and tap Uninstall.
Select Yes to confirm the action.
You can then install the application from the official store
Related: How to set up, record, edit, and publish Instagram Reels
6] Log in via browser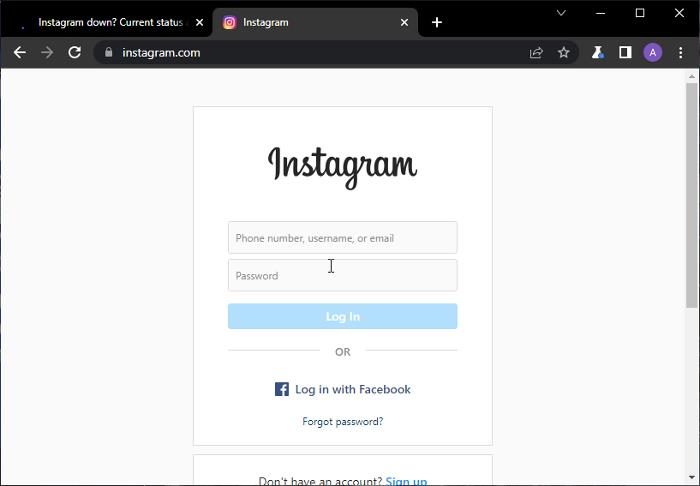 If you've been trying most of these fixes with the Instagram app, it's time for you to log in via browser. This will help you figure out if the issue is just with the app or Instagram platforms generally. Visit www.instagram.com on any of your browsers and see if the issue persists or isn't showing any more.
Read: How to enable Dark Mode in Instagram on PC
7] Clear Instagram or browser cache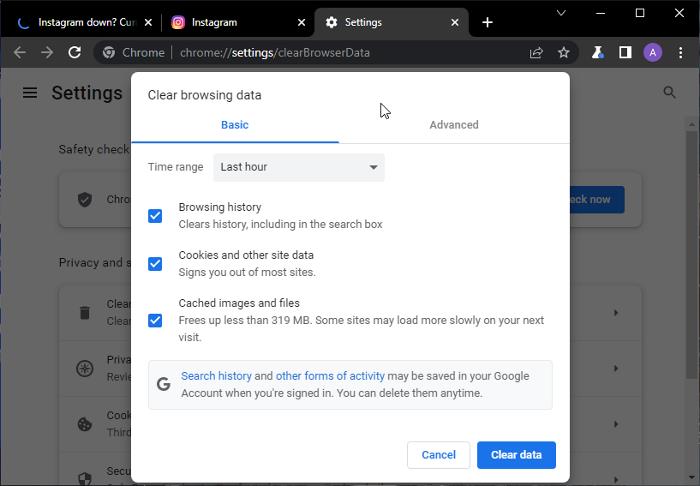 A corrupt cache could be the reason for this issue from the Instagram app or while logging in through the browser. What you could do in this case is to clear Instagram or browser cache on your device.
8] Disable VPN
If you were previously using VPN for whatever reason and the service is still active while you are trying to access your Instagram but having a problem, you should disable the VPN. Instagram can simply be blocking your login just because you are blocking your IP address with the VPN, so it's recommended to disable it and see if it helps.
9] Contact Instagram Support
After you've tried all the solutions above, are you still getting the problem? Try contacting Instagram support through this link and tell them about the issue you are facing. To report a problem on Instagram:
Click on your picture menu at the bottom right corner of your Instagram home page.
Tap the Gear icon at the top left corner of the page to open Settings.
Then navigate to Report a Problem and click it.
Enter every detail about the issue you are facing and submit it.
Give it time for Instagram to get back to you on the issue.
Read: Instagram Tips and Tricks you need to know
Can I log in to Instagram with my email address?
As long as one is connected, you can log in to your Instagram with your email address. Other options you can use to log in are your phone number or username along with your password.
Do I need to update my Instagram app?
Updating your Instagram application regularly saves you from bugs that come with older versions. So, yes, you should update your Instagram application in order to have a better user experience using the app.