YouTube, despite the rise of several competing platforms recently, is still the primary video platform for the best free video content. Now, if you are a regular user of YouTube or a person who wants to become a content creator, you may want to change the name of your YouTube channel, URL, and profile picture.
These things are possible, but just ensure you've followed the community guidelines, and everything will be fine.
How to change YouTube channel name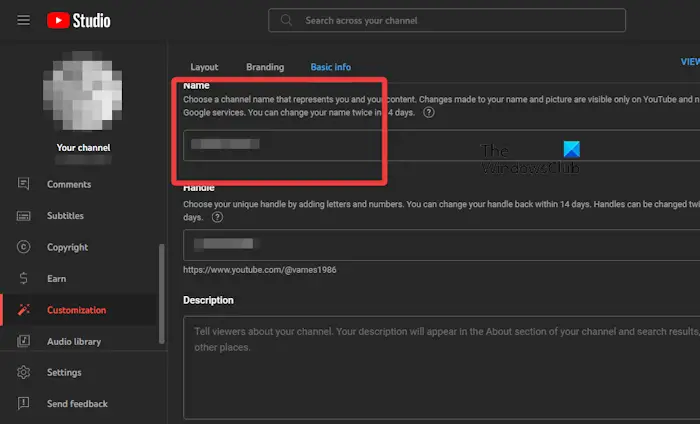 If you did not plan on becoming a content creator after originally creating a YouTube account, then your channel name might not be up to certain standards. The best thing to do right now is to change the number, so let us explain what needs to be done.
First, you must visit the official YouTube Studio page.
From there, sign in with your account details if you haven't done so already.
Look to the left menu, click on Customization, then select Basic Info.
Type your new channel name, then enter a description for things to be more professional.
Finally, click on the Publish button and right away your channel name will be changed.
READ: How to Lock a YouTube Video on Screen
How to change YouTube channel URL
In terms of changing your channel URL, this is another simple task that can be done directly from within YouTube, so let us discuss how to make the changes.
Navigate to YouTube via your favorite web browser.
Click on your profile picture, then select YouTube Studio.
The next step here is to click on Customization via the left panel.
From here, click on the Basic Info tab, then look for Handle.
Type your unique handle by adding letters and numbers.
Click the Publish button when you're done.
Bear in mind that you can only change your channel URL every 14 days.
READ: YouTube video Black screen on Chrome
How to change YouTube profile picture
Finally, let us discuss how to change your profile picture to something that is more fitting for your needs. If you are not sure what to do, we are about to explain.
Open your favorite web browser, then navigate to YouTube.
Click on the profile icon, then select YouTube Studio.
From here, you must select Customization via the left panel.
Look under Channel Customization and select Branding.
Seek out the Picture section, then click on Change.
Choose the picture you wish to upload, and hit the Enter key.
To complete the task, hit the Publish button.
READ: How to verify YouTube TV app using tv.youtube.com/verify?
Why can't I set a custom URL on YouTube?
If you're not able to set a custom URL, then there is nothing to worry about. It simply means you have to meet some requirements first. For example, you will need to acquire at least 100 subscribers, and once that is done, you can add a custom URL.
Can I change my YouTube name without changing my Google name?
YouTube creators who have both branded and personal accounts have the option to change the name of their channel without affecting their Google account name. You can make these changes via YouTube Studio on a computer, or the YouTube mobile application.