The complexity of video game graphics and their UI elements has evolved exponentially. So, to make the gaming experience more comfortable and convenient most gaming platforms support an extensive list of languages. Like others, you can change the game language in GOG Galaxy too.
How to change Game Language in GOG Galaxy
Changing the default language to your native language while playing games can help you navigate the hostile landscapes without any hassles. It can also be your ticket to gaming success as you'll not just understand the console-based controls, but also in-game dialogue in your native tongue. Here's how you can get started.
Open the GOG Galaxy launcher.
Select a game.
Choose the Customization icon.
Select Manage Installation > Configure.
Scroll down to the Language heading.
Hit the Drop-down button.
Select the desired language.
Hit the Ok button.
Adjusting your Game language settings seems to be the most useful way to customize your gaming experience.
Changing the game language in GOG Galaxy takes just a few steps. To get started, open the GOG Galaxy Launcher and select a game of your choice
Next, select the Customization icon (visible in the upper-right corner, just adjacent to the Play button).
From the list of options displayed, choose the Manage Installation menu and when it expands, select the Configure entry as shown in the image above.
When a new Installation screen appears, scroll down to the Language heading.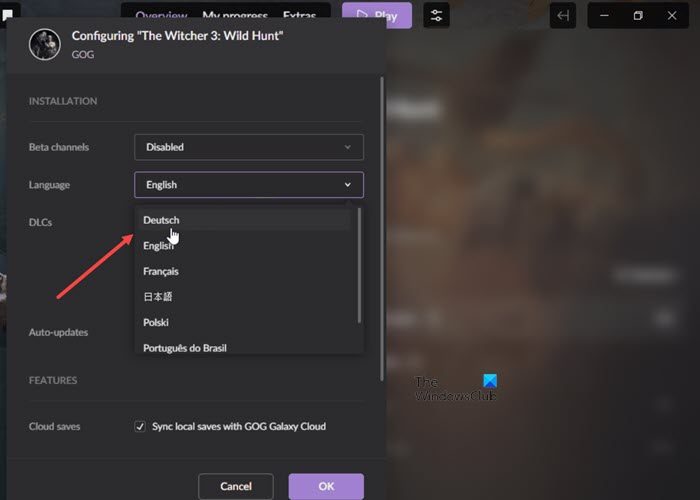 Hit the drop-down button adjacent to the Language heading and from the list of languages provided therein, select your native language.
When done, hit the OK button to configure the changes.
Now, all your game User Interface elements will be displayed in the language of your choice.
Can't change GOG Language settings?
Please note that some titles have language settings available from the in-game options menu. As such, you can switch languages only for GOG games and not others. Also, if you see the Manage Installation setting grayed out with the "Managed in-game only" message, it means you can change the language only from the in-game menu.
Is GOG unlocked trustworthy?
GOGUnlocked offers GOG games free. It allows you to play games without needing activation keys or cracks. It is not exactly illegal, but there are certain situations in which it could be. It is safe to use. There are no viruses. Each game comes directly from GOG.com, which is a simple installer and directly playable through the desktop shortcut.
Related: Fix GOG Galaxy game Corrupted data issue.