Customizing the visuals of your PC is the one thing that every Windows user tries to do. But not many options are available or provided by Windows under Settings. So, did you ever want to change the default colors that programs generally use? This post covers two small utilities named Classic Color Panel and System Font Size Changer that let you change colors for system elements and font sizes on Windows 11/10.
Classic Color Panel for Windows 11/10
Windows 11/10 ruled out many color-based customizations earlier available. But still, those settings are available but that requires some changes in the registry. Well, Classic Color Panel can do that for you. The program lets you change various system colors by making changes to the registry. Not only the program provides a UI for the entire process, but it also makes it easier to change colors this way rather than making registry changes yourself.
On the first startup, the program will notify you to back-up your current settings, in case something goes wrong. You can backup now or later using the Export feature available. Once the program is up and running, you can start changing the colors. Various system elements along with their current color are displayed. Also, you can click the '>>>' menu option to unlock more settings.
One can simply click the setting that needs to be changed and a new standard color dialog box will pop up. You might be very familiar with this dialog as it has been vividly used in other programs as well. Now enter the RGB values for your desired color or choose one available from the pre-sets.
Once you are done changing the colors, all you need to do is hit the 'Apply' button. The program would prompt you for a restart or simply a Log-Off for changes to take effect. You can even export your set of settings and share it with someone else in a REG format. The other person can apply the same settings my simply merging the ".reg" file with the registry.
Click here to download Classic Color Panel,
System Font Size Changer for Windows 11/10

Windows changed a few things, one of them was the font and related settings. With the new update, you cannot adjust some display settings like the font-size, bold and etc. But again, these settings were available in the registry. System Font Size Changer lets you adjust font-size for various system elements by making changing to the registry.
Similar to Classic Color Panel, the program will prompt you for backing up your current settings while you run it for the first time. And once it is done, you can see all the available settings and their current values. System Font Size Changer can change font size for these elements:
Title Bar
Menu
Message Box
Palette Title
Icon
Tooltip
A 20-level slider is available that lets you adjust relative font size. The default setting is 0 and you can go up to 20th level for biggest available font size. Once you are done, adjust the size and apply the settings. The program may prompt for a restart or a Log-Off.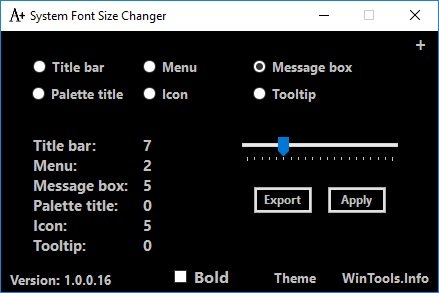 A similar exporting feature is also available and you can export entire settings as a ".reg" file and share it with someone.
Both the tools work amazingly fine and get the job done. You don't need to make registry changes yourself and the programs can even backup the original settings in case anything goes wrong. The UI is easy and simple and familiar.
Click here to download System Font Size Changer.
How do I change the font color in Windows 11/10?
To change the font color or font on Windows PC, you need to use a third-party app. Although there are multiple tools available in the market, you can use Classic Color Panel, System Font Size Changer, etc., to get the job done. Whether you use Windows 11 or Windows 10, you can take the help of these two apps.
How do you change the window color scheme and font size for your desktop?
To change the Windows color scheme and font size for your desktop, you have two options. First, you can use the in-built Windows Settings. Second, you can use third-party programs. If you want to opt for third-party apps, you can head to the Classic Color Panel or System Font Size Changer.
Let us know if you find these free tools useful.