Twitter or X, has a paid plan called X Premium, which was earlier called Twitter Blue. The subscriber of X Premium will have a blue mark on top of their username. However, some users sometimes feel like they no longer need the blue mark and want to cancel X Premium Subscription. In this post, we will learn how you can do the same.
How to cancel X Premium (Twitter Blue) Subscription
When you cancel your X Premium Subscription, you will lose the blue checkmark that appears on top of your profile pic in X. You won't be able to edit tweets, bookmarks, and all the other exclusive perks that came with the premium. The privileges that you received by subscribing to X Premium will stay until the next billing date.
Let us talk about them in detail.
Cancel X Premium Subscription from Website
Most of us tend to do important chores, like canceling or buying subscriptions on our computers. So, let us just see how to unsubscribe from X Premium from X's website.
Open any browser, go to twitter.com, and log in using your credentials.
Now, go to the More option from the left of the window and then click on Settings and Support to expand it.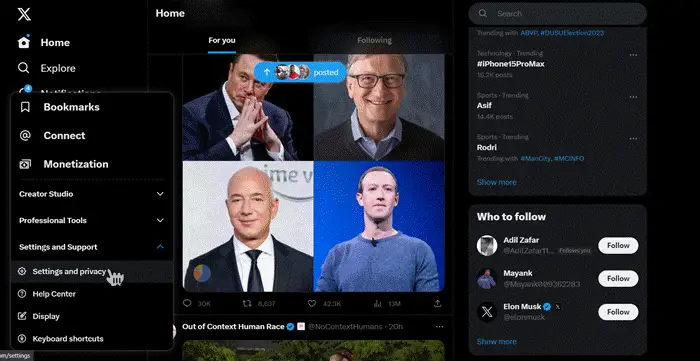 Next, you need to navigate to Settings and Privacy.
You then have to navigate to Premium > Manage Subscription.
Click on Manage your current subscription.
Finally, click on the Cancel Plan button.
That's how you can cancel your Twitter or X Premium Plan via the website. Do keep in mind that you don't have to have a laptop or desktop to do the same, any device, even your mobile, with a browser can be used to perform the aforementioned steps.
Read: Useful Twitter Search tips and tricks guide for beginners
Cancel X Premium Subscription from Mobile App
You will only be able to cancel your X Premium subscription if you use their mobile application to subscribe to the service. In case you used their website to get the Premium subscription, this method won't work; instead, you will be asked to use the website to do the same.
If you are an iPhone or iPad user and want to cancel the X subscription from the app itself, follow the steps mentioned below.
Open your mobile Settings app.
Now, go to the Subscriptions section by clicking on the appropriate button.
Then, click on the X icon and then click on Cancel Subscription.
This will do the job for you.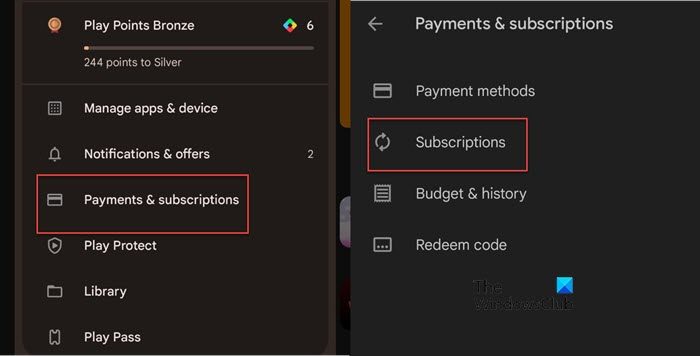 Launch the Google Play Store app and then click on your profile picture.
Next up, go to Payments & Subscriptions.
Then, click on Subscription, this will show you all your subscriptions brought from their respective mobile apps.
Go to X and then click on the Cancel subscription option.
You can now be rest assured that X won't deduct money from your account at the at of the month.
Note: You will not see X on the subscription page in Android or iOS if you have not subscribed from the mobile app.
Read: How to Block and Unblock an Account on X (Twitter)?
How to subscribe to X Premium?
To subscribe to X Premium from the website, follow the below steps.
Go to Twitter.com on any of your browsers.
Next, click on More.
Navigate to Settings and Support > Settings and Privacy.
Now, click on Premium and follow the on-screen instructions to buy it.
This will do the job for you.
Is Twitter Blue a monthly subscription?
Yes, Twitter Blue, which is now called X Premium, is a monthly subscription that gives you a lot of perks including the Blue mark which signifies a verified user. You can buy it using the steps aforementioned steps.
Read Next: Best Twitter Alternatives that are popular.