Twitter is one of the most popular social networks today. It's not on the same level as Facebook, but it has its place with its over 300 million monthly users. Now, unlike other social platforms, Twitter doesn't make it easy for folks to delete their content.
Its an understatement to say Twitter doesn't have quality management tools, and that's quite surprising for a platform that has been around since 2006. If the user wants to delete several Tweets, they are forced to do it on a one-by-one basis.
Yes, there is no option at this time to delete Tweets in bulk natively, and this is why we are forced to write this article. You see, the internet is filled with third-party programs designed to help with the deletion of Tweets in bulk. We are going to discuss the best of the bunch today, so hold on to your horses.
How to delete Twitter tweets in bulk
Here are some of the best free online tools that will help you delete your Twitter tweets in bulk:
Tweet Delete
TwitWipe
Tweet Archive Eraser
1] Tweet Delete
Out of all the options available for removing Tweets from Twitter, we are more inclined to recommend TweetDelete.net, and that is because it comes with the ability to remove 3,200 Tweets all at once. If you're the type of person who tweets a lot, then chances are you will require the services of this tool.
To get rid of your tweets, please go to the TweetDelete homepage, then click on Sign in With Twitter. From here, you are required to sign-in with your Twitter information to authorize the app to gain access to your account.
Now, after signing in, you should see Delete all my existing tweets before activating this schedule, just tick the checkbox beside it, and uncheck the ones beside Post to my feed to let my friends know I activated TweetDelete and Follow @Tweet_Delete for future updates.
Finally, you will want to click on Activate TweetDelete and wait for the tool to complete the deletion of all tweets from the account.
2] TwitWipe
What we have here is the second tool of our list, and it's not bad. Clearly not on the same level as Tweet Delete, but TwitWipe.com can hold its own quite well.
OK, so to delete your tweets, please click on Get Started, then Sign in using Twitter, and follow the instructions to wipe your tweets. Bear in mind it will take some time to delete everything if you have thousands of tweets, so please keep this in mind.
3] Tweet Archive Eraser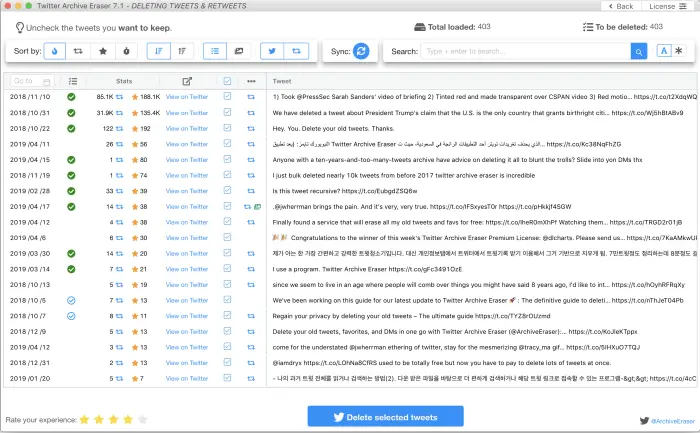 This one is a little bit different from the others because it requires installation on your Windows 10 computer. It takes a while to set up, but that shouldn't be a problem in the grand scheme of things because it works quite well from our experience.
Not only can it remove all your tweets, but also the favorites and direct messages as well. Bear in mind that this thing can go well beyond the 3,200 limits, therefore, Tweet Archive Eraser is great for anyone with thousands of tweets. Worry not, your followers will go nowhere unless they choose to unfollow.
The free version has its limits. It can only delete tweets from two-years in the past, so you will have to bear that in mind before going forward. You can download Tweet Archive Eraser from Github.
Hope they work for you!