Twitter is slowly becoming a platform fit for everyone to use, so if you've increased your usage in recent months, you may have come face to face with one or more users you feel the need to block. The question is, how does one block and unblock accounts on Twitter?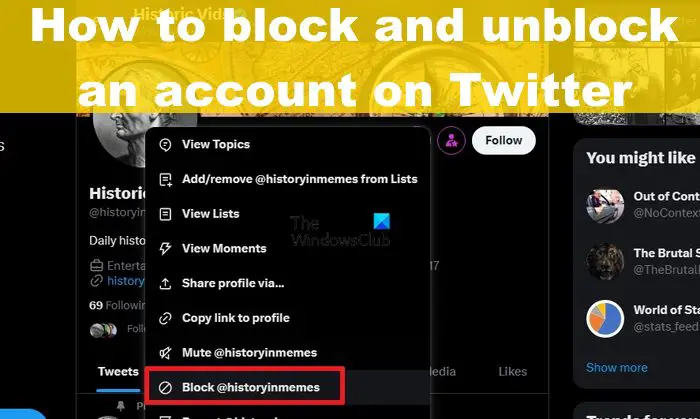 Well, it is possible and does not take a lot out of your time. It can be done both on desktop and mobile devices.
How to Block and Unblock an Account on Twitter
You can block a Twitter account via the user's Tweet or via their profile with just a few clicks of the mouse.
Block an account from a Tweet
Block an account from a Profile
Blocking an account on Twitter is the same across both desktop and mobile. Just log into your account and select the relevant icons to get the job done.
To begin, open your favorite web browser, then navigate to www.twitter.com.
From a mobile device, simply open the Twitter app and sign in if you haven't already.
1] Block a Twitter account from a Tweet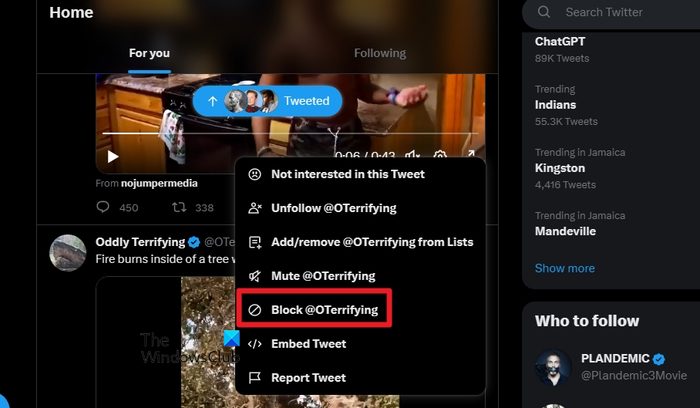 Click on the three-dotted menu icon next to a tweet from the account you want to block.
You should see a new menu with a list of options.
Please choose Block
Then select Block to confirm your choice.
Read: Useful Twitter Search tips and tricks guide for beginners
2] Block aTwitter  account from a profile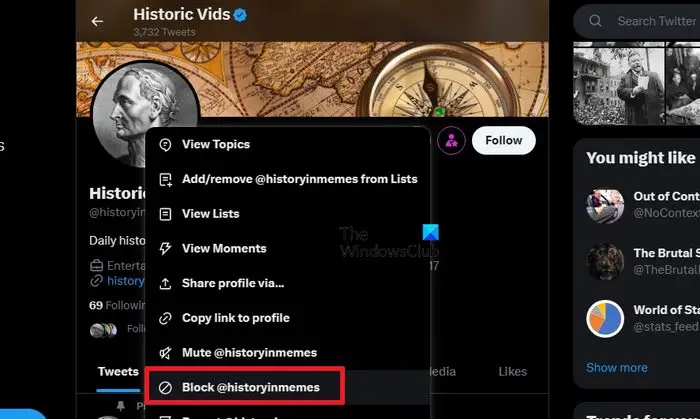 You can block an account directly from the profile page of the user, so let us explain how to get this done.
Go to the profile page of the user you want to block.
Select the three-dotted button or More icon.
Tap or click on Block
Then do choose Block again to confirm.
How to Unblock a Twitter account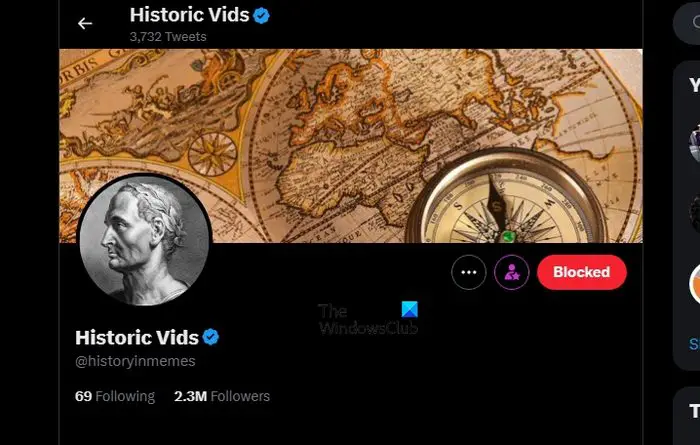 After a period of time, you may feel compelled to unblock one or more accounts you've blocked. This is how to get it done.
Visit the profile of the blocked account on Twitter.
You should see a button that reads, Blocked.
Tap or click on that button right away.
Confirm your wish to unblock the Twitter account by clicking or tapping Yes on your desktop or Android.
When it comes down to an iOS device, you must select Unblock, and that's it; you're done.
Read: Your account has been locked on Twitter
How do you know if you've blocked someone on Twitter?
When you visit the profile of an account you've blocked on Twitter, the Follow button will be replaced by a Blocked button. You will notice that all the Tweets of this blocked account are hidden from view, but if you tap or click on the Yes, View Profile button, then you'll see the tweets in all their glory.
Can blocked Twitter accounts follow you?
No, a blocked account on Twitter will not have the ability to follow you, and you cannot follow them. Bear in mind that if you block the account you're following, then you will automatically unfollow that user.