Roblox advertises itself as an 'Imagination Platform' where users develop and play 3D games. Its ultimate objective to bring the world together through play. You can access the service on any device but to equip yourself with special abilities or make in-game upgrades you'll need to buy Robux currency. Let's see how to buy Robux in Indian rupees.
What is Robux
Robux is a virtual currency used on the gaming platform, Roblox. You can earn or purchase it either by receiving a lump sum allowance as a Roblox Premium member or buying it from the Robux page. Fortunately, Roblox offers native pricing in some countries. You just need to make sure that you have the correct country selected in your account settings.
How to buy Robux in India?
Let's see how to buy Robux, the Roblox currency in Indian rupees using a PC.
Visit the Robux upgrade page.
Login or signup for an account.
Click the price next to the amount of Robux you want to buy.
A list of payment methods should populate.
Select the desired payment method.
Hit the Continue button.
Enter your payment details.
Click the Pay now button.
Most online payment methods will automatically convert currencies at the current exchange rate. Depending on your location, your banking institution or credit card company may charge a fee for this service.
How can I buy Robux in Indian currency?
Launch your browser and visit the Robux upgrade page.
If you're not already signed in, click Log In at the top-right corner of the page to sign in now. Also, if you haven't created an account with Roblox yet, proceed to create one.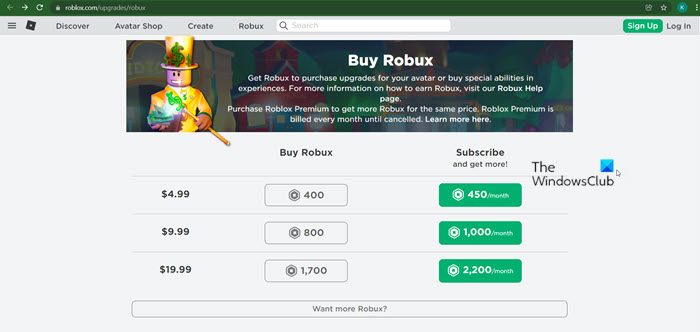 When directed to the purchase page, choose a price tag for Robux amount you would like to buy.
Instantly, the list of payment methods should be visible to you.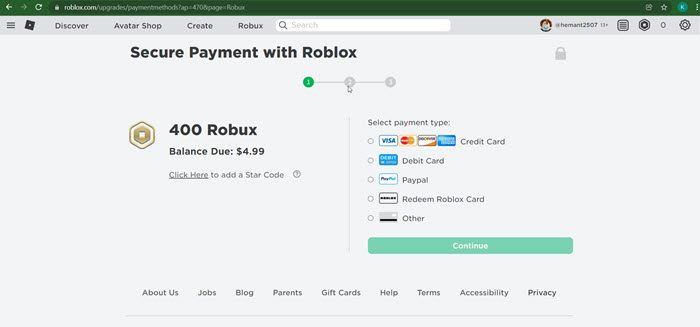 Select the desired payment method and hit the Continue button to proceed.
After entering all the details correctly, click the Pay Now button present at the bottom of the screen. It's important to note here that when you choose to buy Robux you receive only a limited, non-refundable, non-transferable, revocable license to use Robux, which has no value in real currency.
You can cancel the subscription any time by clicking Cancel subscription on the billing tab of the setting page. If you cancel immediately after subscribing to the service, you will still be charged for the current billing period.
How do I get real Robux for free?
There's no way to get Robux for free. It can only be purchased using real-world currency and sold only by the Roblox company. Beware of any third-party sites that claim to offer things like free or cheap Robux. These scams attempt to hack your account and obtain personal information or Robux.
How do you report abuse on Roblox?
You can report abuse from another user via Roblox Report Abuse feature. It will send information directly to Roblox. Go to Menu > Flag icon next to a user's name > Type of Abuse drop-down menu. Select inappropriate action and Enter details in the Short Description box. When done, click Submit to confirm.