Deleting your Google Photos is not tricky. People have been doing it for years, but most have been deleting content one after the other. That is not ideal at all, especially if you want to remove everything.
How to delete all your Google Photos
Deleting all photos from Google Photos is super easy, and we will explain how to get the job done in this article. From our experience, it should take just a few minutes to get done, or less if you do not have a ton of images to remove from the platform.
Before removing images, consider if there are any among the list you may need in the future, and download it to your computer system. Once deleted from Google Photos, you won't be able to get them back, so please keep that in mind when you follow this procedure:
Go to albums in Google Photos
Select photos for deletion
Delete photos.
Let us talk about this in more detail.
1] Go to albums in Google Photos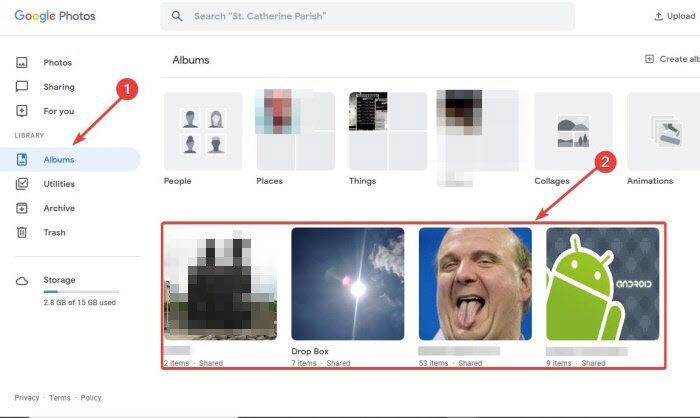 The first thing we would like to recommend doing is to open Google Photos then sign in with your Google account.
Once you're in your Google Photos account, we suggest clicking on the Albums section located at the page's left-section.
If you have a lot of albums located, each one should now be visible along with the names and the number of items inside.
2] Select photos for deletion
OK, so once you've clicked on Albums, the next step is to click on the album you want to go. Once you've done that, please select each message one after the other by clicking on the tick. The image is selected once the tick is set to blue.
If you do not wish to select all of them one after the other, simply select the first image in the album, press, and hold the Shift key on your keyboard. From there, click on the last photo in the album, and right away, each and every image in the album should now be highlighted.
Read: How to transfer photos from Google Photos to another account.
3] Delete photos
When it comes down to deleting all images, please click on the button at the top-right corner of the page, then select Move to Trash. After that, a confirmation message should appear with a blue button with the same words, Move to trash.
Finally, another message will appear, asking the user to delete the empty album. You can either choose to Keep album or Delete.
Hope this helps.