Amazon Prime Video is quite popular, more so than you might think. It is home to a plethora of content, and that includes the ones that are vulgar, gory, and enticing in a bid to increase viewership. Such content is not good enough for children, and as such, if you are a parent with an Amazon Prime Video subscription, then you should learn how to block adult and mature content.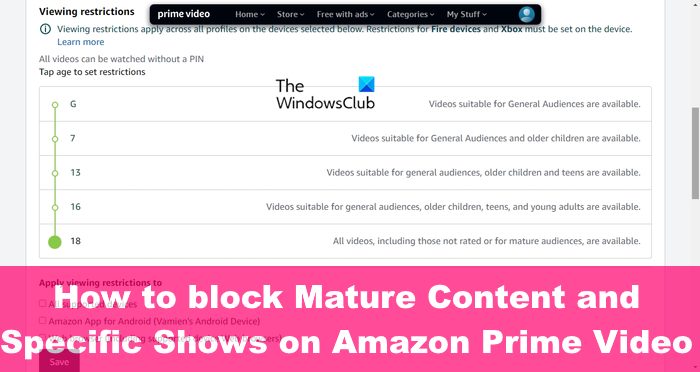 Depending on the maturity of the viewership, Amazon Prime Video delivers content from various categories. By default, all viewers can watch adult content on the platform, therefore, for things to change the user must manually adjust settings.
Now, not everyone knows how to make the relevant changes, and that's where we come into play because this article is all about explaining how to ensure Amazon Prime Video is child friendly all the time.
How to block adult content on Amazon Prime Video
Blocking adult content on Amazon Prime Video will require users to sign in to their Amazon account, then navigate to the Parental Controls / Restrictions area.
Log into Amazon Prime Video
Go to Parental Controls
Add a PIN
Tap age to set restrictions
Save changes to the Parental Controls
To begin, you must log into your Amazon Prime Video account.
Visit the official page directly.
If you haven't done so, then sign in with your Amazon account right away.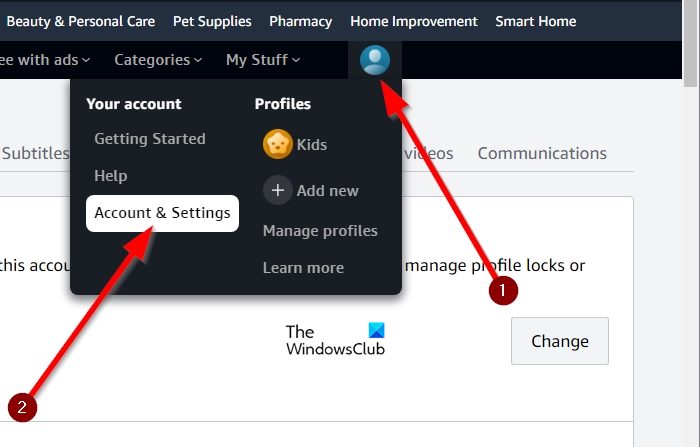 After you've signed in with your Amazon username and password, you must find your way to the Parental Controls area.
To do this, hover your mouse button over your profile photo.
Seek out Account & Settings, then click on it.
Once done, look to the menu section under the Account & Settings title.
You should see a bunch of options that also include Parent Controls.
Click on Parent Controls to reveal the options it brings to the table.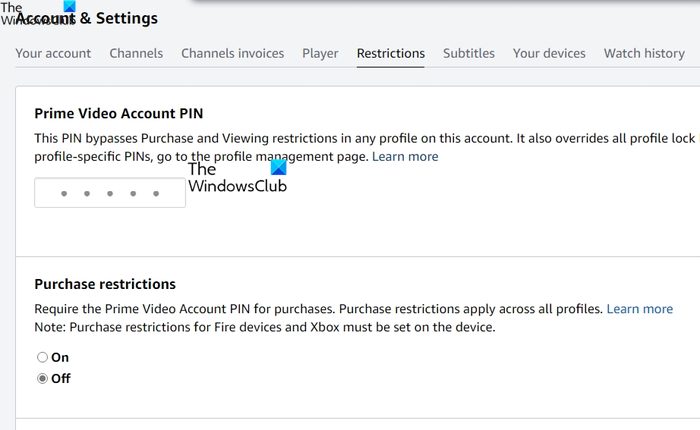 In order to make changes to the Parental Controls, you must first add a PIN number. The max number of digits that can be added here, is 5.
To add a PIN, click within the box, then type the 5 digits.
After that, click on the Save button to complete the task.
Right away you will see an expanded section below with options to change the parental controls.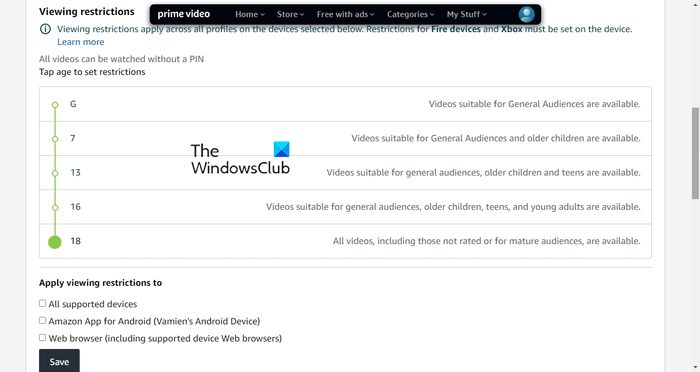 Finally, it is time for us to adjust the parent controls to better fit your needs. So, let us explain what needs to be done right now.
First, you'll see the Viewing Restrictions section. As you can see, A is selected by default, but you can choose others from the list with ease. Furthermore, you can change the Purchase restrictions and where content can be viewed.
Under Tap age to set restrictions, select the age.
Once the changes have been made, please click on the Save button, and that's it, you're good to go.
READ: Fix Amazon Prime Video not working with VPN
How can I protect my child from inappropriate Internet content?
Whether be Amazon Prime Video, Netflix, or even YouTube, you'll need to make use of the parental controls to ensure your child or children do not see things that are not appropriate. When it comes down to search engines, you must turn on safe search, and encourage your children to always be vigilant when browsing the web.
Read: Best Amazon Price Tracker Services and Extensions
What is an 18+ rating on Amazon Prime?
The 18+ rating is similar to, NC-17, NR, UR (MPA), and TV-MA (TV). It is recommended for adults who are over the age of 18. From the Parental Controls area in Amazon Prime Video, users can change the rating to something more fitting.