PayPal is a money transfer service that allows for transferring money from person to person. PayPal can be used by individuals and businesses alike. PayPal facilitates payment for goods and services from credit and debit cards without having to share the card information. PayPal allows you to use your gift card balance to transfer or pay for goods and services. In this post we will show you how to add a Visa Gift Card on PayPal.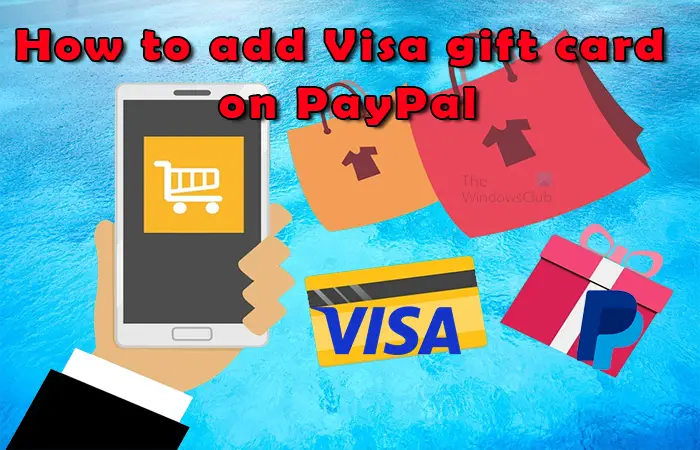 How to add Visa gift card on PayPal
Adding your Visa gift card on PayPal allows you to use the gift card balance for purchasing or transferring to someone else. You are not restricted to only using it to purchase. Whatever company supports PayPal payment can be paid using the Visa gift card balance.
Login to PayPal
Click Wallet
Click Link a card
Enter Visa gift card information
Make payment with Visa gift card
1] Login to Pay Pal
The first step is to log in to PayPal whether on your computer or your mobile device using the PayPal app.
2] Click wallet

You want to get to the option to add a card so you will click Wallet on the top of the PayPal window. When you click Wallet you will be taken to another screen with the option to Link a bank or Link a card. you can also get to the Link a card screen from the Dashboard by going to the right of the screen where you see a list of your linked cards. Under the linked cards you will see Link a card or bank.
3] Click Link a card

On this screen click Link a card and you will be taken to a form to fill out the card information.
4] Enter the Visa gift card information
Enter the information for your Visa gift card, and be sure the information is accurate to avoid getting an error. When you have entered the gift card information, click Link card.
5] Make payment with the Visa gift card
With the card added you can make payments with the card or transfer from PayPal to PayPal. You can make the gift card the preferred payment so that transactions will be taken from the card first.
Read: How to detect and avoid PayPal Scams
Can PayPal be used to purchase gift cards?
Some providers of gift cards will allow you to purchase the card using PayPal. You would go on the gift card provider's website, select the card you want then use PayPal as the payment method.
Read: How to remove Bank Account and Credit Card from PayPal account
Can I reload my gift cars using PayPal?
Some gift card providers will allow you to reload your gift card using PayPal. You would go on the gift card provider's website, log in if you had signed up then choose the option to reload your card. If they support PayPal you can use PayPal to reload the gift card. In some cases, you may be able to purchase a gift card with PayPal but you cannot reload the card at all or you cannot reload using PayPal.
Read: How to activate PayPal Cash on MasterCard
What are the advantages of adding your Visa gift card to PayPal?
There are several advantages of adding your Visa gift card to PayPal, they are as follows:
You can shop using the gift card balance while protecting your card so that it is not saved on all sites.
You can shop on sites or stores that may not support cards.
When your card is on PayPal, you can spend more than the balance that is on the card. if your item costs more than what is on the card, PayPal will use the available PayPal balance to cover the extra cost.
You can send funds to the Visa gift card from PayPal and send from the Visa gift card to PayPal quickly and easily.
You can send and receive funds from anyone using the Visa gift card as the source or destination for the funds.
We hope this post helps you.