Twitch is the best place right now to watch gameplay videos from some of the biggest streamers on the planet. Not only that, but users will have access to other entertainers as well, so there is a lot to take in. Now, when a person creates an account on Twitch, they are greeted with no profile picture at all. The question is, how can one change this Twitch profile picture to customize their account to fit their needs? Well, the folks at Twitch have long made this possible, and we're going to explain how to get it done.
How to add a Profile Picture on Twitch
For those who have never added a profile picture to Twitch, we are now going to explain how to get this done in the easiest way possible.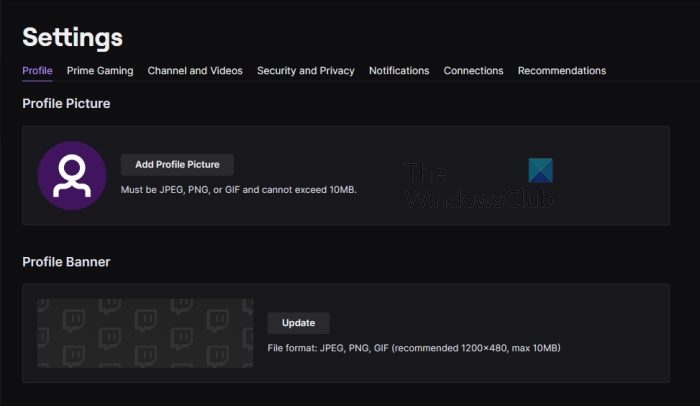 Open your web browser. It can be any modern web browser, for example, Mozilla Firefox or Microsoft Edge.
After that, you must load the official Twitch website through the web browser.
Sign in if you haven't done so already.
Click on your Twitch profile picture.
From the dropdown menu, please select the Settings option.
Next, you must click on Update Profile Picture.
If this is your first time adding a profile picture, then you'll see Add Profile Picture.
Click on Upload Photo, and from there, browse your computer for an image to add.
After finding the correct image, please select either Open or Choose for Upload.
Click the Save button and right away the image will be uploaded to become your profile picture.
How to delete a profile picture on Twitch
After adding your profile image to the platform, there may come a time you'll want to delete it. Can this be done? Certainly, so let us explain in detail.
Return to the Twitch website.
Click on the profile image right away.
From there, select the Settings option from the dropdown menu.
You should now see the trash can icon located beside your profile picture.
Click on the icon to delete your profile picture from Twitch.
How to change a Profile Picture on Twitch
To change your Profile Picture on Twitch you will have to first remove the existing one and then add a new Profile picture by following the method described above.
What are Twitch profile image requirements?
OK, so Twitch has certain requirements to come to terms with before the user attempts to upload a photo. Let us discuss what these requirements are so you will always be on the right track.
First of all, the format must be JPEG, PNG, or GIF. Any other and Twitch will reject it, so keep that in mind. Furthermore, images must not exceed 10MB inside. Try to make your profile photo smaller than 10MB for better results if you can.
Refrain from uploading pictures that are copyrighted or that may be considered offensive material. Doing such things can affect the status of your account.
READ: How to listen to Twitch Audio only
What should my Twitch profile banner be?
If you're planning to add a profile banner to your Twitch account, then you should ensure the size is set to around 1200x480px, as that is what Twitch recommends. In some cases, banner art might look small, but that's because it scales to the size of your mobile or computer screen.
Is it better to show your face on Twitch?
Most of the top streamers show their faces on Twitch, and that might make it seem as if everyone must do the same. However, that is not the case because there are streamers who have never shown their faces and have gone on to garner a huge following.