This post show you how to enable Twitch radio mode on the web to play only the sound of a stream on a Windows 11/10 computer. Twitch Android app has a built-in feature called Audio Only mode (or radio mode) that, when turned on, lets the users listen to broadcasts without its video content even when the phone is locked (until the app is running in the background). But the same is not the case when using Twitch on the web. Still, there are a couple of ways that can help you play only the sound of a livestream while using Twitch on Google Chrome, Microsoft Edge, Firefox browser, etc.
How to enable Twitch Radio Mode on Web to play only sound of Stream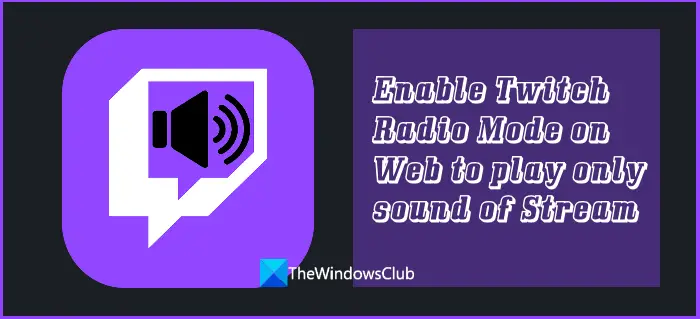 This would be quite useful, especially for music streams where video content does not matter that much. It will also help in saving the data and browser resources. Though the options covered in this post are effective, do note that these options work for only live broadcasts and not for past broadcasts, video clips, etc.
How to listen to Twitch Audio only
To enable Twitch radio mode or Audio Only mode on the web for playing only the sound of a livestream, you can use the following options:
Twitch Radio Mode
Alternate Player for Twitch.tv.
Let's check both options.
1] Twitch Radio Mode
Twitch Radio Mode is a free and open-source extension available for Google Chrome. But as we all know that we can easily install Chrome extensions on Microsoft Edge. So, this Twitch Radio Mode extension can also be used in the Edge browser. And, Opera browser also supports Chrome extensions so you will have choices where you want to use it.
The purpose of this extension is straightforward i.e., to enable Audio Only mode for Twitch livestreams on Chrome or other browsers. Using this extension is also pretty simple.
You can install this extension from Chrome Web Store. Once installed, it will provide its extension icon that you can use to turn on the automatically play video when the radio mode ends option. But, that is the secondary option to use. Let's check how this extension works to play only the sound of a live broadcast. After installing this extension:
Access the streamer's channel page to play a broadcast
In the video control panel, you will see a radio mode icon (white color icon) just next to the volume slider
Click on that radio mode icon and the broadcast will start playing in the audio mode. You will see that the video is paused but it will continue to play in audio mode only.
The radio mode color will also change to a yellow color indicating that the audio mode is enabled. You can continue your stream chat, work with other tabs or applications, etc., and enjoy listening to the livestream
To turn off the Audio Only mode, press the same radio mode icon, and then use the play button for the video.
Related: How to download videos from Twitch.
2] Alternate Player for Twitch.tv
Alternate Player for Twitch.tv is a great extension available for Firefox, Google Chrome, and Microsoft Edge. As its name indicates, it provides a different media player to play live broadcasts of Twitch where you can also enable the Audio Only mode to enjoy the music listening.
Apart from it, this add-on/extension has so many interesting features and that's why thousands of users have this extension installed. Here is a list of some important features:
Instant replay of a live broadcast. You can set the instant replay duration in seconds (like 240 seconds, 300 seconds, etc.)
Turn off the stretch small video option to player size
Adjust chat size and location
Hide Twitch ads which is a pretty good feature. However, the embedded ads in the stream are still visible
Completely hide the chat section
Change the volume using the mouse wheel.
Now let's see how this extension can help us to enable Twitch radio mode for live broadcasts.
First, access the homepage of this Firefox add-on from addons.mozilla.org. After installing the add-on, open the Twitch website and you will see the add-on icon on the top-right section. Chrome and Edge users can get this extension here.
By default, the add-on remains in auto-start mode. So that when you play a live broadcast, the extension player is activated or started automatically. But you can use right-click on the add-on icon to toggle this behavior and then left-click on the add-on icon to activate the player.
When the livestream has started playing on this Alternate Player for Twitch.tv add-on:
Click on the Settings icon available on the bottom right-section
In the settings section, expand the PLAYBACK section
Finally, select the Audio only mode present in the drop-down menu of Video quality.
It will apply the change instantly and Twitch radio mode will be activated.
The Audio Only mode will remain there as it is unless you change it manually. You can switch to video mode anytime and also customize other settings.
Also read: Twitch Freezing, Buffering, and Lag Issues [Fixed].
Can you do Audio Only Twitch on PC?
As of now, Twitch doesn't have any native option or feature to enable Audio Only mode on PC or web. However, it is still possible to activate Audio Only mode for live broadcasts by using some third-party extensions like Twitch Radio Mode and Alternate Player for Twitch.tv for different browsers. The post above contains such extensions. You won't be able to use them for past broadcasts and video clips. But these extensions work great to enable Audio Only mode for live broadcasts on Twitch.
Read: Best Browser Games you can play on Twitch right now
How do I turn off audio only on Twitch?
Audio Only feature is present in the Twitch mobile app for Android users to turn off video content while continue playing the audio or music of that stream or video. If you don't like that and want to turn off Audio Only mode on Twitch, then use these steps:
Open a broadcast or stream
Click the Settings icon (or the gear icon)
Tap on the Audio Only option in the VIEWING OPTIONS section
Tap on the Apply button.
Read next: Fix Twitch Mods Tab is not loading.
Are there other ways to stream audio-only on Twitch?
Certainly, you're wondering yourself that there must be a host of tools out there that allows for audio-only streams on Twitch. Well, such is not the case, well, at least from our point of view. If this feature is very important to you, then we suggest contacting Twitch and making a feature suggestion.
Can you watch Twitch without video?
Yes, this is possible, but one should bear in mind that Twitch does not offer this feature; therefore, users must take advantage of third-party tools to get the job done.
Does audio only count as a viewer on Twitch?
It doesn't matter how the video on Twitch is viewed, you will still be counted as a viewer so long as the live stream is active.
How do I watch Twitch with the screen off?
On a mobile device, the user can attain a form of audio-only mode by disabling the live streaming and allowing the audio to play while the phone's screen is off, or with the app running in the background. All you have to do is tap the Settings button, and from there, press the Audio Only. Complete the task by hitting Apply, and that's it.