Many keyboards on the laptops carry multi-function keys. They usually help to combine keys or enable an elevated extra key marked on the keyboard. If you have seen extra keys marked on a key, i.e., in the image you can see there is a dot, hyphen, and an underscore. In this guide, we will discuss – What is the Alt Gr key, how do you use it, and how to enable or disable Alt Gr key on Windows 11/10 keyboard (non-US keyboards).
What is the Alt Gr key on my Keyboard
ALT GR or the ALT GRAPH key is found on some international keyboard which also supports locale, i.e., accented letters or currency and special symbols. This key is handy for anyone assuming one working with a language where one needs to use accent characters sometimes.
Using it is rather straightforward. Just like how you use the Control key for Ctrl + C, you can use ALT GR + key which also houses the special or the accented letter. Windows allows emulating Alt GR when you press Ctrl + Alt keys together.
Here is an interesting fact about ALt Gr. It was introduced initially as a means to directly draw lines and rectangles in the GUI. However today they are now used to produce alternate characters.
How do I enable or disable Alt Gr key
There is no way to disable this key. The default mode is turned on. However, workarounds are available depending on what you plan to do with the Alt Gr key.
1] If you have an Alt Gr key on your computer, you can disable it by pressing the shift key and the control key at the same time. It is possible that it has been activated to be always on; this can turn it off.
2] We know that Windows mimics this key when you press Ctrl + Alt keys together or use the Right Alt key. In case your physical Alt Gr key has stopped working, you can use this combination.
3] If you do not want Alt Gr to work at all, we can remove the characters it produces. This is possible using the Microsoft Keyboard Layout Creator.
Download, install and then launch the tool and click on File > Load Existing keyboard. Make sure to select the correct keyboard layout.
Tick the checkbox next to Alt + Ctrl (Alt Gr). As soon as you do that, it will reveal all the characters it can produce.
Here you have two choices.
Delete those characters which you don't need. If you don't want it to work at all, remove it all.
Replace them with the character you want to produce.
To delete or replace, click on the unique character. It will open an edit box. Here you can remove or type your own choice of character.
Once all changes are complete, click on File > Save as image.
Go to the menu Project > Properties. Add a name and description.
Then again click on Project > Build DLL and Setup package.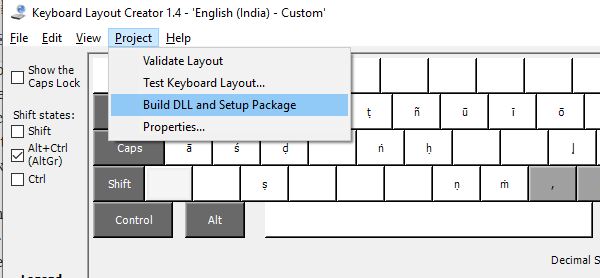 Open the folder where you chose to save the setup package. Double click to install it. Then go to Settings > Time and Language > Language > click on the default language pack > options > add keyboard > select the name of the keyboard we just created and apply it.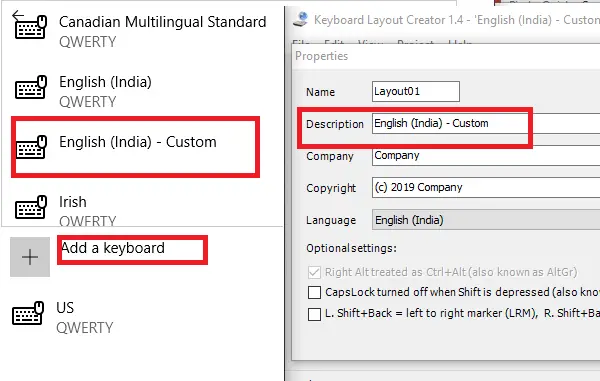 Now when you use the Right Alt Key or Alt GR, it will not output any character, or it will output characters you have chosen.
Alt Gr key not working  issue
1] Remote connection issues
If it's not working in a remote connection or open Hyper-V connections has stopped working all of a sudden, then it's best to close that remote connection. The Alt Gr will start working again. It is a known bug. As an alternative, you can use Ctrl key in combination with Alt GR + key to make it work. It seems the Remote Desktop Manager blocks or disables the key.
2] Check if any other program is using it
It is possible that some other program could be interpreting some of the AltGr keyboard inputs as shortcuts. Figure out the recently installed or update program, and you should be able to resolve it. Similarly, the right ALT might be in the same situation.
3] Use AutoHotKey
You can use AutoHotKey to emulate Alt + Ctrl on Windows 10. While the right ALT key should work, if it doesn't the script should help you.
4] Changing keyboard Locale
Sometimes switching keyboard locale from current language to foreign can mess with the keycode. You might have to remove that keyboard and turn to default to fix it.
I am sure one of these will help you fix the ALT Gr issues you have on Windows 10. Usually built on non-US keyboards, this is an important key which most English-using editors or consumers aren't aware of.