Security on the web is very important, and this is something we should all take seriously when going forward if you haven't already. Whenever you're creating an online account, the key move here is to do so with a strong password that is not easy to hack. Because of laziness, many of us tend to use a single password across all online accounts, and in most situations, these passwords are extremely weak and suspectable to hacking from anyone who is capable. And of course, that's a huge problem we just cannot allow to happen, so keep reading. 
OK, so the password generator tool we're going to talk about today is called HashPass. Not only does it generate secure passwords for the user, but it makes sure the input method is not a security risk as well. This is a neat feature because many similar programs do not take into consideration that a strong password is useless if the input method is compromised. 
Hopefully, similar tools will adopt this feature in the future, but for now, this is where it's at for the time being.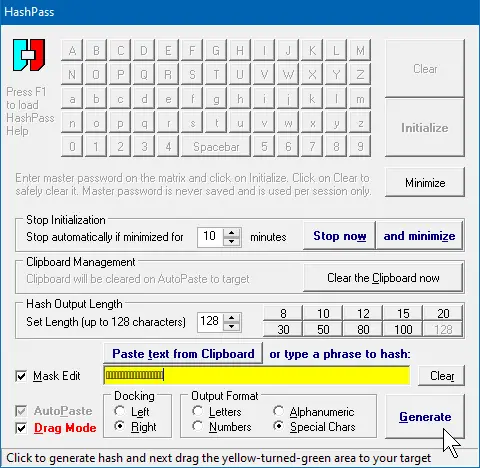 HashPass password generator for Windows
HashPass password generator for Windows mathematically transfers your chosen password-to-be into a unique secure hash. Using this software is pretty easy from our point of view. Once it is up and running for the first time, users should realize that it goes directly to the System Tray, strangely enough. To launch it, simply right-click on the icon and load it from the contextual menu. 
1] Generating passwords
Once you have loaded HashPass to the main screen, you will now be given the option to create a master password. Now, this master password is only for accessing the tool and not for viewing passwords. You see, the program is not capable of storing passwords, just generating them. 
Before going forward, be sure to set the length of the password. You can choose from eight to 128 characters, though we doubt most users will ever use 128 characters for their passwords in this day and age. 
After doing all of that, click on the Generate button to get your brand new, and secure password ready for use. 
2] Use your passwords securely 
OK, so here comes the good part. As stated above, the software is capable of protecting users from insecure password boxes on any website. It does that hashing your password before allowing the user to paste it into the password box. 
To hash your password, type your password into the box, or copy and paste it. Finally, click the Generate button to create the hash. From there, copy the hashed password and paste it into the password box on whichever account online you're attempting to access.
Download HashPass directly from the official website when ready.