A graphics card is computer hardware that is responsible for displaying the image you see on your computer screen. It is a great way of making the connection between the monitor and the computer. However, at times, you may face problems with the AMD or NVIDIA graphics driver. At such times your Windows 11/10 system not detect your NVIDIA or AMD Graphics Card. You may see error messages like:
NVIDIA GPU not detected
AMD Graphics Card not detected.
AMD or NVIDIA Graphics Card not detected
If the AMD or NVIDIA Graphics Card is not detected on your Windows 10 system, follow the given suggestions:
Enable the Graphics Card
Use Command Prompt
Install the latest Graphics drivers
Update BIOS.
While we have mentioned the procedure for NVIDIA cards, AMD users need to follow a similar procedure. Before you begin, you might want to create a system restore point first.
No NVIDIA or AMD graphics driver is installed
1] Enable the Graphics card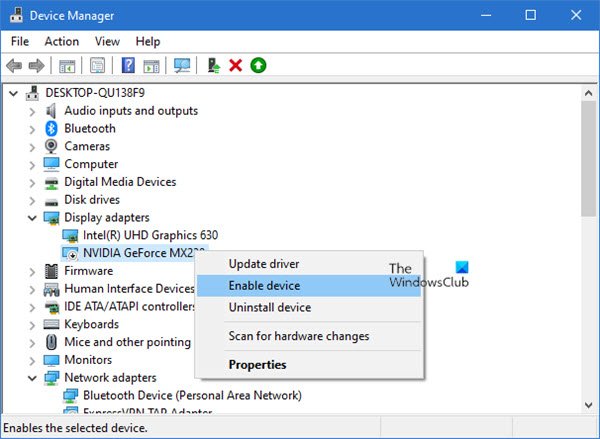 This problem commonly occurs if the graphics card is disabled in Device Manager. So, in such a case, enabling the graphics card would be a good starting point. Here is a quick guide to do:
Press Win+X keyboard shortcut key to open the Power User Menu.
Select Device Manager from the menu list to open it.
Expand Display adapters
Locate your NVIDIA card.
Right-click on it and select Disable.
Once it is disabled, again right-click 0n it and select Enabled.
Thereafter restart your device and once it starts up, check if it resolves the problem.
However, if you don't find the Enabled option there it seems your graphics card is already enabled. In such a case, you need to go for the next effective workaround.
You need to follow a similar procedure for AMD drivers.
2] Use Command Prompt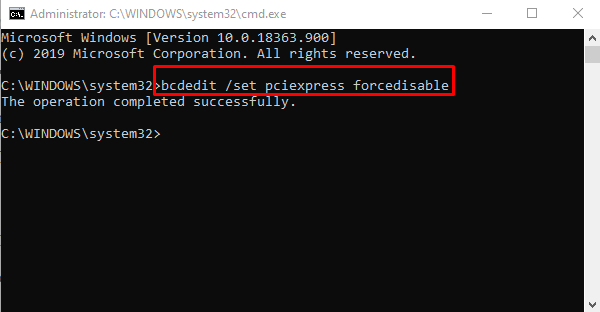 If enabling the graphics card doesn't solve the problem then execute a command and check whether it resolves the problem.
To do this, open the Command Prompt with Administrative Privileges, type the following command, and hit Enter:
bcdedit /set pciexpress forcedisable
After executing the command-line, close the window and restart your device.
Once you restart, try to install the driver and check if the problem related to the graphics is resolved now.
Read: Surface Book not detecting NVIDIA Graphics Card.
3] Install the latest Graphics drivers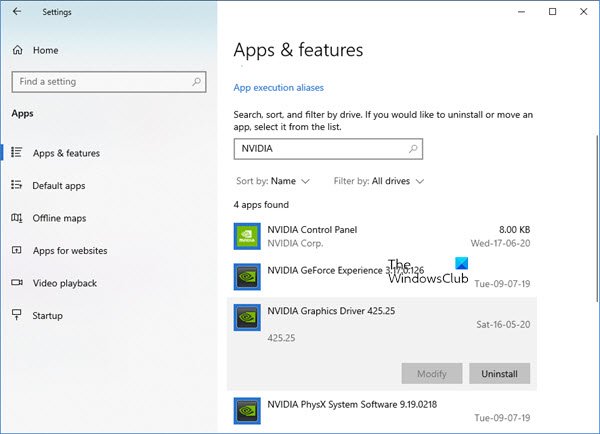 In case none of the methods above works for you, you need to download the latest NVIDIA drivers for your computer.
Before you begin, you first need to remove all previous NVIDIA drivers that are installed on your device.
To do that, open Windows Settings (Win+I) and then select the Apps category.
Under Apps & features section, scroll down your mouse wheel and locate the drivers related to NVIDIA.
Now select them one by one and then click on the Uninstall button.
Then follow the on-screen instructions to complete the uninstallation process.
You need to follow a similar procedure for AMD drivers. You can download or update AMD drivers, similarly.
Read: NVIDIA driver keeps crashing.
4] Reset BIOS
You might want to reset your BIOS to default settings and see if it helps. You could also update your BIOS and see if that helps you.
I hope you find this article helpful.