Have difficulty in launching the Grand Theft Auto 5 (GTA V) game, or is the game crashing in the middle of a GTA 5 session? It can for sure, leave a gamer exasperated! So if Grand Theft Auto (GTA) 5  is crashing on Windows 11/10, then you may follow the solutions that we are going to mention hereinafter to resolve the issue.
Why is Grand Theft Auto (GTA) 5 crashing on Windows?
An outdated Graphics Driver or an incompatible Graphics Card are two of the major factor that can cause the game to crash. Match the configuration of your system with that need for the game, we have mentioned the system requirements for GTA 5 later in this article. Furthermore, check your files for any corruption as corrupted files are among the common factors responsible for crashing.
All the potential fixes are included in this article to resolve the crashing problem.
Fix Grand Theft Auto 5 (GTA V) Crashing on Windows PC
If Grand Theft Auto 5 (GTA V) keeps crashing on startup, loading screen or randomly without any error on your Windows 11/10 PC, then these fixes are sure to help you.
Before going for the fixes, check for updates to start the troubleshooting process. After updating, restart the system, as restarting is one of the magical solutions that can solve almost every error. Restart the system and then check whether your game is still crashing or not. If Grand Theft Audio (GTA) 5 crashing is not resolved, hop on these fixes to resolve the matter.
Install the Latest Patch
Avoid CPU overheating
Update Graphics Driver
Set Graphics Settings to Normal
Turn on Vsync
Troubleshoot in Clean Boot
Let's start with the very first fix.
1] Install the Latest Patch
Outdated game files will cause the crashing so check the new patches that developers releases to fix this issue. You can go to the official website or in Steam to check the latest patch and install the latest one.
2] Avoid CPU overheating
Overheated CPU is the basic cause for any game to crash and GTA 5 is one such game that can not work while the system is heated. So in simple terms make sure that your system is not heating while you are playing.
To make sure that your computer is not heating, you can check that proper ventilation is maintained and the computer case is cleaned out once in a while. And if your system is overheated then it's best to switch it off for some time.
At the same time, close any unnecessary demanding app, such as Discord, Chrome, or any other game that can put more strain on your system
3] Update Graphics Drivers
Another basic reason why GTA 5 can crash on your system is an outdated graphics driver so leave every fix behind and update the Graphics Driver to the latest version. This will stop the game from crashing.
4] Set Graphics Setting to Normal
You need to make sure that your Graphics Settings are correct in order to play GTA 5 smoothly. Given below are the steps that can resolve the error.
Go to GTA 5 Settings.
Press Graphics and go downward.
Set Texture Quality, Shader quality, Shadow quality, Reflection quality, Grass quality to Normal.
Save the settings and then open again.
5] Turn on Vsync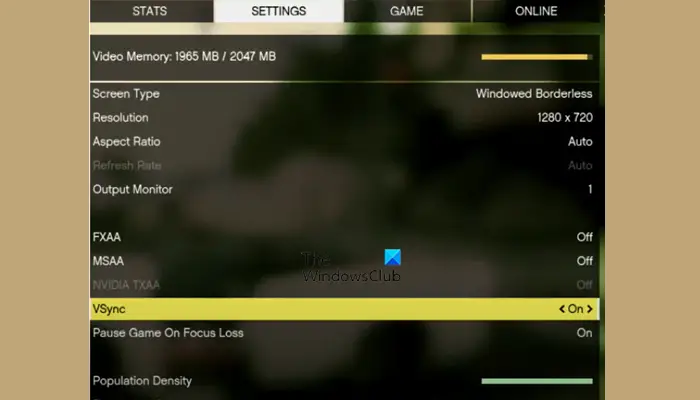 Vsync is an abbreviation of Vertical Sync. This is used to maintain a constant Refresh Rate that is the same across monitors. Switching Vsync on can let you enjoy the game without any obstacles. Follow the given steps to do the same.
Open GTA 5 Settings.
Click Graphics and then go to the Vsync option and switch it on.
Finally, restart the game and see if the issue persists
However, if it is already enabled then switch it off, restart your game and then again turn it on. Check if it works out for you.
6] Troubleshoot in Clean Boot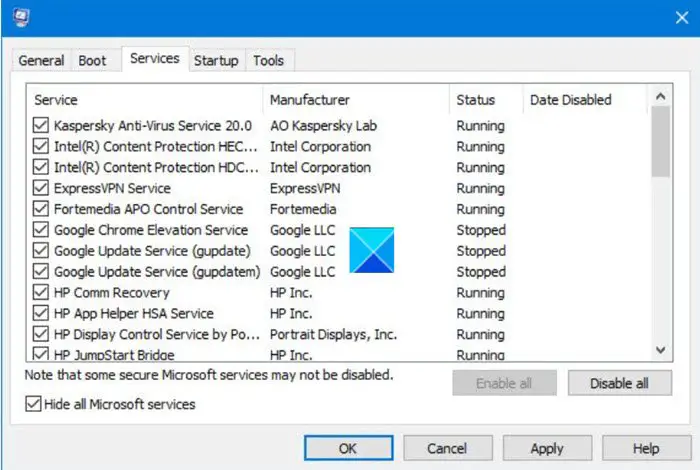 Maybe the issue is because of a third-party application or service. So, it is advisable to turn them off one by one and see which one is causing the issue. But for that, you have to troubleshoot in Clean Boot to narrow down the culprits.
7] Reinstall GTA 5
If nothing works, then you have to reinstall the game. Better redownload and then reinstall its fresh copy. So, uninstall the game, redownlaod, and then reinstall it and see if the issue persists.
Hopefully, you are able to resolve the issue with the help of the given solutions.
System Requirements to play GTA 5
There might be a lot of questions in your mind. Does GTA 5 work on Windows 10 64bit? or Is GTA 5 pc demanding? Well, this section is enough to answer all your questions.
These are the minimum System Requirements that your computer must meet in order to play GTA 5.
Operating System: Windows 7 or above (64-bit)
Processor: Intel Core 2 Quad CPU Q6600 @ 2.40GHz (4 CPUs) / AMD Phenom 9850 Quad-Core Processor (4 CPUs) @ 2.5GHz
Graphics Card: NVIDIA 9800 GT 1GB / AMD HD 4870 1GB (DX 10, 10.1, 11)
RAM: 4 GB
Sound Card: 100% DirectX 10 compatible
Hard Drive: 65GB
These are the recommended System Requirements that your computer should meet in order to run GTA 5 smoothly.
Operating System: Windows 7 or above (64-bit)
Processor: Intel Core i5 3470 @ 3.2GHZ (4 CPUs) / AMD X8 FX-8350 @ 4GHZ (8 CPUs)
Graphics Card: NVIDIA GTX 660 2GB / AMD HD7870 2GB
RAM: 8 GB
Sound Card: 100% DirectX 10 compatible
Hard Drive: 65GB
That's it!
Also check: Warframe keeps freezing or crashing on Windows PC.