We all use Google Maps for navigation and location purposes. There are some issues with the handling of user data by Google according to industry experts and security researchers. Many are searching for alternative and privacy-friendly Google Maps alternatives. In this guide, we list a few Google Maps alternatives to secure your privacy.
Google Maps alternatives to secure your privacy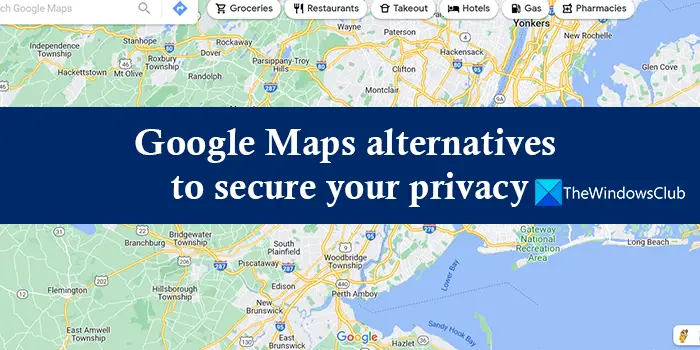 The following is the list of Google Maps alternatives that can help you secure your privacy.
OpenStreetMap
OsmAnd
HERE WeGo
Apple Maps
Waze Maps
MapQuest
Maps.me
Sygic Maps
Let's get into the details of each one.
1] OpenStreetMap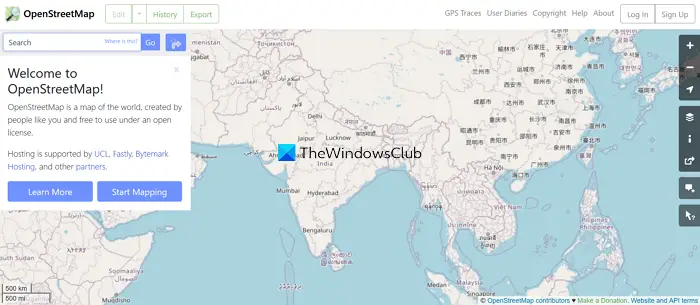 OpenStreetMap is one of the best alternatives for Google Maps to secure your privacy. It is an open-source app that runs on data donated by various users. You need to contribute something to download something from OpenStreetMap. It has apps available on iOS, Android, and Fire which run through OsmAnd.
2] OsmAnd
OsmAnd is another best alternative for Google Maps. It is free and has many features like offline maps and hiking maps, and never tracks any personalized data. It is also an open-source app that also has a premium version with some more features. It has apps available on Google, Amazon, and Apple play stores.
3] HERE WeGo
HERE WeGo is another Google Maps alternative with more than 35 years of experience in mapping services. It covers 200 countries and has millions of vehicles to provide real-time data. It collects your location data but does not associate with your account. You can download maps for offline usage with easy features to customize.
4] Apple Maps
It is provided by Apple Maps which is available exclusively to Apple users. It offers simple navigation features and does not share your data with anyone. You can also download maps for offline use from Apple Maps.
5] Waze Maps
Waze is one of the popular alternatives to Google Maps. It has the best features to monitor local traffic information with real-time updates. It uses information or data submitted by the users to improve the experience for other users. Waze has its apps for both android and iOS available on the respective app stores.
6] MapQuest
MapQuest is another alternative to Google Maps that gathers data submitted by the users and makes the mapping experience better with timely updates. It has been in the mapping domain for many years and provides better mapping services if you need an alternative to Google Maps. It also has apps available on Apple and Google Play stores.
7] Maps.me
Maps.Me is a service that is based on OSM's database. it has maps for more than 300 countries and islands. It supports offline usage of maps whereas the online version provides real-time data related to traffic and transport. You can sue Maps.me even for hiking trails as it is an open-source app and does not collect much data.
8] Sygic Maps
Sygic Maps is a great alternative to Google Maps. As it is based in Europe and compliant with GDPR privacy requirements, we can safely use it as an alternative to Google Maps to secure our privacy. It has navigational features, lane guidance, and parking spot availability information in a few countries.
Which map app is best for privacy?
There are many map apps that give importance to users' privacy. Open-source map apps like OpenStreetMap, OsmAnd, MapQuest, and Here WeGo are some of the best map apps if you need privacy.
Read: Best Google Maps Tips and Tricks that will make you a Pro at using it
What can I use instead of Google Maps?
You can use map apps like OpenStreetMap, OsmAnd, HERE WeGo, Apple Maps, Waze Maps, MapQuest, Maps.me, and Sygic Maps instead of Google Maps if you really need to secure your privacy from obsessive data collection and usage.
Related read: How to download offline Maps on Windows PC.