Google Chrome unable to delete browsing history? If so, then this post will help you. Some Chrome users cannot delete their web browsing history, data, cache & cookies. In this article, we will walk you through specific settings to help you delete browsing history on Chrome. We will begin this guide by mentioning the usual methods. At the end of the article, we will talk about much more advanced methods that will surely help you delete the Chrome history.
How to clear Browsing History in Chrome
To clear your browsing history in Chrome on Windows 11/10, follow these steps:
Click on the hamburger menu of the browser
Select History and Recent Tabs
Select Clear Browsing data
In "Clear browsing data" select "All time"
Choose the type of history you want to delete.
Click the Clear data button.
I recommend selecting Browsing History, Download history, Cookies, and other site and plugin data, cached images and files for All time.
Cannot clear Cache & Browsing History in Chrome
Some users have reported that the clearing process enters an endless loop. Google Developers have admitted that there is an issue and have discussed the same.
"We're seeing a spike in feedback related to browser history not clearing. Specifically, the behavior is that once the deletion process is started, it runs forever with no completion or ability to stop/exit. We haven't tried to reproduce yet, but we're seeing a large enough spike that we wanted to file. Reports are currently only from Windows and OSX."
Google has blamed an issue in SessionStorage.
You can follow the below workarounds and see if that helps.
1] Clear Chrome cache using a tool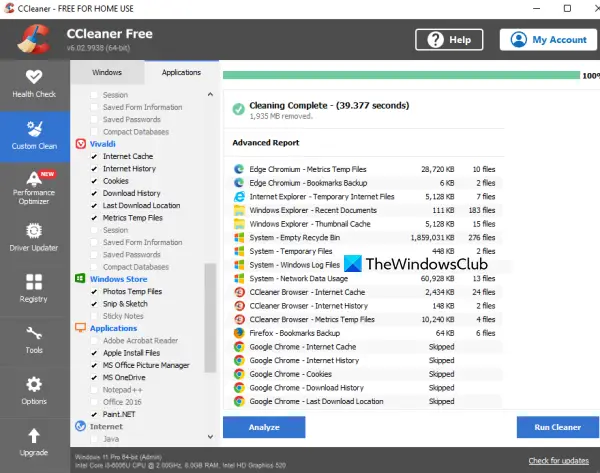 CCleaner or any other junk cleanup tool is perfectly capable of clearing Chrome's cache, history, password, and other data. You should be fine using cleanup tools.
2] Clear Chrome cache folder via Explorer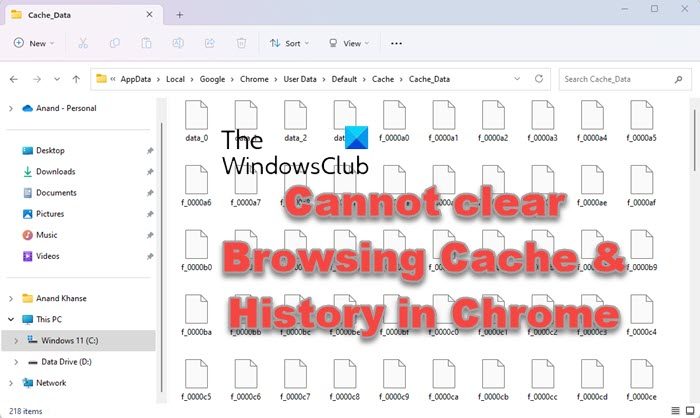 You can try clearing the cache by using File Explorer.
Open the following file paths:
C:\Users\YOURUSERNAME\AppData\Local\Google\Chrome\User Data\DEFAULT\Cache

C:\Users\YOURUSERNAME\AppData\Local\Google\Chrome\User Data\PROFILENAME\Cache
In the address above swap "YOURUSERNAME" with your profile name and empty the contents of this folder.
3] Clear Google Data via MyActivity Page
Additionally, You can also use Google's My Activity page to clear the data.
4] Delete Browsing History using CMD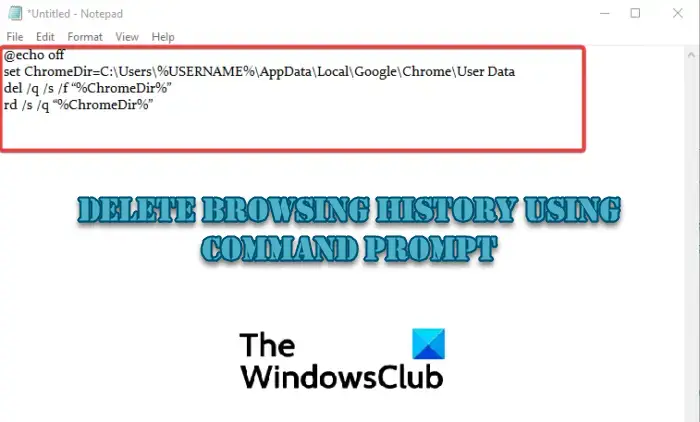 You can also try to delete Browsing History using CMD in Chrome.
I hope this helped.