Gmail is one of the most used email services for internet users nowadays. The service is free to use and has a lot of fascinating features. However, some users have  been facing an issue where their Gmail emails go to the Trash folder instead of the Inbox.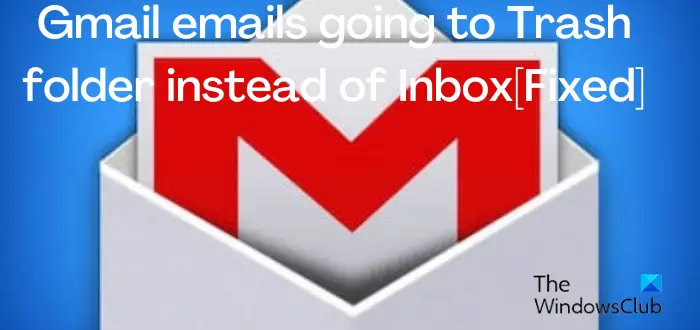 In addition, the Gmail inbox problem can be due to several reasons, which include the use of email filters and email forwarding. But most users don't recognize this as the cause of the problem and find it hard to fix. Hence, this article will cover different ways you can use to fix Gmail emails going to the trash folder instead of the inbox on your computer.
Fix Gmail emails going to Trash folder instead of Inbox
If your Gmail email is going to the trash folder instead of Inbox, here are the ways to rectify it.
Disable Email Forwarding
Change Filter settings
Remove Unroll.me
1] Disable Email Forwarding
It's possible that you've enabled email forwarding on your Gmail, and that's why your emails are going to trash instead of inbox. To be sure of them, check your Gmail settings and ensure incoming emails are being saved in your inbox
Click on the gear icon at the top of your Gmail page.
Select See all settings.
On the Settings page, switch to Forwarding and POP/IMAP tab.
Then tap Disable Forwarding in the Forwarding section.
This will help remove your email from being forwarded to trash and consequently fix the issue you are facing.
2] Change Filter settings
Some users make use of filters to block some emails on their Gmail. Whether you've done this intentionally or by mistake, you may have to remove your emails from the filter list to fix this problem. Here is how to do so:
Click on the gear icon on Gmail page to open Settings
Click on Filters and Blocked Addresses.
Press Ctrl + F and type in your email address if you cannot find it easily.
Then remove your email address from the filter list and click Continue.
Hit Update filter.
Read: Gmail not sending or receiving emails
3] Remove Unroll.Me
Unroll.Me is a program used for email organization, but what if it's because all of your emails are going straight to the trash? The best action is to delete this tool from your Google account and check to see if the problem has been fixed.
Go to your Google Account Page.
Click on Security on the left pane.
Then hit Manage third-party access.
Select Unroll.Me app and click on Remove access.
If that's not the cause of the issue, you can simply add the tool to your Gmail.
Why are my incoming messages being automatically placed in trash?
Mostly, when your incoming messages are getting pushed into the trash folder instead of the inbox, it means you've enabled email forwarding or are using email filters. The best way to rectify this is to go to your Gmail setting and allow incoming messages to be kept in your inbox. Steps to do that have been discussed in the article.
How can I move emails from trash to inbox?
If you want to move Gmail emails from trash to inbox
Simply open your Gmail and go to trash
Click on the email you wish to move
At the top of the page, there are some icons listed; click on the one with a forward arrow.
Then select inbox as the label you are moving the email to.
Related: How to stop email forwarding in Outlook for Windows.