This post will show you how to generate various types of ambient sounds in Windows 11/10. Ambient sounds or noises are used for different purposes. A lot of people listen to some ambient sounds to focus at work by blocking all other distracting and noisy sounds. While some people use ambient sound to relax, sleep, meditate, etc. If you are looking for a nice free ambient sound generator to generate numerous types of environmental sound, this article will help you out.
In this article, we are going to list down several online services, apps, and freeware to generate ambient sounds on Windows 11/10 PC. These ambient sound generators let you generate atmospheric sounds including raindrops, forests, thunderstorms, cafes, waves, chirping birds, fireplace, and many more. Let us check the list now!
What is an example of an ambient sound?
Ambient sound is an atmospheric background sound that is present in an arena, place, or scene. An example of ambient sound includes the sound of raindrops. Some other ambient sounds include coffee shop chatter, the sound of an oscillating fan, heavy thunderstorms, birds chirping in a forest, etc.
Is there an app for background noises?
If you are looking for an app for Windows 11/10 to generate background noises, we have mentioned some in this article, like White Noise or Sleep Sounds. You can find the details on these apps below in this post.
Free Ambient Noise Generator software & tools to generate Ambient Sound
Here are the free ambient sound generator web services and software that you can use to generate ambient sound on your Windows 11/10 PC:
A Soft Murmur
Noises Online
myNoise
Noisli
Defonic
White Noise
Rainyscope
Halotea
Noizio.Net
Sleep-aid
Sleep Sounds
Let us discuss the above ambient sound generator tools and software in detail now!
1] A Soft Murmur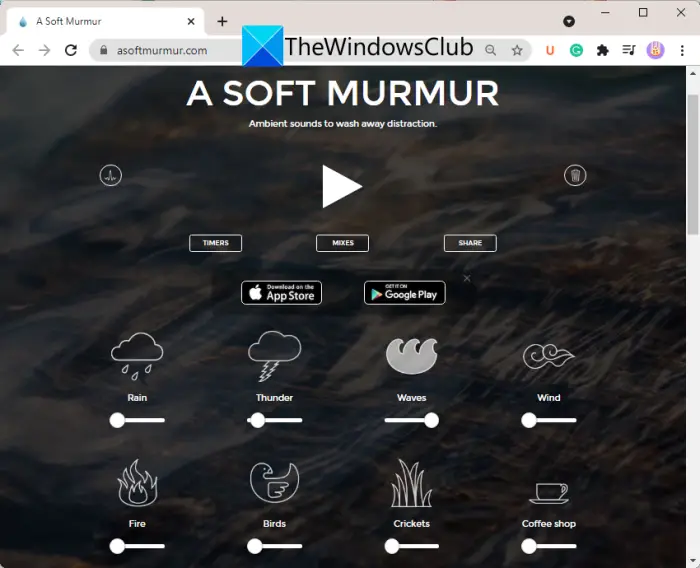 A Soft Murmur is a great free online ambient sound generator. It lets you generate, mix, and play multiple ambient sounds at a time. The ambient noises that it can generate are rain, thunder, waves, wind, fire, birds, crickets, coffee shop, singing bowl, and white noise. You can click on any sound and listen to it. It lets you generate several ambient sounds at once. You can even control the volume of each of the background noises.
It provides a Timer feature that allows you to set and start a timer to start a sound, stop a sound, or fade sound. You can also save your ambient sound mixes to quickly play them whenever required. For that, you can click on its Mixer button and enter a name for the current ambient mix. It also lets you share the URL of the current background noise mix with others via Twitter, Facebook, Reddit, or Tumblr.
Want to use this handy ambient sound generator? Head over to asoftmurmur.com.
2] Noises Online
Noises Online is an online website to generate and listen to ambient sounds for free. It offers plenty of ambient and background sounds to play including brook, creek, stream, waterfall, shore, waves, raindrops, distant thunder, coastal wind, autumn breeze, meditation time, forest wind, birds, bonfire, wind chimes, brown noise, pink noise, and some more. You can select one or multiple sounds to play at the same time.
It provides playback control options to increase or decrease the volume of ambient sound. Furthermore, you can also generate an URL of particular background noise and share it with others. It also lets you generate a WAV audio loop and download the audio file too.
You can generate ambient sound by going to noises.online.
3] myNoise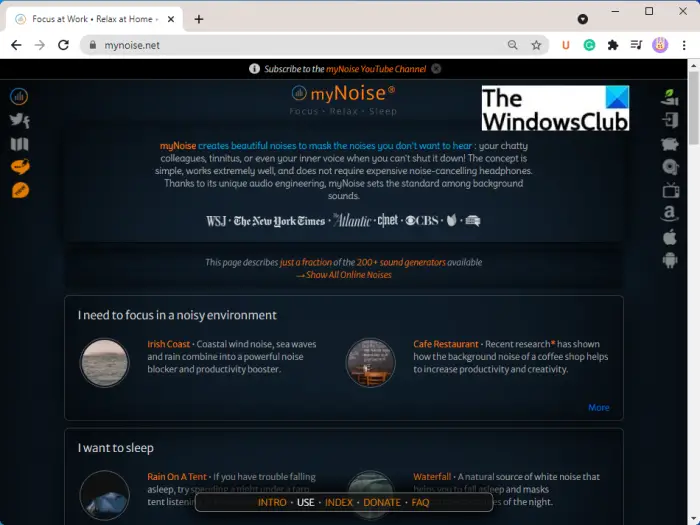 myNoise is a dedicated online service to generate ambient sound to focus at work or relax. You can play a desired ambient sound to block other background noise that you don't want to listen to.
It has different categories of ambient sound to generate. Let's say you want to focus at work in a noisy environment, then you can try Cafe Restaurant, Waterfall, Pebble Beach, or Irish Coast sound. If you want to sleep, you can generate Rain On A Tent, Sleeping Dragon, Tropical Rain, Thunder, and some other sounds. It can also generate ambient sounds including Japanese Garden, Gregorian Chant, Twin Black Lodges, Calm Office, etc.
While playing an ambient sound mix, it lets you adjust sound sliders and increase or decrease the sound. You can also enable the meditation bell which rings after a selected number of minutes. You can also set a timer to play and stop an ambient sound.
Read: How to reduce Background Noise in Microsoft Teams.
4] Noisli
Noisli is a nice ambient sound generator that helps you focus or relax. It lets you play various background noises as well as generates colors that are soothing to the eyes. You can play ambient sounds in Productivity, Random, and Relax categories for free. There are some other ambient sound categories like Noise Blocker, Motivation, Sleep, Studying, and more. But, these are available in the pro plan only.
It can generate ambient noises including rainfall, blowing wind, rushing water, waves breaking on a shoreline, fire crackling, coffee shop chatter, sound of an oscillating fan, birds chirping in a forest, thunder, and more. You can select and play more than one ambient noise simultaneously. While doing that, you can customize the volume of individual sounds.
You can save ambient sound mixes, share the URL of a mix, and set up a timer. It also offers a text editor where you write while listening to ambient sounds. You can download the text file and save it to your Dropbox or Google Drive.
5] Defonic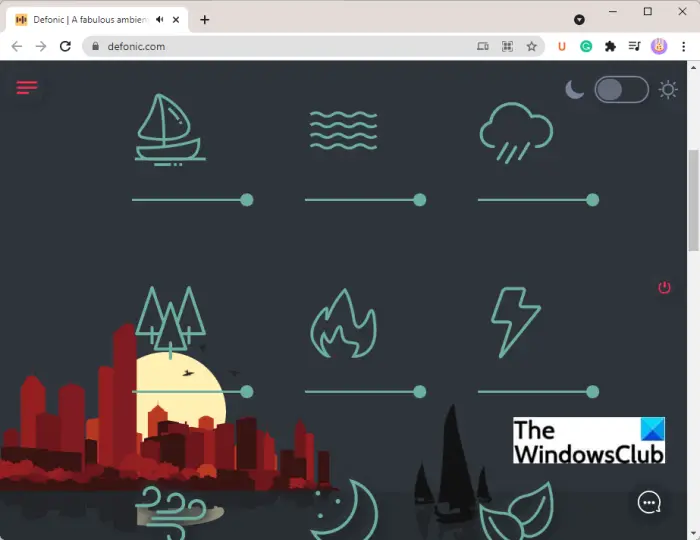 Defonic is a free online ambient noise generator. It can generate sounds like ocean waves, rivers, rain, forest, crackling fireplace, thunder, wind chime, snowstorm, cafe, air fan, campus library, and train. You can play a mix of multiple ambient sounds while adjusting the volume of each sound. It also offers some presets to play mixes like meditation, productivity, relax, sleep, focus, refreshing, and zen.
You can also toggle between day and night view mode on this web ambient sound generator.
6] White Noise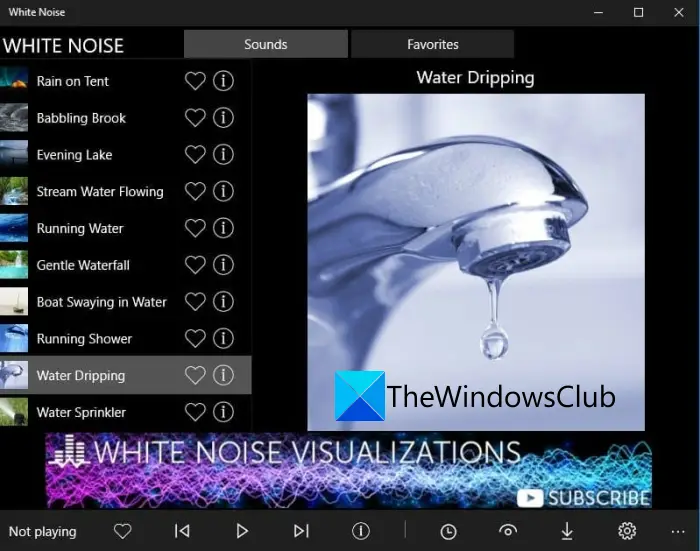 As the name suggests, White Noise is a dedicated white noise generator app for Windows 11/10. Along with white noise, it also comes with different pleasing ambient sounds. Some of the background noises that you can generate and play in it are:
ocean waves
jungle
beach waves
thunderstorm
campfire
blowing wind
rainstorm
rain on lake
stream water flowing
singing birds
city streets
You can also play some extra noise in it like cars driving, crowded room, airplane travel, hairdryer blowing, heartbeat, blue noise, pink noise, brown noise, etc. The good part is that it displays a related background image.
It lets you create an ambient sound mix, create a playlist, set a sound timer, enable or disable the 24-hour clock, adjust volume, and view the digital sleep clock. If you want to use it, you can download and install this ambient sound generator app from Microsoft Store.
See: LabChirp is a free Sound Effect Generator software for Windows PC.
7] Rainyscope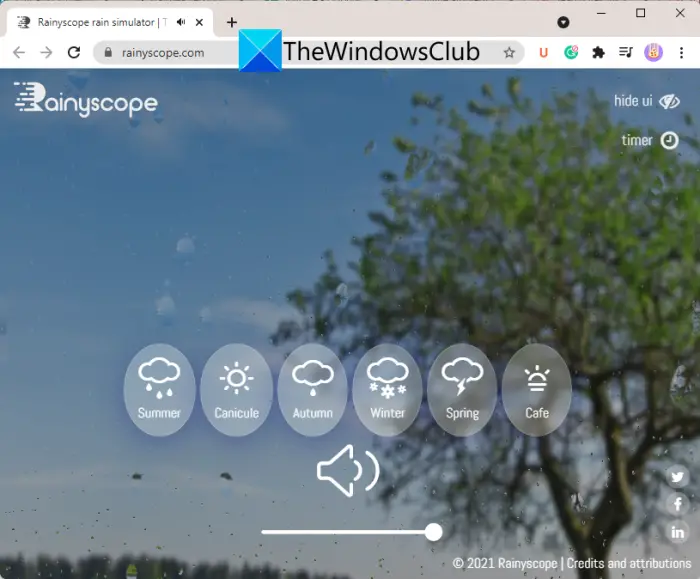 Rainyscope is a rain sound generator. You can generate rain noise in different weather like summer, winter, spring, autumn, etc. It also lets you generate cafe ambient sound in it. The basic volume control to adjust the sound volume is available in it. It also lets you set a sound timer. You can go to rainyscope.com to generate some basic ambient sounds.
8] Halotea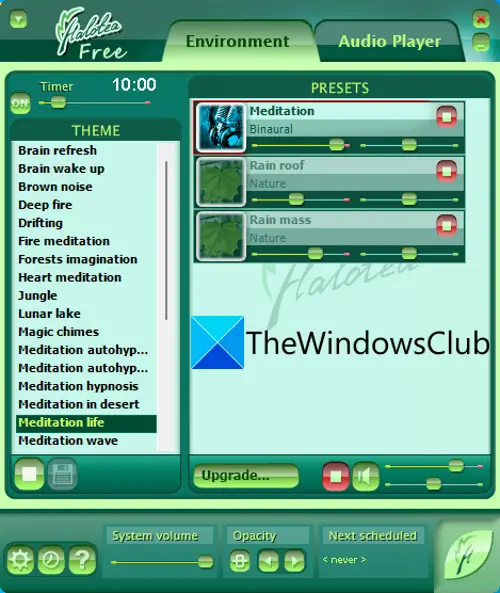 Halotea is a free software to generate ambient sounds in Windows 11/10. Using it, you can generate sounds like rain and thunder, rain in the forest, rain in the jungle, rain outside the window, jungle, lunar lake, night fire, and various others. If you want to generate some ambient sounds for meditation and relaxation, you can listen to meditation waves, meditation in the desert, meditation life, brain refresh, brain wakeup, meditation hypnosis, etc.
Here are some nice features of this free ambient sound generator software for Windows 11/10:
You can create your own custom themes with different ambient sounds.
You can adjust the sound volume for each ambient noise as per your preferences.
It comes with a separate Audio Player that works as a regular audio player. You can play MP3, AAC, OGG, WAV, WMA, and other audio files in it.
You can get it here.
9] Noizio.Net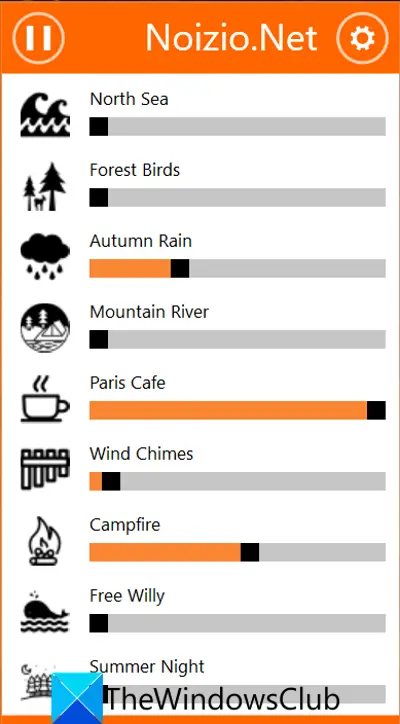 Noizio.Net is a free and open-source ambient noise generator software for Windows 11/10. It lets you listen to the North Sea, Forest Birds, Autumn Rain, Mountain River, Paris Cafe, Wind Chimes, Campfire, Free Willy, and Summer Nights ambient sounds. Select one or more ambient sounds and play an ambient noise mix while adjusting the volume of individual sounds. You can download it from sourceforge.net.
10] Sleep-aid
Sleep-aid is a free web-based software to generate ambient sounds on Windows 11/10. You can download its source code from github.com. Just unzip the downloaded folder and from the extracted folder, open the index.html file in Google Chrome, Firefox, or any other web browser. You will then be able to generate some ambient sounds including Forest, Rain, Thunderstorm, Birds, Trains, and Boats. It lets you adjust the volume of each ambient sound as per your requirement.
Read: Best Free Sound and Volume Booster apps for Windows PC.
11] Sleep Sounds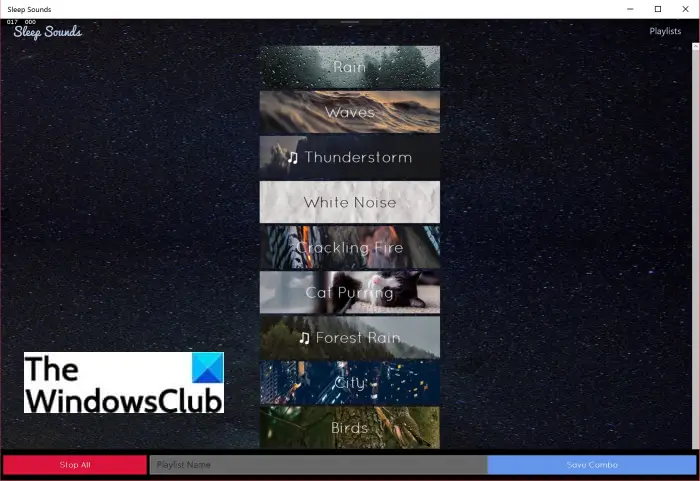 Sleep Sounds is a free Windows 11/10 app to generate ambient sound on a PC. You can generate atmospheric noises using this app. The ambient sounds that you can play in it include Waves, Thunderstorms, Birds, Rain, Crackling Fire, Forest Rain, White Noise, City, and Cat Purring. You can download this simple ambient noise generator app from here.
That's it!