If you are facing problems while installing games or while starting and playing online games you may want to try the Games and Entertainment Fix It from Microsoft.
Games and Entertainment Troubleshooter
This Fix-It will automatically diagnose, identify and fix common problems and issues related to games and online entertainment including:
Cannot install games
Cannot start online game, online game won't launch or shows blank screen
Game crashes frequently  or graphics not displaying correctly
Logitech controller not working
Windows is slow when playing games
Add-ons that make Internet Explorer  slow
Video card driver issues such as not running the latest video driver
DirectX 9.0 problems.
Once you have downloaded the Fix It, run it. You will be asked if you'd like the Fix It to detect and fix the problem/s automatically or only detect the problems and allow you to decide which fixes to apply. I would recommend the latter, since this way you will at least know which all fixes are being applied. It can be a good learning experience.
You will be asked to select the problems you are facing. Select, one, multiple or all.
The Fix It will scan your system and offer you a diagnosis.
If you want you can also view the detailed report.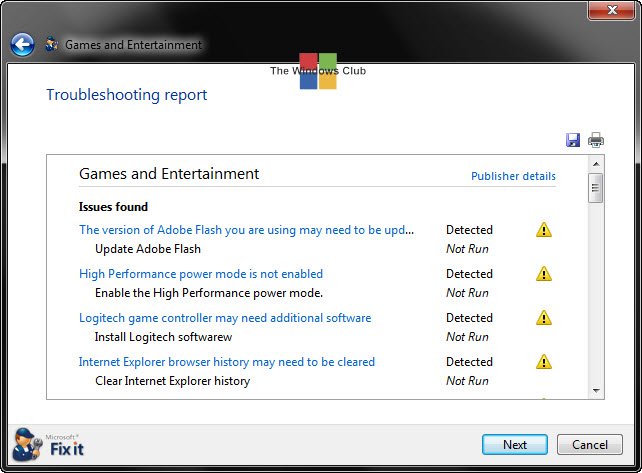 Click Next to apply the fixes.
You may have to restart your Windows computer.
You can download it from microsoft.com. [It seems to have been taken down]
Problem playing games? Check these posts: