Before writing an essay or making a strategic business plan, you must consolidate your thoughts and then implement them. For making such a plan, you might need a whiteboard or perhaps a pen and paper to write them down. There is another thing you can do. Use a mind-mapping tool! Freemind is a free mind mapping tool for Windows to tidy up your thoughts or strategies.
Freemind mind mapping software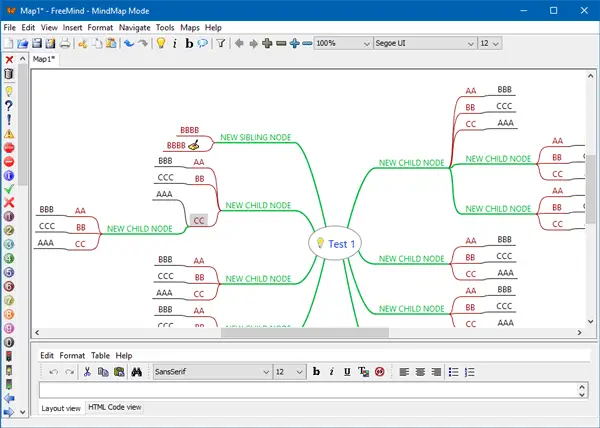 Freemind is a cross-platform tool that is available for Windows, Mac, and Linux, which comes with almost everything that you need when you want to make a plan. You can make countless categories (nodes) and sub-categories that can assist you in entering your ideas. Lets us take a look at some of the features of Freemind:
Freemind has an elegant and clean UI that is probably the perfect environment for making a plan or writing down ideas.
You can include links to a node so that you can open a web page related to your node.
Insert node to a location on the map given by Freemind.
Encrypted Maps help users create password-protected maps to prevent others from opening their confidential files.
One-click navigation helps you to show or hide nodes quickly.
Use Ctrl + C and Ctrl + V to copy and paste entire map.
Create or edit multiple maps at a time. You have to open multiple maps in different tabs.
Export maps in HTML.
Insert icons to define a particular node.
Find, Find & Replace helps you find something and replace it with something else without actually clicking on that node.
To get started with Freemind, download and install it. The installation process is routine. After that, you can create a new map and start putting your ideas.
Right-click on the map to add nodes and sub-nodes. To create a password-protected map on Freemind, click on File > Create Encrypted Map. Following that, enter the password twice to confirm. Now, you have to enter your password whenever you open it.
Drawback of Freemind
Although Freemind is a very handy tool, it has some drawbacks as well. For example, you cannot insert pictures. Even though the official site says that you can add images, but it failed to show images during the test.
You can download this free mind mapping software from here.
Is FreeMind a free software?
Yes, FreeMind is free software that you can download for Windows 11 as well as Windows 10 PC. No matter whether you want to download it on one or multiple computers, you can do that for free. It is possible to download it from a third-party source as well as from Microsoft Store.
What is FreeMind software used for?
FreeMind can be used to organize your ideas, plan for new projects, manage your teams and workloads, etc. Even if you are a freelancer or small team manager, you can make use of FreeMind to organize everything. A detailed guide is available here, and you can follow it to learn more about this app.
Mindmapp is another mind mapping software you may want to take a look at.