Mind Mapping is a creative exercise that starts when you pen down that one big idea or theme. This big idea is like the trunk of a tree, each new idea is a new branch, and each sub-idea is a smaller branch, and all these ideas are directly linked to truck, i.e., the chief idea. Mind mapping is an amazing way to lay down your thoughts and brainstorm new ideas.
While, you can always make a mind map on a blank piece of paper, digitalizing this process can bring in more convenience and flexibility. But again, the surge of free mind mapping tools available today can leave you muddled. In this relation, we'll present the best free mind mapping tools available for Windows to help you select the one which maps your mind perfectly.
Mind Mapping software for Windows PC
Every mind mapping tool comes with their own unique set of benefits – and this can be confusing when it comes to selection. So, what makes for a great mind mapping software? Every tool should offer the least of the following:
Unlimited Canvas – The software should not have any size limitations.
Ability To Attach Files – Should offer the ability to attach links, images, and other files.
Collaboration Features – It should make it easy for multiple users to collaborate and comment on their views/opinions on the canvas.
Ability To Save And Export – Should allow you to save your maps and re-edit it at a future date.
Here are some of the best free mind mapping software are for your Windows 10 PC:
Mindmeister
Lucidchart
Bubbl.us
Mindmup
Draw.io
Mindomo
Coggle
MindMapp
Freemind
Freeplane.
Let's look at each of these free mind mapping tools in detail:
1] Mindmeister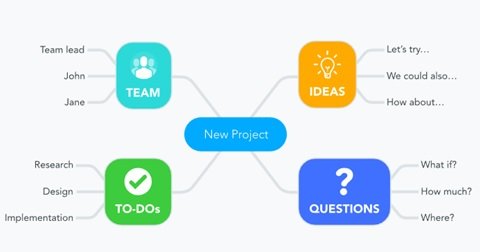 A robust tool which includes everything from quick keyboard shortcuts to the capability to embed live videos inside your nodes. Its collaboration features are extensive; it allows you to add members to your mind map, upvote or downvote ideas, and leave comments. Mindmeister's is free to use for its basic plan, but you can create only up to 3 minds maps and real-time collaboration. Download this free mind mapping tool here.
2] Lucidchart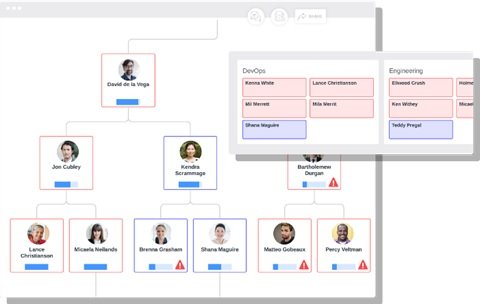 Instead of being a strict mind mapping tool, Lucidchart is a diagramming app which allows you to create flowcharts. Unquestionably, it's great for creating mind maps, but also gives you huge flexibility to draw out other things like process flows. This tool is great for those who are looking to pen down their idea and do a lot more with diagraming. However, their free limit tier option allows you to create up to 3 mind map documents only. You can download it from this link.
3] Bubbl.us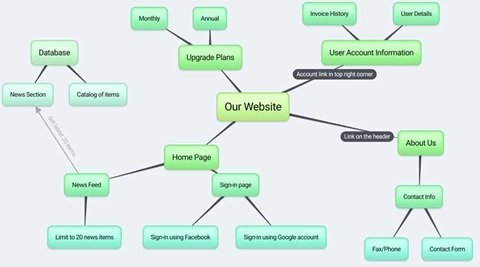 One of the easiest online mind mapping tools which don't even demand the users to register or sign in. Bubble.us is focused purely on mind mapping only, the most interesting thing about this tool is that it allows you to create colorful mind maps which are intuitive yet not complex. Bubbl.us has two tiers in their pricing plan, one is free, and the other is premium. Users on the 'Free' plan are limited to 3 mind maps and only get to use basic features. Here is the link for downloading this tool.
4] Mindmup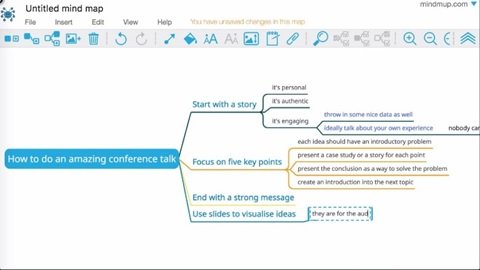 Another great free online mind mapping software that allows you to create, share and publish mind maps, in the most hassle-free manner. Mindmup provides you quick links for all the basic needs of mind mapping, from altering the color of each node to adding detailed text or attachment, this tool has it all. You can create unlimited mind maps of up to 100 KB free, store them in the cloud and access them everywhere, instantly, from any device. Download this easy-to-use tool from here.
5] Draw.io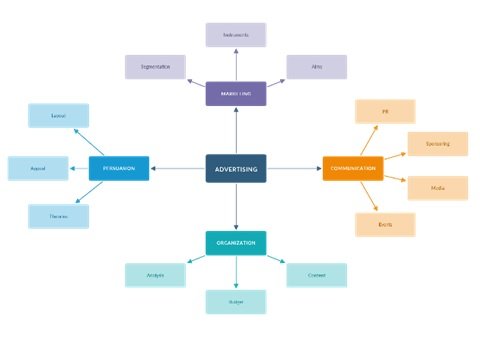 The best thing about this tool is that it is completely free to use. Draw.io allows you to draw and create almost anything you wish. Its drag-and-drop canvas lets you add shapes, links, text, and images; also, you can change colors, connect your ideas with lines and much more. Note, draw.io is not strictly a mind mapping tool, so you might have to work a bit harder to manually connect your ideas and rearrange them. To give this mind-mapping tool a try, download it from here.
6] Mindomo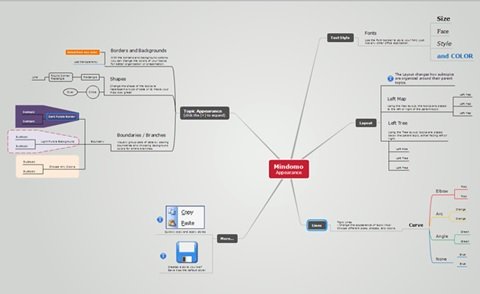 This tool allows you to visually outline complex concepts, tasks, ideas, and other related information in a structured form. With its all-embracing and easy-to-use feature, Mindomo is the perfect tool for both experienced and first-time mind mappers. One of the most outstanding features of this tool is 'Teamwork' which allows amazing collaboration. They offer a free version which lets you create up to 3 mind maps, share, publish, and collaborate. Download this tool and try using it for mind-mapping.
7] Coggle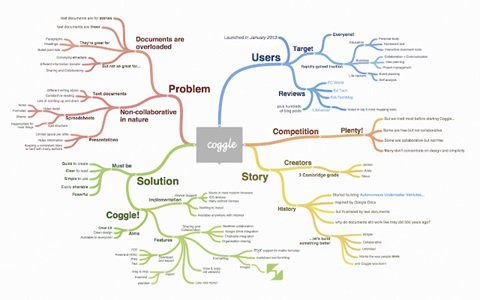 Coggle is an online application built to support collaborative mind map making. It is one of the simplest and cleanest mind mapping tools which is great for taking notes, brainstorming, and planning. This platform can streamline workflows, facilitate faster learning, and promote overall productivity. Coggle is completely free for those who will be handling a maximum of 3 private diagrams at a time. Download it from here.
8] MindMapp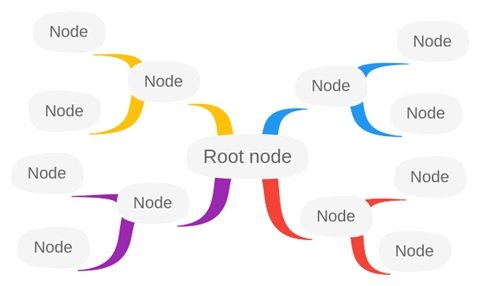 MindMapp comes with fewer features than other standard mind mapping tools, but it has all the essential options. This tool focuses solely on one function, hence allows you to note down your thoughts quickly. Mindmapp allows you to zoom in/out into your documents, insert images, use custom color combinations, and save your maps in different formats.
9] Freemind
Freemind is known for its no-fuss UI and flexible and rich features. It can be used for a variety of purposes, including brainstorming ideas, creating a knowledge base, and keeping track of projects. However, it doesn't offer much when it comes to collaboration features, hence suitable for only those who are making mind maps for themselves. In their free plan, it offers all the essential features like drag-and-drop functionalities, smart information copying, and free-of-charge pasting.
10] Freeplane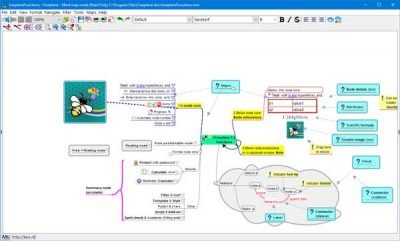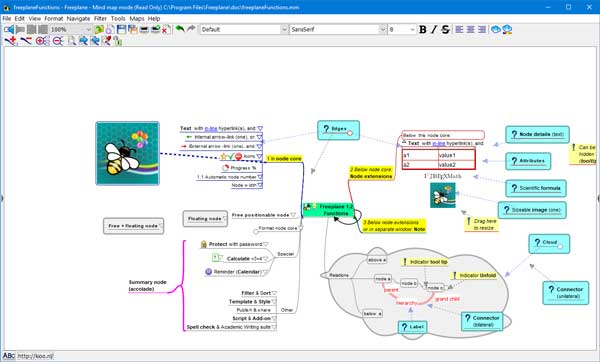 Freeplane UI may look dated, but it ships with almost all the essential features to organize your planning.
Final Thoughts
The process of creativity tends to be pretty personal; hence it's difficult to draw hard and fast "this is better" comparisons. The above-mentioned free mind mapping tools are great, each offering its unique features; it's just that some of them will be better for you than others.
Do let us know which one fits best in your mind!