Looking for free game monitoring software for a Windows computer? The best options will be discussed in this article, so give them a shot. Gaming is one of the tasks that use a lot of resources on a computer, thus, it can occasionally cause lags or high memory usage. However, if you are able to monitor your system's performance as you game, you may at least give it a fair shot against any issues that might occur.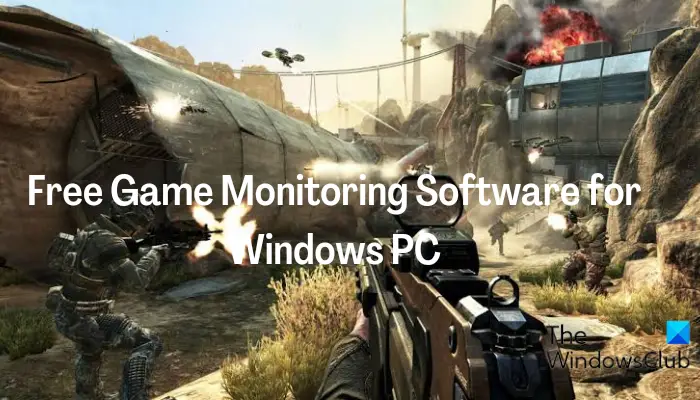 While your computer comes with a built-in program called Windows Task Manager for keeping track of processes, using game monitoring software will give you a greater chance of tracking your system performance and preventing issues from occurring. In addition, game monitor software is crucial to your computer's overall health as well as the efficacy of your gaming process.
Hence, we are going to talk about the best free game monitoring software for Windows PC in this article so that you can choose one to start using on your computer.
What is Game Monitoring Software, and what is it for?
Game monitoring software is an application designed for monitoring and analyzing hardware functionalities while gaming so that you can have a report of the information it gathers from the core components of your computer, much like the Windows Task Manager is used to keep track of your CPU and GPU performances.
In addition, game monitoring software alerts you to any potential issues with your hardware due to gaming. In its basic form, game monitoring software is a tool created to assist you in keeping track of your hardware system's performance metrics, including CPU, RAM, and GPU usage; CPU and GPU temperature; game frame rate; fan speed and many other useful hardware data.
What are the best free game monitoring software for Windows PC?
Below are the best free game monitoring software you can use on your Windows computer:
HWMonitor
GPU-Z
FPS Monitor
SpeedFan
MSI Afterburner
Open Hardware Monitor
NZXT CAM
1] HWMonitor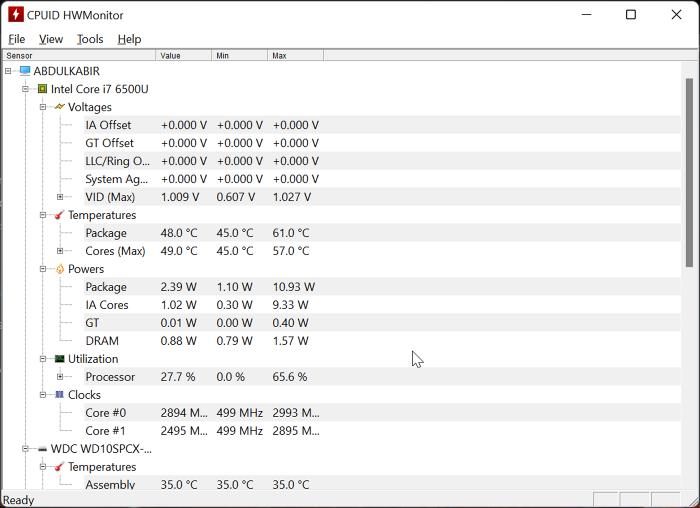 Topping our list of the best free game monitoring software is HWMonitor, a program that can be used to keep track of important sensors such as speed, voltage, temperature, fan speed, as well as utilization of major hardware installed on your computer.
The application has a pretty straightforward interface and is lightweight. Besides, it gives real-time updates of the sensors while gaming, so you can easily know what's going on with your CPU, GPU, and the like.
Key Features
Shows important sensors for your computer's hardware devices.
Free to use.
Uses A.M.A.R.T to display the hard drives' temperature.
HWMonitor is available for 64-bit and 32-bit computers and can be installed on any Windows version.
2] GPU-Z
GPU-Z is a lightweight but powerful tool made exclusively to read and present real-time information about your video cards and GPUs. You can monitor your graphic card's clock rates, temps, memory usage, voltages, and a variety of other variables with the aid of this program.
The program supports various graphics devices such as NVIDIA, AMD, ATI as well as Intel. Also, GPU-Z has a user-friendly interface, and the GPU reports are very well-detailed.
Key Features
It's a light weighted program
Supports several graphics devices
Gives a detailed GPU report
Download GPU-Z.
3] FPS Monitor
FPS Monitor is another free tool to monitor your Windows computer's performance while gaming. The program not only shows the FPS counter but also displays several other parameters for hardware devices like GPU, GPU, RAM, HDD, and others.
One good thing about this app is that it is an in-game overlay tool which makes it easier for you to access its readings even while gaming. Also, FPS Monitor has a hardware alerts option that lets you know when your hardware is running in a critical or dangerous state.
The tool has a very customizable interface, and it works a try if you are looking for free game monitoring software for Windows PC
Key Features
In-game overlay
Hardware alert system
Customizable interface
Download FPS Monitor.
4] SpeedFan
If you're looking for a way to monitor voltages, fan speeds, and temperature while gaming on your Windows computer, SpeedFan is a fantastic tool you can use. Depending on the sensor chip and capabilities of your motherboard, SpeedFan also allows you to control fan speeds and monitor temperature sensors on your computer.
Key Features
Allows you to control fan speed.
Reads S.M.A.R.T from your hard drives.
Supports several Windows versions.
Additionally, this utility can display CPU usage, read S.M.A.R.T. information from your HDD, and analyze voltages and other computer parameters. SpeedFan is a free tool and is compatible with any Windows version.
5] MSI Afterburner
When talking about the most popularly used graphics card software, MSI Afterburner is one of the top options. It works not only with MSI cards but with other graphics cards. The program is designed for Windows PC with features like in-game GPU monitoring, easy customization, and a lot more.
You may adjust your fan speed with this tool, just like SpeedFan. Overall, MSI Afterburner is an excellent program to use if you want to overclock your graphics card to increase performance while gaming or performing other tasks on your computer and also keep track of the GPU's general performance.
Key Features
Has in-game GPU monitoring
Allows you to adjust your fan speed
Show comprehensive information about the performance of your GPU
Download MSI Afterburner.
6] Open Hardware Monitor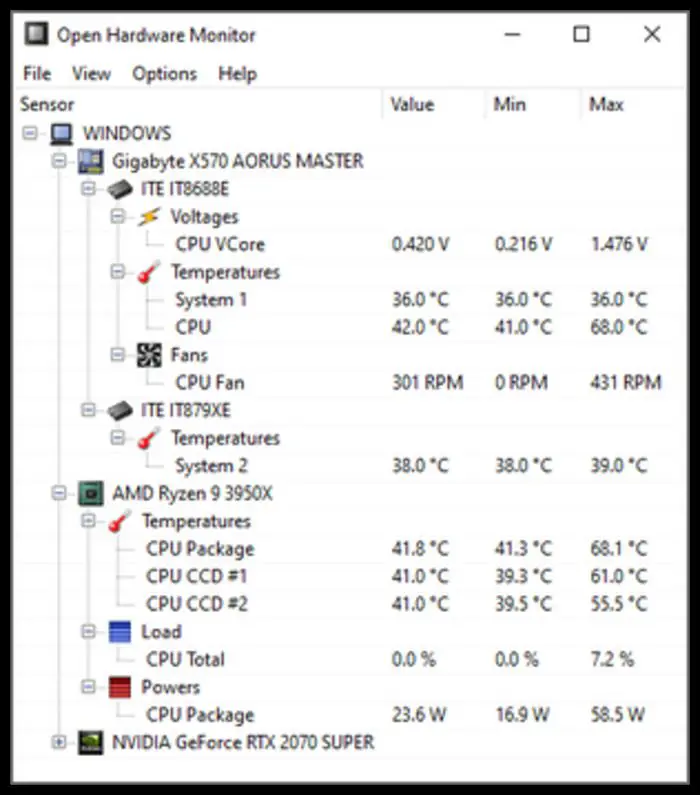 Open Hardware Monitor is an open-source game monitoring software for Windows computers. It lets you monitor temperature sensors, fan speeds, voltages, load, and clock speeds of your computer.
It displays information about your hardware components in a very organized way making it easy for anyone to use. The utility is compatible with most hardware monitoring chips on modern circuit boards. You can overclock your computer's components by using the Open Hardware Monitor, too.
Key Features
It is open source
Has a neat interface
Can be used in overclocking
Download Open Hardware Monitor.
7] NZXT CAM
NZXT CAM is a free PC monitoring software that is best for Windows PC users to keep track of the performance of their computers while gaming. With this app, you can monitor the status of your computer hardware component in real-time.
For gamers, this program shows every detail you need to know how your computer is running while gaming. Besides, NZXT CAM is very well designed, lightweight, and has a user-friendly interface.
Key Features
It is free.
Allows you to track PC
performance while gaming.
Download NZXT CAM.
Read: Best free FPS Counter Software for Windows PC
How can I monitor my PC performance while gaming?
There are several applications that can be used to monitor things like CPU, GPU, and RAM usage, temperature, fan speed, and other things like that on your Windows computer. The best of these applications have been covered in this article so that you can try them out and easily monitor your PC while gaming.
Read: Best free Game Backup software for Windows PC
Do I need to monitor my Windows PC while gaming?
Monitoring your Windows computer as you play games allows you to keep tabs on your PC's performance. This will help you keep your computer in good working order since you can identify system problems and find a quick fix. To get started, you can check the aforementioned apps.