In a world full of different software for various purposes, we often search for monitoring applications for our system. HWMonitor is one such application that one can use for monitoring its systems easily and effectively. In this article, we will learn more about what HWMonitor is and how to use it in Windows 10.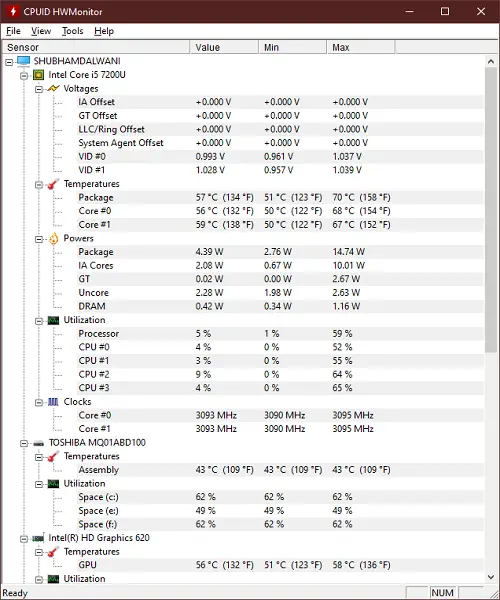 CPUID HWMonitor for Windows 10
HWMonitor is a free software for our Windows devices which can help us in monitoring our system's working in various aspects. In short, it is the most effective application from CPUID for any system that reads and displays all the vital information about the hardware being used. It is capable of displaying the Current-voltage being drawn by the system, Fan speed in RPM, and temperature of various components ranging from IC's to HDD.
It is also capable of running the S. M. A. R. T (Self-Monitoring Analysis and Reporting Technology) method for HDD to predict its failures and tolerance capacity.
Many may think that all this information may not be that useful to them but for computer fanatics and big industries, this set of information plays an important role. For computer fanatics and gamers, this information will help them in understanding how a specific game can take the system to its extreme levels and at which certain levels the system performs better. The same goes for big industries because they have to monitor the temperatures at which all their systems perform at their extreme levels with the most efficiency.
Monitor voltage, temperature, fans speed, etc. using HWMonitor
Download and install the HWMonitor application and let your system run as you want.
Once the installation is done, let it collect all the information and display them.
Now, you'll receive every information as real-time information ranging from temperatures, fan speeds of all the fans, voltage fluctuations,  etc.
To save the information being displayed, press Ctrl + S, select the location and click on Save.
This application by CPUID is one of the most useful applications to monitor our systems.
Other similar tools: Open Hardware Monitor | Moo0 System Monitor | HWiNFO32.
Also See: