Some users cannot join meetings on Zoom because of the error code 1132. Whenever they open Zoom and join a meeting, the error code 1132 pops out and prevents them from joining the meeting. Some affected users tried restarting their systems, but the error did not resolve. In this article, we will see some effective solutions to fix Zoom Error code 1132 1132.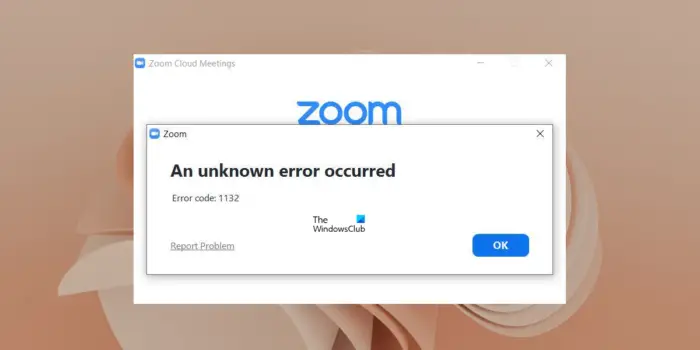 Fix Zoom Error code 1132
One of the causes of Zoom error code 1132 is a poor internet connection. Unstable internet connections always cause issues. Hence, before trying the fixes mentioned below, check your internet connection. We also suggest you restart your computer and see if it helps. If these tips do not help, use the solutions below to resolve the issue.
Power-cycle your router
Check for Zoom updates
Temporarily disable your antivirus and firewall
Join Zoom meetings in your web browser
Create a new user account
Uninstall and reinstall Zoom
1] Power-cycle your router
It will be better if you power-cycle your router. The following steps will guide you on this:
Turn off your router.
Unplug cables from the wall socket.
Wait for a few minutes.
Plug cables into the wall socket again and turn on your router.
You can also try connecting your system to the internet via an ethernet cable. Wired connections have less packet loss as compared to wireless connections. Therefore, wired internet connections are more stable than wireless ones.
2] Check for Zoom updates
If you are using an outdated version of Zoom, you may experience several issues like this one. This is because of bugs in older versions. Users are always suggested to use the latest version of the software because newer versions released by developers come with bug fixes.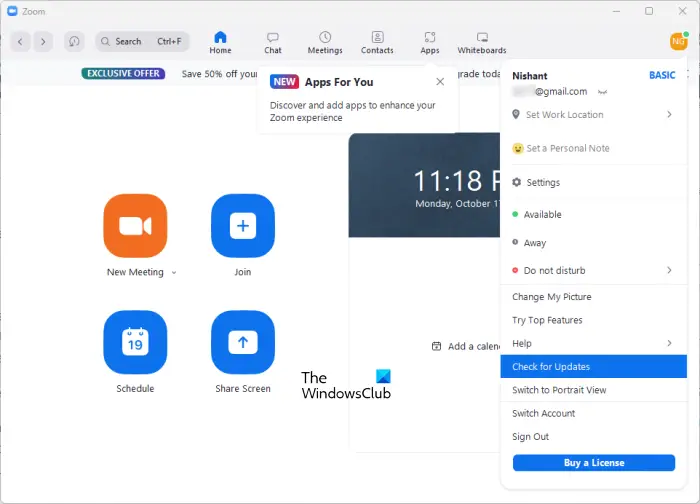 The following steps will help you check for updates for Zoom Client.
Open Zoom Client.
Sign in to your account.
Click on your profile icon on the top right side and select Check for updates.
After updating the Zoom Client to the latest version, join a meeting and see if you get the same error code this time. If yes, try the next solution.
3] Temporarily disable your antivirus and firewall
If your antivirus and firewall are blocking Zoom from establishing a connection successfully. You can check this by temporarily blocking your antivirus and firewall. After doing this, open Zoom Client and see if you can join the meeting or not. If yes, your antivirus and firewall are the culprits. Now, you have to add Zoom Client as an exception to your antivirus and allow it through your firewall.
Some users were able to fix the issue by resetting firewall settings to default. You can also try this.
4] Join Zoom meetings in your web browser
You can also join Zoom meetings in your web browser. If you are having issues with Zoom Client, you can use your web browser to join Zoom meetings. To join a meeting, you have to click on the meeting link. As you click on the link, a new tab is opened in your web browser with a popup to open the Zoom Client (if it is already installed on your system). If the Zoom Client is not installed on your system, you will be asked to download it.
In the popup, click Cancel to prevent your browser from opening the Zoom Client. On the web page, you will also see the "Join from your browser" link. Click on it. If the link is not available, click on the Launch Meeting button, then cancel the popup to open Zoom Client. After that, the link will become visible.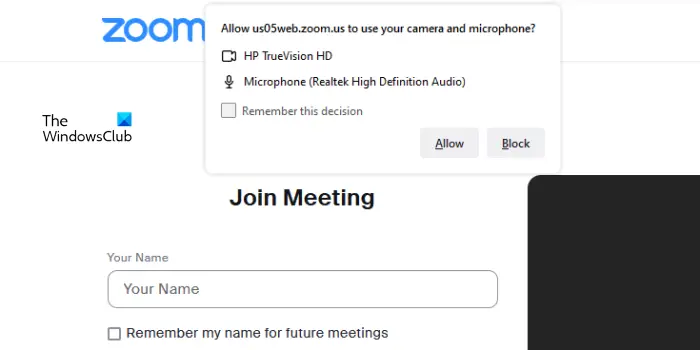 Now, you have to enter your meeting details in the required fields to join the meeting. Also, you have to allow Zoom in your web browser to access your camera and microphone.
5] Create a new user account
In some cases, the problem is associated with a particular user account. We suggest you create a new user account on Windows 11/10 and see if it fixes the issue. Some affected users have reported that they were able to join the meeting through Zoom Client in another user profile on Windows 11/10. Maybe it will work for you too.
6] Uninstall and reinstall Zoom
If none of the above fixes resolved your issue, uninstall and reinstall Zoom. Open Windows 11/10 Settings and go to "Apps > Installed apps." If your Windows 11 version is earlier than 22H2 or you have Windows 10, you will see the Apps & features option in place of Installed apps.
After uninstalling Zoom, restart your computer. Now, download the latest version from its official website and install it again.
Read: How to reduce Zoom High CPU Usage.
How do I get rid of error code 1132 Zoom?
Zoom displays errors when it is unable to establish a connection to the server. According to the feedback of users, error code 1132 mostly occurs while joining a meeting via the Zoom Client. If you see this error, try to join the meeting in your browser and see if it helps. We have explained some helpful solutions in this article to fix this issue.
How do I fix Zoom connection error?
If Zoom keeps saying error or specifically, the Connection error, check your internet connection. An unstable internet connection creates issues for Zoom to communicate with the server due to which users experience errors on Zoom Client. Different error codes on Zoom occur due to different reasons. Hence, if you see an error on Zoom, you have to troubleshoot it accordingly to resolve the problem.
Read next: Fix Zoom Error Code 103033 on Windows PC.