Error codes are often frustrating and difficult to understand. It can be particularly challenging to decipher when it comes to Xbox payment error code 8012271F. This post will discuss the causes of Xbox payment error code 8012271F and how to resolve it. We will also provide helpful tips to prevent this issue from occurring again in the future. By understanding why this issue occurs and how to fix it, you can avoid the hassle of dealing with it altogether.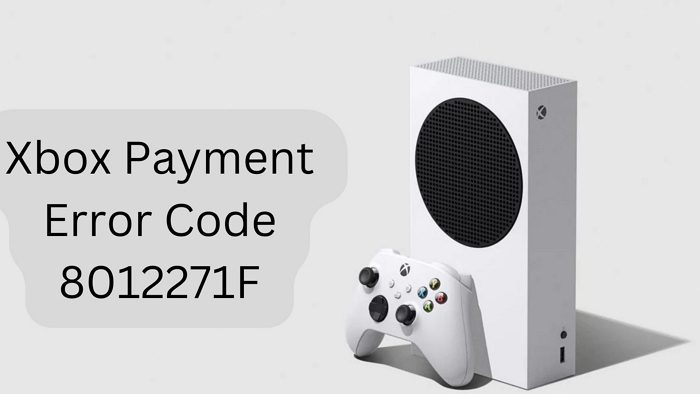 Why cause Xbox Payment Error Code 8012271F error?
When purchasing, Microsoft billing attempts to charge a payment method; it needs all the information to send to the bank. The list includes Card Numer, ZIP Code, and any other information that helps validate its legitimate payment request. However, if any data has changed, including a card number, expiry date, or restriction from the bank, then the payment will fail. Thankfully, Xbox payment error code 8012271F relates to multiple issues and can be resolved.
Fix Xbox payment error code 8012271F
Here is the list of errors and solutions you can use to resolve Xbox payment error code 8012271F. Make sure you have access to your account when attempting them.
Incorrect Payment Profile
Contact Support
This One Isn't Working. Contact your Bank for More Info
Try a Different Way to Pay
Check with your Bank Error
Let us take a look at all these error messages.
1] Incorrect Payment Profile
An incorrect payment profile is one of the most common causes of the Xbox payment error code 8012271F. This means that the payment profile you have set up for your Xbox account is incorrect or out-of-date. This can happen if the address, phone number, or payment information you're using is not up to date. You'll need to go to the Microsoft Billing section and update all the payment information associated with your account. Double-check your payment information once you've updated it, as any mistakes can lead to an error code like 8012271F.
2] Contact Support
When you face the error code 8012271F, the quickest thing you can do is contact the support team for help! Here's how you can contact Xbox support:
Go to the web support.xbox.com page.
In the right side corner, click on contact support.
The Support team will be able to resolve an issue from their end if there is no problem with your payment method. Sometimes, issues are server-side, and only a technical support person can fix them. Additionally, there can be issues with the Xbox Live service, which the contact team can confirm.
3] This One Isn't Working. Contact your Bank for More Info
If you receive—This One Isn't Working. Contact your Bank for More Info — it is time to update the payment details on your Microsoft account.
Follow the steps given below to update your Microsoft account:
Go to your Microsoft account and sign in.
Go to payments and billing.
Click on payment options.
Click on add a new payment method, view or edit the card or remove the card.
Once you update the information, save it.
If this method does not work, contact your Bank to find out if the issue is from their side. It is possible that your account doesn't have enough balance or your card has reached its monthly threshold. To correct this, ensure you have enough funds to cover the purchase cost before attempting to buy again.
4] Try a Different Way to Pay
If the 8012271F error is accompanied by a message saying, "Try a different way to pay, "you need to change the card or bank account attached to your account.
Follow the steps given below to try a different way to Pay!
Go to your Microsoft Billing section > Payment options
Add a new payment method and also remove any old payment method.
Update your payment information and save.
Thus, you successfully changed your payment method when you were asked to. Try attempting to make a payment, and check if the issue is not there anymore.
5] Check with your Bank
If you receive a Check with your Bank error when making a payment on your Xbox, and none of the existing methods work, then it's time to connect with your Bank support.
The bank may have blocked international payment or has put a limitation on the card because of suspicious activities. You may also want to check if you can use the Debit or Credit Card before talking to the bank. If you can, you will have a point for discussion with the Bank support.
6] Incorrect Region Settings
One of the most common causes of a payment error is incorrect region settings. If the region settings of the account you are trying to use do not match the region settings of the Xbox, then the payment transaction will fail. You can update this by going to Press the Xbox button to open the guide. Select System > Settings > System > Language & location. Ensure that the region settings match the region of the account you are attempting to use for the purchase. It's best to first update in your Microsoft account, and then update on the Xbox, and wait for it to sync.
Conclusion
These were various payment-related issues you can face. If you get any of the above errors, follow these steps and solve them. Most of the time, the payment method or the credit card has been declined. You will need to call your bank, talk to them about why it was denied, and try again. If this doesn't work and you still see that message, it may just mean a problem with your card or account. To troubleshoot these issues, you should contact Xbox Support for assistance by submitting a request at Xbox Support.
Why is my card being rejected on Xbox?
If your existing card is not working on your Xbox, it means that your card has expired, and you will not be able to use it to buy a game or renew your subscription. The only option to resolve this is by updating the payment info with a credit card that is working and enabled for international payment if you are outside the US.
Why did I get a billing error on Xbox?
One way the payment information is authenticated is by using your billing address, especially the ZIP Code and the Country. If you are receiving a billing error, the billing address for your payment option is incorrect. Sign into your Microsoft account, go to the billing section, and remove any existing payment method. Once done, add the payment details again, and ensure the billing address matches your card information.