Microsoft has released a second OOB (Out-of-Band) update to fix the recent print driver-related BSOD error some PC users were experiencing after installing the March 2021 Patch Tuesday update; of which a workaround is already available. However, some PC users are now reporting that they encounter error 0x80070541 when trying to install this second OOB update on their Windows 10 device. This post offers suggestions to resolve this current issue.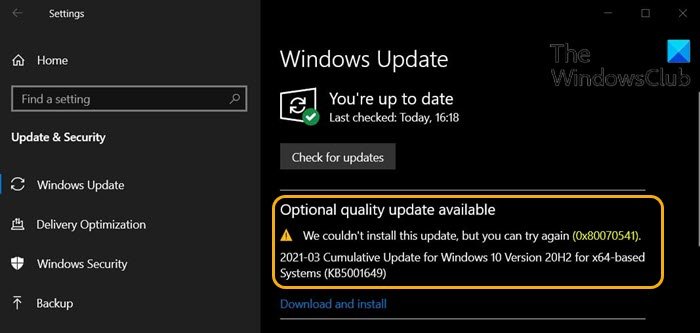 ERROR_INVALID_GROUP_ATTRIBUTES, Error code 80070541
Windows Update error 0x80070541
If you're faced with this issue, you can try our recommended solutions below in no particular order to resolve the issue.
Run Windows Update Troubleshooter
Manually download the update from Microsoft Update Catalog
Pause/Defer the update
Let's take a look at the description of the process involved concerning each of the listed solutions.
1] Run Windows Update Troubleshooter
If you get an error code while downloading and installing Windows updates, the Update Troubleshooter is the first go-to automated wizard that can help you resolve the problem.
This solution requires you to run the inbuilt Windows Update Troubleshooter and see if that helps to resolve the Windows Update error 0x80070541 issue. Otherwise, try the next solution.
2] Manually download the update from Microsoft Update Catalog
Microsoft Update Catalog is a website that allows users to download Windows Updates manually. The service can be useful if you need to distribute a specific update on multiple PCs or in this case whereby you're unable to download and install updates via the Windows Update feature.
This solution entails you manually download from the Microsoft Update Catalog the KB5001649 or any other update that is failing to install and consequently triggering the error – then install the update on your Windows 10 PC.
3] Pause/Defer the update
It's imperative to point out that this is an optional update, which means you don't have to apply it unless you really need to fix BSOD errors when printing documents; otherwise you can pause the Quality update.
Hope this helps!