Windows Activation Error Code 0x80041023 occurs when you either upgrade Windows 11/10 or fresh reinstall on the computer.  There are a few scenarios around this error. It is possible that either you have an invalid key or you are upgrading from Windows Home to Windows Pro. Let's find out how we can resolve Windows Activation Error Code 0x80041023.
Windows Activation Error Code 0x80041023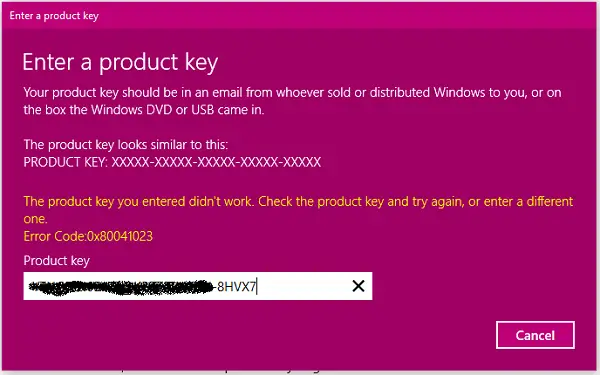 Just before we start, always make sure to sign-in with your Microsoft account so the license can link with your account. It is straightforward to re-activate your computer that way.
Windows Key is Invalid
If you are reinstalling Windows 10, and automatic activation fails, then it is possible that the key which had used before was invalid or one-time use like a MAK key. These keys can be used only once and don't work once the machine is formatted.
So if you bought a Windows Key which for cheap, and now doesn't work, you know what exactly happened. While you can retrieve the key, and try to activate, you will receive error 0x80041023
The only way out is to buy a valid key, and we suggest it is to buy from Windows Store.
Different Version of Windows Key stored in the BIOS
Assuming you have a Windows Pro Key which you want to activate, but whenever you try to activate, you get an error code – The product key you entered didn't work Error 0x80041023.
The problem here is that the BIOS of your computer has a Windows Home key. It usually happens when you buy pre-activate Windows computer, and when you reset, it still tries to activate what is available in the BIOS. Run these SLMGR commands on the Command Prompt with admin privileges.
slmgr /ipk <Windows Key>

slmgr /ato
Trying to upgrade from OEM Licenses
Here is another fact about OEM licenses. They are not "upgrade licenses", and are only for new machines. So if you install Windows 10 Pro on a machine which had Windows Home in the start, it won't work, and result in Windows Activation Error Code 0x80041023. You should install Windows 10 Home again, and then upgrade using Windows Store to Windows Pro.
If you have bought Windows Pro key from OEM, and not from the store, then you will need to install Windows 10 Pro fresh, and then use the activate key.
Windows Upgrades are sometimes confusing, especially when you have bought a computer from OEM. Unless Microsoft allows upgrading, there is no right path.
So anytime you buy a Windows 10 computer, make sure to find out if you can upgrade or not.