If you are using a Windows 11/10 laptop or desktop with a dedicated webcam and you receive an error like 0x200F4244 or 0xA00F4244 NoCamerasAreAttached or We can't find your camera, follow this post and see if any of the suggestions help you. In most cases, the cause of this problem is your webcam or the drivers. However, sometimes, there can be another problem as well.
The full error message may read like this:
We can't find your camera. Check to make sure that it's connected and installed properly, that it isn't being blocked by anti-virus software, and that your camera drivers are up to date. If you need it, here's the error code: 0xA00F4244 (0xC00DABE0).
The error code could be 0xA00F4244 or 0x200F4244.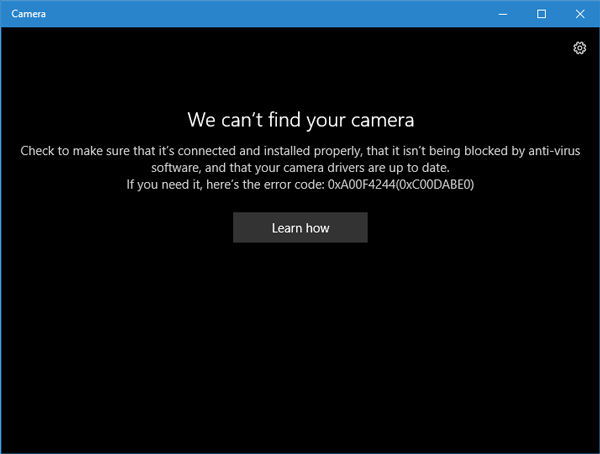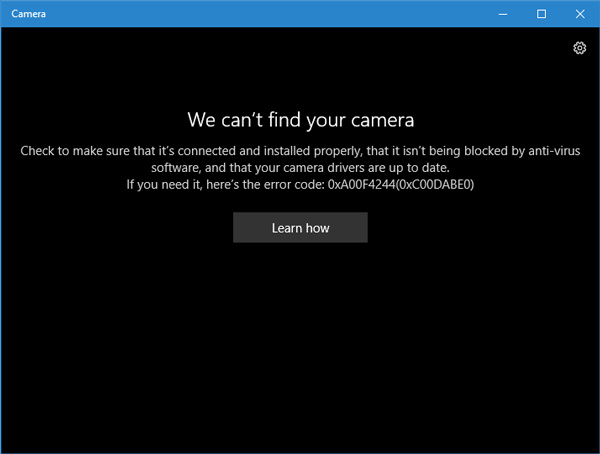 This error appears when you do not have a webcam, and you try to open the Windows 11/10 Camera app. However, if you have a camera installed on your computer, you may need to follow this tutorial to get it solved.
We can't find your camera, 0x200F4244 or 0xA00F4244 (0xC00DABE0) NoCamerasAreAttached
There is no one-click solution to this problem, and you will have to see which of these solutions work for you. However, make sure that the camera is connected to the PC if you are using an external camera.
Check your webcam if it is installed correctly
Run Camera Troubleshooter
Update the webcam driver
Uninstall the webcam driver and reinstall it
Rollback webcam driver
Detect outdated webcam driver
Check your antivirus
For some of these will need an administrator account.
1] Check your webcam if it is installed correctly
This is probably the first thing you need to check. Make sure your webcam's USB port is working properly. Try changing the USB port of your computer and see if that helps.
2] Run Camera Troubleshooter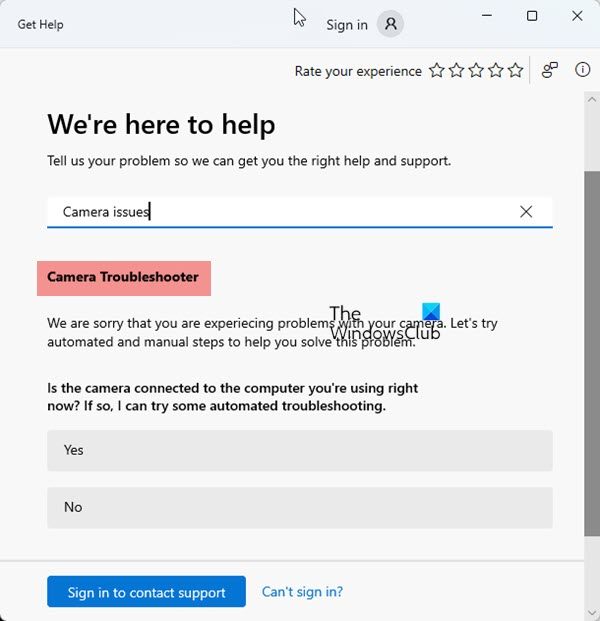 To run the Run Camera Troubleshooter in Windows 11/10:
Open the Get Help app using the Search bar
Search for Camera issues in the apps search bar
The Camera Troubleshooter will open
Answer the questions and follow the troubleshooting wizard for its solutions and see if they help you.
3] Update the webcam driver
If you are settings up your webcam for the first time, you need to install a driver to run it properly. You should find the corresponding driver for your webcam. If you have already installed your webcam driver but still receive this issue, maybe it is time to update your driver. You can either use a free Driver Updater software, or you may manually update the Device Driver as follows:
Windows 11/10 users should press Win+X and click on the Device Manager entry in the list. Locate the camera device next. It should be an Imaging Device. Right-click on that driver and click on the Update driver option. Next, select the option that says Search automatically for updated driver software option. It should not take a lot of time after that to finish the whole process.
4] Uninstall the webcam driver and reinstall it

If you face any issues during the driver updating, you might need to uninstall the webcam driver. To do this, open Device Manager > right-click on the device > select Properties > switch to Driver tab > click on Uninstall Device button.
Restart your computer and then open Device Manager again and click on Action > Scan for hardware changes.
Fix: 0xa00f4288, All Cameras Are Reserved error
5] Rollback webcam driver
If your webcam has stopped working after installing a new update, you should uninstall the update and roll back to the older version. You will have to open Device Manager > right-click on the device > select Properties > switch to Driver tab > click on Roll Back Driver button > select Yes on the next window. After that, you need to restart your PC to check whether it is working or not.
6] Detect outdated webcam driver
If your webcam is designed before Windows 7, it might not work with Windows 11/10. To find this out, follow these subsequent steps-
Open Device Manager > select the device and Properties from the right-click context-menu > switch to Driver tab > select Driver details. You will find some Driver files on your screen. Now check whether you have any stream.sys file or not. If you see such a file in the list, your webcam may not work with Windows 11/10. In that case, you need to buy a new one.
7] Check your antivirus
Sometimes the antivirus software can block your webcam from running with your PC. In that case, you may need to disable your antivirus to check whether it is the antivirus that is causing the problem or not.
I hope something here helps you fix the problem.
Why can't I find the camera in Device Manager?
If you are not able to find it, then you need to check if the Camera has been disabled. This can be found through the Device Manager.
Open Win + X to open the Power menu, and then click on Device manager.
In the Device Manager, click  the View menu, and then on Show Hidden devices
Check if you're camera is still there, if yes, right-click on it, and then enable it.
Now when you try to find it, you should be able to use the camera.
Related read: We Can't Get To The Camera Roll Right Now.