In our last post, we read about how the USB Selective Suspend feature allows Windows 11/10 systems to save power by putting certain USB ports into suspended mode. If you notice that the USB Selective Suspend feature is disabled on your system, this post may be able to help you.
USB Selective Suspend is disabled
From the WinX Menu open Device Manager. Right-click on USB Input Device and select Update Driver.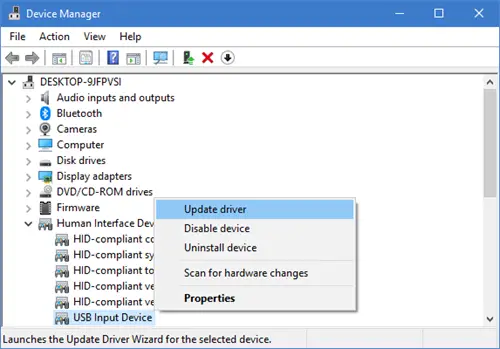 The Update Drivers wizard will open up.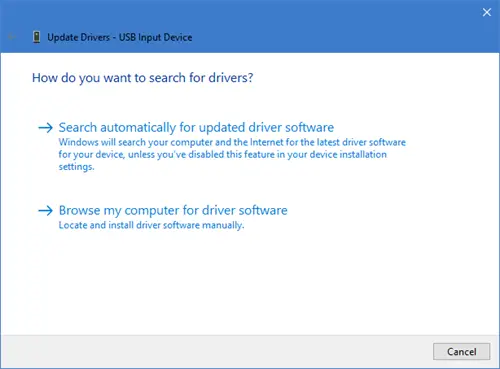 After that, click on Browse my computer for driver software.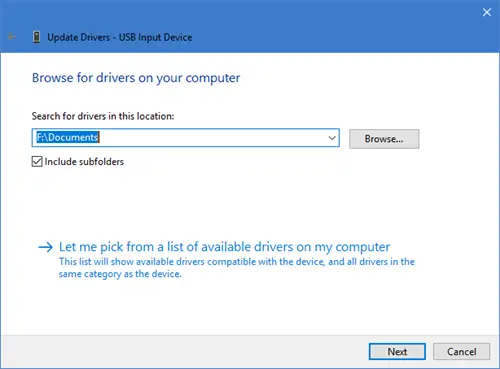 Next, select Let me pick from a list of device drivers on my computer and click Next.
Now select USB Input Device model in the dialog box and then hit Next.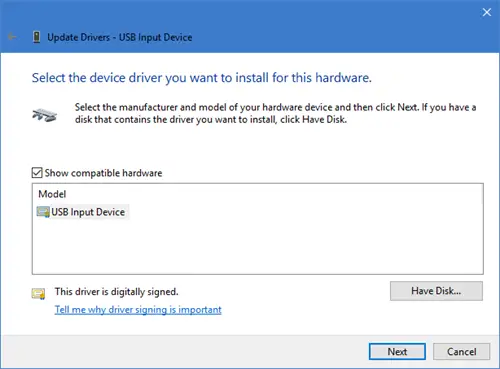 Wait for Windows to complete the installation of the USB Human Interface Device (HID) Device. You will see a message Windows has successfully updated your drivers.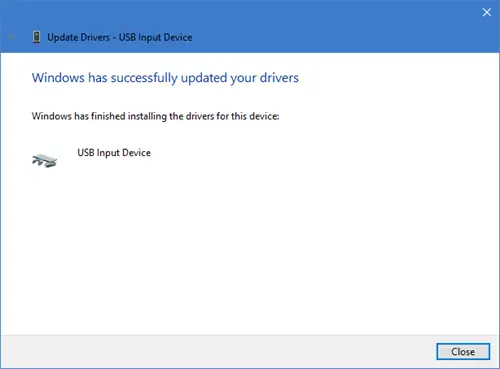 Click Close and restart your PC.
Now use the search box to search for regedit to open the Registry Editor and navigate to the following path inside the Registry Editor:
Computer\HKEY_LOCAL_MACHINE\SYSTEM\CurrentControlSet\Enum\USB
Identify & verify the USB Vid and Pid and navigate to the Device Parameters folder.
You will have to thus navigate to:
Computer\HKEY_LOCAL_MACHINE\SYSTEM\CurrentControlSet\Enum\USB\<USB Vid and Pid>\<device>\Device Parameters
Here USB Vid and Pid is the vendor ID and the product ID of your USB device, and <device> is your USB device number.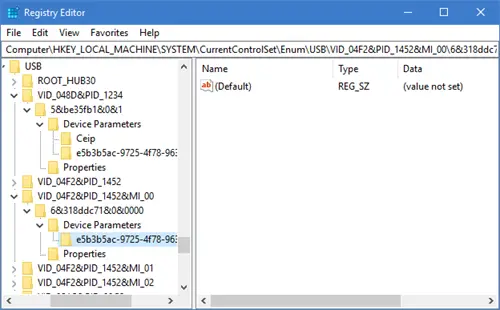 Using Ctrl+Find, search for and verify if the value of the SelectiveSuspendEnabled registry is 1.
0 will disable USB selective suspend
1 will enable USB selective suspend.
Where is USB selective suspend setting in Windows 11/10?
USB selective suspend setting is present in the Power Options box on a Windows 11/10 system. To access it, open the Control Panel, select Power Options, and click on the Change plan settings option. Use the Change advanced power settings option to open the Power Options box. Expand the USB settings section to set the USB selective suspend setting for On battery mode and Plugged in mode.
How do I fix USB device not entering selective suspend?
If you see a USB Suspend:USB Device not Entering Selective Suspend message in the energy report on Windows 11/10, then you should run the native Power troubleshooter to fix it. You may also need to enable USB selective suspend setting if it is disabled. If this doesn't work, then change the power plan or reset your power plan to default settings, and see if this solves the problem.
Hope this helps.
Read next: Selective Suspend causes USB devices on USB hub to stop functioning.