Surface Go is the most affordable Surface Tablet yet. It is a lightweight yet powerful computing device for one to use. However, like any other computing device, you might face errors while using it. And to fix these issues, if you want to recover your device to the factory defaults, you can use the USB Recovery Disk. We will be covering everything about it from scratch. When you do this, your Surface Go will restore to the factory default settings, and you might lose your files as well. So, it is recommended for you to back up your files and folders before performing this recovery.
Fix Surface Go issues using USB Recovery Disk
In this article, we will discuss the following aspects of this process:
Downloading the recovery image.
Creating a recovery drive.
Booting from the Recovery drive.
Downloading the recovery image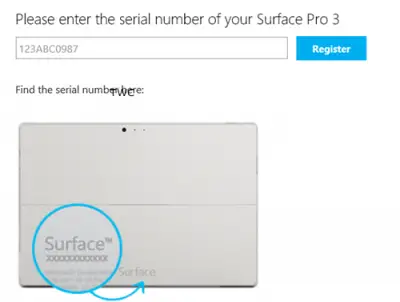 First of all, you would need a USB Drive with a USB-C Port.
Second, head to the Surface Recovery Image website to download the recovery image for your Surface Go.
Scroll down to option 2 and select Surface Go.
Enter your device's Serial Number. Submit the details and download the recovery image. Extract the contents of the recovery image to a separate location.
Creating a recovery drive
Next, you will need your USB Type C storage device. It should be at least 8 GB in size.
Plug in your USB Drive. Search for Create a recovery drive in the Cortana Search Box and click on the appropriate entry.
Click Yes on the UAC prompt that you get.
Uncheck the option that says Back up system files to the recovery drive. Click on Next to proceed further.
Now, select the USB drive you want to turn into a recovery drive. Click on Next, again.
Next, copy the files that we extracted separately into the recovery drive manually. Once the copying is done, Safely remove your USB Drive from your Surface Go.
Detailed read: Create Surface Book and Surface Pro Recovery Drive.
Booting from the recovery drive
When you wish to boot your device from the Recovery drive, start by plugging in your USB Drive to your Surface Go when it is turned off.
Hold the volume up button while your press and release the power button on your Surface Go. This will open up the Surface UEFI Menu.
Select the Boot Configuration and then the Up arrow in order to move the USB Storage on the highest priority.
Finally, select Exit and then Reboot your Surface Go.
It will open the Troubleshoot menu in your UEFI settings. Select Recover from a drive.
Then select Just remove my files. Finally, click on Recover.
It will take a few minutes and will finally restore your Surface Go to its factory settings using the image.
You can now set up your Surface Go again as you get its OOBE.