SteamVR is a go-to VR application for many users, however, at times it does throw up errors. If you see the following error message, then this post will surely help you.
SteamVR Fail
Oh no! SteamVR has encountered an unexpected problem.
Restart SteamVR (436)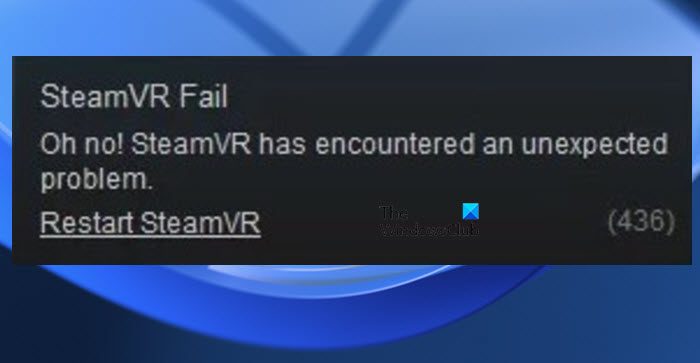 In this article, we are going to see why this happening and what you can do to resolve the issue.
Before fixing the SteamVR Error Code 436, we need to know why this happening. More often than not, the issue occurs because of improper connection. You need to make sure that the connection is proper and tight. You should also know that this error can happen because of a glitch as well, in that case, the fix will be effortless. A restart is what's required and your VR and your computer will start working perfectly.
Also, do check if there are some add-ons that you have installed as they can also interfere with SteamVR. Hereinafter, we are going to talk about each of them in detail and will see how the error can be resolved.
Fix SteamVR Error Code 436
If you are seeing the SteamVR Error Code 436, then see the fixes given below to fix the issue.
Update Graphics Driver
Look for loose connection
Unblock SteamVR add-ons
Reinstalling SteamVR
Disable the integrated Graphics card
Let's get started.
1] Update Graphics Driver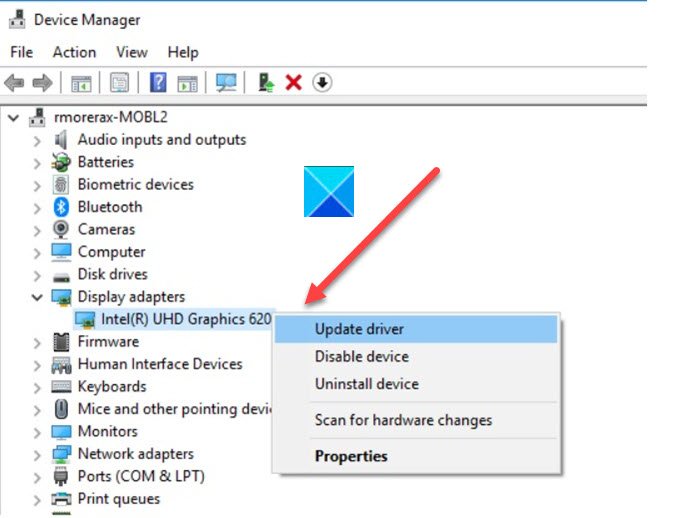 The problem can be resolved by updating the Graphics Driver. So, you should start by checking the status of your Graphics Driver. If it was recently updated then it ain't the reason. However, if you haven't updated in a long time then upgrade your Graphics Driver. You can try checking for your Windows Updates as updating the OS can update all the drivers. Also, you can use driver update software to keep your driver updated.
Once, you do that, launch the program and check for any errors. If you are still seeing the error then move to the next fix.
2] Look for loose connection
As mentioned earlier, tether cable is the main part of your setup, and if it's not tightly connected to the setup, you will see the error code in question. You can make sure that the tether cable connecting the headset to your PC is connected correctly.
After making sure that it's firmly plugged in from both ends, restart your PC. Now launch SteamVR, see if the error is resolved. If the error persists, try the next fix.
3] Unblock SteamVR add-ons
If there was a sudden crash then it's more probable that important add-ons are blocked. So we are going to unblock all the add-ons and check whether it's of use or not. Let's see how to do the same.
Disconnect all the VR equipment including the VR headset and Link Box.
Click SteamVR drop-down menu and navigate to Settings.
Click on Startup/Shutdown.
In the Startup option, click on Manage SteamVR Add-ons.
Select the UBLOCK ALL option.
Usually, this will unblock all the add-ons. If any add-on is still blocked, you can manually unblock it. Then, close the app and connect the VR headset again. Relaunch SteamVR if you are still seeing the error.
4] Reinstall SteamVR
If the above fixes didn't resolve the issue then uninstall SteamVR. Uninstalling can get rid of any corruption in the installation files. Reinstalling SteamVR simply put an end to the issue. Go ahead and uninstall the SteamVR program from your computer, then download it back on the system. Finally, check if the issue persists.
Related: Fix SteamVR Error Codes 113, 200, 206, 207, 208, 301, 306, 308, 302
5] Disable the Integrated GPU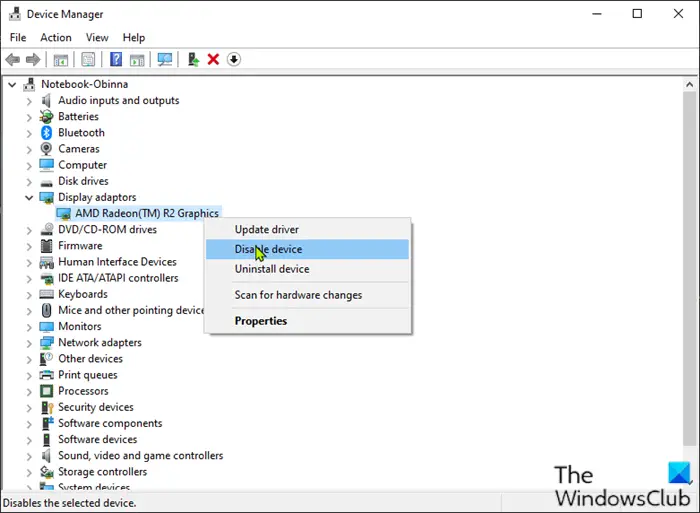 If you have a dedicated as well as integrated GPU then chances of seeing the error are there because of integrated GPU. So, you need to disable the integrated one and see if that works. However, if you don't have a dedicated GPU then you can skip this fix.
Follow the given steps to disable the Integrated GPU.
Open the Run dialog box.
Type devmgmt.msc and hit Enter to open Device Manager
Enter OK.
Expand the Display Adapters drop-down menu, and right-click on the integrated GPU.
Press on Disable Device.
After doing so, relaunch SteamVR, and check the issue. Hopefully, it will be resolved.
Related: Fix SteamVR Error 108.
How do I fix SteamVR wrong video card?
When SteamVR does not detect the right graphics card, it displays the "wrong video card" error message. To fix this problem, you have to force SteamVR to use the dedicated graphics card. First, connect your dedicated graphics card, then disable your integrated graphics card. This should fix the issue.
How do I reset my SteamVR driver?
If you want to reset your SteamVR USB driver, then follow the given steps.
Unplug everything from the Link Box
Then, go to SteamVR > Settings.
Now, go to the Developer settings and confirm that it's enabled.
Click on Remove all SteamVR USB Devices and then confirm your actions.
After completing the process, you should restart your computer, plug everything where they are meant to be, and see if your issue is resolved.
That's it!
Read Next: